Blackbird Pizzeria: casual, local… vegan?
By Camille Kurtz, Copy Editor
As I was planning my trip to review Blackbird Pizzeria in South Street, Philadelphia, I pictured an ornately decorated restaurant with sparkly glasses of water and fresh table linens, maybe an outdoor patio for warmer weather. Instead, I found a small, austere building not much different looking than a mom-and-pop pizza joint.
Blackbird Pizzeria has none of the pomp and flashiness that seems to go hand-in-hand with vegan restaurants. The popular lunch and dinner hot spot has no more than 10 tables and the white walls are graced only with the images of art created by Olde City Tattoo artists. Diners can see directly into the small kitchen, where two young pizza makers toss spirals of dough high into the air, catching them expertly as they fall back down. Blackbird Pizzeria doesn't have a vegan-pizza superiority complex: it just churns out order after order of fries, pizza and sandwiches.
Even though I came to eat around 2:30 p.m., the restaurant was full of customers, both those dining-in and picking up take-out. The diners ranged from heavily pierced and tattooed college students to families of four to elderly couples grabbing a late lunch. It was clear to me that Blackbird doesn't cater to one clientele; it's a local restaurant loved by new customers and regulars alike.
Blackbird's menu is entirely vegan, kosher and nut-free. While famous for their vegan pizzas, the pizzeria also offers a selection of calzones, cheesesteaks, wings and salads. While I strictly sampled a selection of the pizzas (as they are the selling-point of the restaurant), the presence of other classic Philly take-out foods only reinforced Blackbird's laid-back attitude.
As I waited for the pizzas, I enjoyed munching on an order of Blackbird's French fries. Lightly salted and made with partially peeled Russet potatoes, the fries were neither shoestring nor steak fries, but the perfect thickness with just the right ratio of "crunch" to potato. I could have eaten three more baskets if it weren't for the arrival of my pizzas.
Pizzas come by the slice, in personal size or in regular, shareable size. My fellow diners and I ordered four personal pizzas: the Balboa, the Popeye, the Patate and the Funghi.
The Balboa pizza is adorned with juicy cherry tomatoes, herbaceous seitan sausage, baby arugula, pumpkin seed pesto, tofu ricotta, chili flakes and olive oil. Very much a "real pizza" experience, the Balboa was fresh and bursting with flavor. The tofu ricotta cheese was creamy and reminiscent of real ricotta, while the seitan sausage was flavorfully spiced yet not dominating the pizza as a whole.
The Popeye pizza is made with wilted spinach, olive oil, green olives, sliced garlic, crispy shiitake mushrooms and pumpkin seed pesto. While possibly a delicious snack for lovers of olives and strong flavors, this pizza had a little too much going on and seemed to suffer from an identity crisis. As a devout mushroom-lover, I was surprised by the shiitake mushrooms, which had a fishy flavor similar to seaweed. The potency of the mushrooms combined with the green olives overpowered the better parts of the pizza. However, the wilted spinach provided the flavor and moisture that other parts of the pizza lacked. Overall, the Popeye was not a personal favorite, but its issues were more about flavor profiles than construction, so I encourage lovers of olive and bold flavors to give it a try.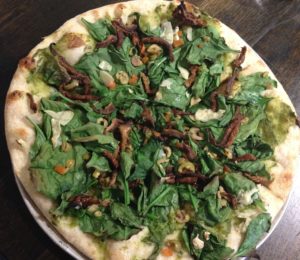 The Patate pizza is a square, pan pizza coated in olive oil and thinly sliced potatoes, with onions and rosemary. In hindsight, I would have ordered one of the other pan pizzas (a marinara pizza or a cauliflower and Daiya cheese pizza), as the Patate was one-note and underwhelming. There were no constructional errors in the pizza (so I cannot fault the chefs in the kitchen); instead I think that the basic idea of the pizza may need more work. Combining bread and potatoes with few fresh ingredients to alleviate the density, the Patate was unfortunately a bit too greasy and lacking in flavor. I think that adding tomatoes or vegetables may relieve this problem.
The Funghi pizza is covered in exotic mushrooms, artichokes, Kalamata olives, red sauce and Daiya (non-dairy) cheese. This pizza, along with the Balboa, was my favorite that I sampled. Although I am traditionally not a fan of vegan cheeses, specifically the Daiya brand, I found the cheese on this pizza to be creamy and flavorful, but not as overpowering as I often feel that it can be. The earthiness of the mushrooms and acidity of the artichokes are a perfect pairing. I have absolutely no complaints about this pizza – I would order it again in a heartbeat.
I have reserved an entire paragraph to review the dough and pizza crust at Blackbird – it's that good. Regardless of all my other quibbles about flavor pairings and toppings on the pizzas, the bread on every pizza I ordered was phenomenal. Cooked to the perfect consistency (not too crunchy and not under-cooked), the dough is chewy and flavorful. None of the pizzas at Blackbird would be as successful if they were not constructed with this house-made pizza dough. While often overlooked, the dough of a pizza is crucial, and Blackbird knows it.
As a whole, Blackbird Pizzeria serves creative and flavorful pizzas and I encourage all pizza-lovers to go and give it a try. Although I was less enamored with the Popeye and Patate pizzas, part of these critiques lies in my personal preferences and beliefs about the ideal pizza – criticisms which I could find in the pizzas of any restaurant. In comparison with other small pizza joints, Blackbird definitely wins the most points for creativity (they also serve a breakfast "Brunchbird" pizza and a "Nacho" pizza), freshness of toppings, and general appeal – there is a pizza for every diner (vegan or not). If none of the pre-composed pizzas appeal, Blackbird offers a make-your-own option, with 23 different toppings to choose from.
The staff are friendly and helpful, the menu is inventive and diverse, the ingredients are fresh and the environment is casual and packed with fellow pizza-lovers at all hours. So, the next time you're in the area and craving pizza (which definitely will happen soon), try Blackbird Pizzeria and get in line with the rest of the fans — it's worth the wait.
Camille Kurtz can be reached at [email protected].