Day 3: Day of Service
By Jui Bhatia, Managing Editor, and Aashita Singh, Lizzie Sun, and Faith Zantua, Staff Reporters
Best Buddies: Bringing the best gift this holiday season
With the holiday season approaching, gift-giving enters the forefront of everyone's mind. One club achieves this goal while also giving the gift of friendship to students: Best Buddies. 
Best Buddies is part of Best Buddies International, a nonprofit organization trying to end the physical and economic isolation of people with intellectual and developmental disabilities (IDD). In the club, members organize and attend events with students with IDD. It focuses on fostering friendships between neurotypical members and students with IDD. These pairings are called "buddies".
"We set up people with intellectual and developmental disabilities and we pair them up with people that don't have disabilities," said Best Buddies co-president junior Sophie Kunsch. "(It) just creates a more inclusive environment (for people with IDD)."
Buddies mostly meet out of normal club hours to participate in activities together, including events that buddies can attend together. After a pause in many events due to COVID-19, the club's Holiday Shopping trip resumes its regular practice. 
For the trip, buddies receive a money budget and a list of holiday gifts that need to be bought by the students' guardians. Buddies arrive and shop at King of Prussia Mall for the listed gifts while following the given budget. 
Caron Wirth, one of the Best Buddies advisors, helped plan this event.
"(The trip) becomes an educational experience too because the kids have to buy the gifts on their own (and) count their change," Wirth said. "But mainly it's a holiday shopping experience for the kids. It's great."
This year's Holiday Shopping trip takes place from 9:30 a.m. to 1:30 p.m. on Dec. 15 in King of Prussia Mall. Members of the club that have buddies and are attending field trips with some of the Best Buddies executives. Kunsch, who is attending the trip, is eager to go this year.
"I think it's gonna be really fun," Kunsch said. "We're literally just going around (the mall and shopping)."
Best Buddies will continue to host and attend future events like the trip. Christine Santamaria, another Best Buddies advisor, believes in the importance of Best Buddies and these events for students with IDD.
"(Best Buddies shows) how, although kids are different, they're all the same," Santamaria said. "And (Best Buddies) allows everyone to make a friend."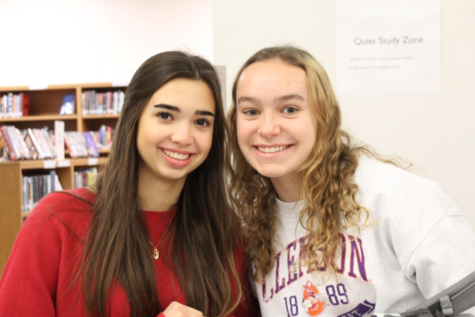 Returning Plans: Juniors Sophie Kunsch and Shannon Mc Donough work together as co-presidents of Best Buddies to plan club events. They helped organize the Holiday Shopping trip and club monthly meetings.
Habitat for Humanity: Working to bring affordable housing to everyone
Habitat for Humanity is a club that has been giving back to the community and building or setting up homes to sell at a discounted price to low-income families in Pennsylvania since 1985. 
On Saturday, Dec. 5, Habitat for Humanity club members helped the organization build a house in the area. They had been planning this event in their club meetings along with other community service projects like working at Restores which are similar to thrift stores, but for home related goods. The club also holds donations at the school to raise money. 
"What we're doing is working alongside families who are going to be getting the houses and other volunteers, and we just do whatever kinds of construction that (Habitat for Humanity) need us to do," said club advisor, Kerry Merlo. 
In the meetings, members discuss their plans for future events and fundraisers. Lately, the club has been having difficulties in getting large groups of students to volunteer since COVID-19. Students also have to be sixteen or older to participate at the build sites. Because of this issue, Habitat for Humanity club has paired with Key Club to increase the number of volunteers. Club members were very excited for this event according to club president Nathanael Chen.  
"Most of (club members) are excited, because they've never done something like this before. They are excited to help," Chen said. 
This organization is working to bring affordable housing to low-income families all around the area. Recently, they bought an area in Coatesville that was run by drug dealers and have built new houses and moved in families that have taken good care of the community. The families also appreciate the oppurtunity of working for their homes themselves. These families then pay for their homes through sweat equity and discounted mortgages. 
"I love the idea that we're not just helping out people," said club advisor Malia Gordon, "but we're helping them up."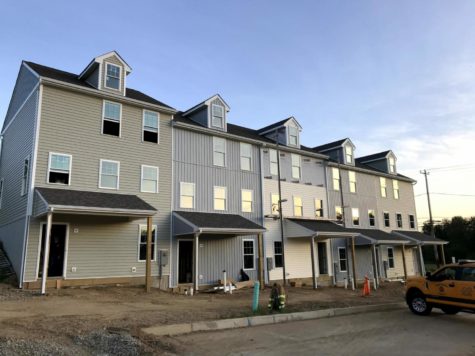 Habitat for Humanity works to build houses for those in need, with their latest outing taking place on Saturday, Dec. 5th.
Stogas' big give back
With community being one of the main characteristics of Conestoga, the Stoga Big Give donation drive, run by Peer mediation, has shown itself to be an example of that. Although clubs organize drives often, the Stoga Big Give is unique with its diverse range of charities and club drives that students can choose to donate to. 
Stoga Big Give is a month-long event that goes from December 5th to December 23rd. It allows clubs to pick charities students can donate to, and Peer Mediation displays boxes for each charity in the main lobby. This year, these drives include Warm up America, Hand for Hand, the Bethesda Project, Toys for Tots, and more. 
As an advisor for Peer Mediation, Emily McGready, a social studies teacher, worked on the Stoga Big Give. She feels Peer Mediators running Stoga Big Drive helps group charities and make it easier for students to donate.
"The intent of (the Big Give) is to help organize all the different drives that a lot of clubs do during the winter season." McGready said. "Peer Mediation just tries to act like a gathering spot for these clubs."
Some Peer Mediators believe that the Stoga Big Give for this year was better than in past years. Senior Coco Lucarelli, a Peer Mediation director for STAR, believes that this year was better because of the wider range of charities to choose from.
"I think it is (better than last year) because there's more organizations, and different kinds of things to donate. Last year was mostly only toy drives, and there's more variety (this year)." said Lucarelli.
Many Peer Mediators also feel touched when helping organize the charities. Sophomore Zion Danielle Brown, a Mediator, feels content about participating in the event. She believes it's essential to take part in the Stoga Big Give.
"I think giving back to the community by charities and being involved in the (Stoga Big Give) is great." Brown said. "It shows gratitude and love towards our community and that's really important this time of year."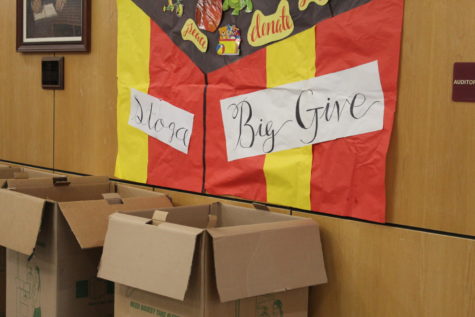 ---
Jui Bhatia can be reached at [email protected].
Aashita Singh can be reached at [email protected].
Lizzie Sun can be reached at [email protected].
Faith Zantua can be reached at [email protected].