Teacher Feature: David Rubert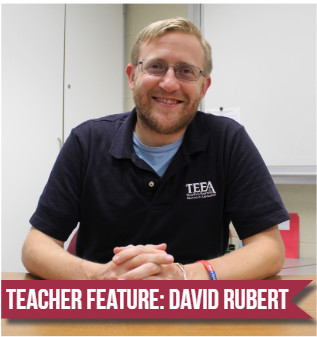 By Evangeline Kennedy, Staff Reporter
A Conestoga graduate himself, math teacher David Rubert has since returned to pursue his passion. Rubert teaches all grades, primarily focusing on 10th and 11th-grade classes, including Algebra 2 and Geometry.
After obtaining a degree in theater arts from The Pennsylvania State University, Rubert later pursued a second degree in math at West Chester University. One of his main goals as a teacher is to make math accessible to all students, even those who don't enjoy the subject. He believes that presenting information as clearly and simply as possible is key to helping students feel welcomed in his class.
"A lot of what I end up doing in my class is trying to explain it in simple terms. Not everybody in that class finds math to be their favorite, so I try to ensure they have some level of understanding or feel safe (being) in the class," Rubert said. "Feeling comfortable in the classroom, I think, is what I try to (promote)."
In addition to making math accessible, Rubert wants his students to see the value in what they're learning by getting them to think critically and to understand the practical applications of math.
Rubert considers one of his main priorities as a math teacher to be "getting them into more critical thinking with math and helping them actually see some purpose to the math that they do."
Apart from teaching math, Rubert enjoys other passions as well. He has two kids and enjoys spending time with them, as well as exploring his interest in video games.
"I like Final Fantasy, Resident Evil and right now God of War," Rubert said.
Rubert is not just passionate about teaching math but also interested in exploring other areas of the school. He expressed a desire to become involved with the theater program.
"I definitely want to try my hand at theater and see how I can contribute to it," Rubert said.
In the end, Rubert encourages his students to be unafraid of asking questions and making mistakes.
"You know, with math, getting it right and wrong happens a lot," Rubert said. "(I want for my students) not to be scared to ask questions and not scared to also get things wrong."
By creating a safe and comfortable environment and emphasizing the value of learning, Rubert helps his students see math in a new light.
---
Evangeline Kennedy can be reached at [email protected].