Making upgrades: 'Stoga boys' tennis team hopes to claim state title from rival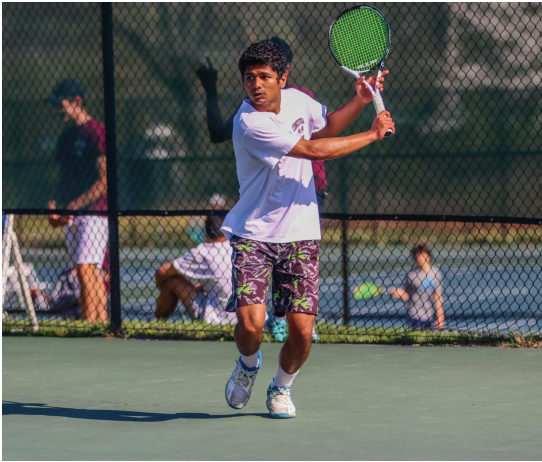 By George Zhang, Photography Editor
Playful banter, excited chatter and hyped-up crowds are telltale signs of a match between the boys' tennis team and its longtime rival: Lower Merion Aces. With a talented lineup, the boys have seen considerable successes in the last few years, boasting impressive records and dominating victories. However, one obstacle stands in the way: the Lower Merion Aces. In the 2021-22 season, 'Stoga played Lower Merion three times, too. losing all of the matches including the state championship. Many players on the team hope that this year will be different.
The team saw the addition of two elite players, senior Chaitanya Krishna and junior Voyin Markovic. Krishna is currently committed to play tennis at Haverford University and Markovic boasts a multitude of accolades, such as holding the Top 35 rank in the United States Tennis Association Middle States region at one point. Krishna decided to join the team both to win and to have a last hurrah with his friends.
"I think it would be great to win in senior year with all my friends," Krishna said. "I look forward to spending more time making senior year memorable. I think it's just great every- day going out there practicing cause it's one last month where we all just get to talk and spend time together."
The team's rivalry with Lower Merion High School started last year, as both teams battled for the top spot in the Central League, district and state. Senior doubles player Vincent Yao believes the rivalry came from lighthearted banter off the court and a mutual respect towards each other.
"Last year, we started our social media account where we frequently commented on their posts, and we had a little social media rivalry," Yao said. "But we always knew that at the end of the day, the hardest team to beat was each other. They knew that we were the hardest team to beat, and we knew that they were, too. So, from a competitive standpoint, that was where the rivalry stemmed from."
The 'Stoga boys played the Aces on April 19 and lost 4-3. Several factors, such as a sudden cramp from senior and singles player Justin Xu, and an unexpectedly strong Lower Merion doubles pair caused the team to fall short, but players such as sophomore Raphie Lubinecki believe that the team still has a chance moving forward.
"It was unlucky, I'd say. But our scores from this year are better than last year, so hopefully in districts and states, we can beat them," Lubinecki said.
Yao agrees, noting how the additions of Markovic and Krishna will help the team secure crucial games against Lower Merion High School. Despite losing by a close margin the regular season, he is optimistic that 'Stoga will bounce back in the playoffs in the state championship.
"I think our roster is stronger than last year's roster, and that's going to put us at a much larger advantage than last year," Yao said. "In terms of beating Lower Merion, I definitely think we have a shot. We have a total of seven different games – three singles and four doubles. I think we can take at least two singles games and two doubles games. I don't want to jinx it, but we definitely have a shot."
---
George Zhang can be reached at [email protected].