Letter from the Editors: Over and out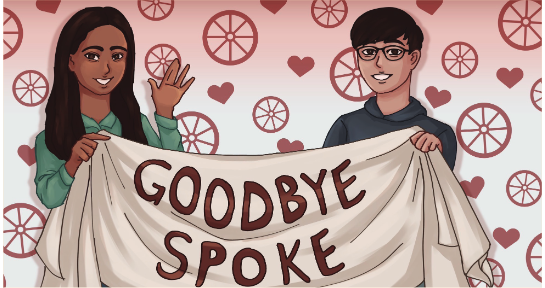 By Evan Lu and Hiba Samdani, Co-Editor-in-Chiefs
Dear readers,
It's a bittersweet time of year — the end of our four-year journey as high school student journalists. It seems like just yesterday that we entered Room 280 as wide-eyed freshmen, unaware of the experiences, challenges and opportunities coming our way.
As co-Editors-in-Chief, we spent much of our time in high school cooped up in the cozy Spoke production room, stressing over Oxford commas and sipping on bubble tea. Despite the countless hours we dedicated to journalism, our enthusiasm for journalism never waned. From homeroom periods spent planning the next production cycle to the extended nights meticulously formatting pages, we committed ourselves to journalistic perfection — often sacrificing sleep and sanity along the way.
Our tenure at The Spoke was marked by change. Over four years, we watched as advisers came and went, the staff doubled in size, and a global pandemic upended the standards of normalcy. This year, we welcomed our largest ever class of freshmen, whose resiliency and determination to grow as student journalists impressed us in every way. In an increasingly digital age, we expanded our social media presence, restructured our website and launched an app. We sought to build upon the foundations formed by the editors before us, to leave behind a lasting legacy for those to follow.
Just as we shaped The Spoke, we felt The Spoke shape us back. Our experiences taught us to write, take photographs, design graphics, lay out pages, edit copy, conduct interviews, woo advertisers and distribute monthly issues across a community. After ups and downs, we know all too well the importance of communication and time management. We exit the newsroom with a deep stash of personal experiences and sentimental memories — journalism field trips, mall adventures with the Editorial Board and celebratory parties at Wilson Farm Park. These moments molded our identities and are forever imprinted into our lives.
As our time comes to a close, we wish the best of luck to the next generation of Spokies. Handing off the reins to incoming Editor-in-Chief Ben Shapiro and the new Editorial Board, we're confident that the paper will thrive under new leadership. We know that The Spoke will continue to deliver information that educates, informs and inspires. To our advisers, past and present, thank you for your unwavering dedication to us and the paper. To our staff, thank you for inspiring us to adapt as leaders. And to our readers, thank you for trusting us to be the voice of the community. Without you, we wouldn't be able to fulfill our mission of serving as an unhindered outlet for expression.
For one last time, it's been an honor and a privilege to serve as your Editors-in-Chief. Thank you for allowing us to be a part of something greater than ourselves.
Over and out,
Hiba and Evan
---
Evan Lu can be reached at [email protected].
Hiba Samdani can be reached at [email protected].