WWII Veteran Speaks to History Students
By Kyle Kennedy, Staff Reporter
This Memorial Day was a chance for all Americans to honor and respect veterans who have served our country.
On the Thursday before Memorial Day, United States History students got a unique opportunity to hear from one of these veterans. Sgt. John Bozell, an American veteran who served in World War II, talked to students about his experiences in the war.
Students went to the large group rooms to listen to Bozell during their regularly scheduled history classes. He talked with them about his experiences training in America before the war, being transported to the war, and during the war. During the war, Bozell served as a code-breaker working to decipher low-encryption Nazi signals sent between officers on the front.
His experiences shared with the students included his training, both in the United States and the United Kingdom, his experiences on the front, his experiences being bombed, and his post-war experiences in Europe.
Bozell's visit was organized by the teachers of the history department and Bozell's granddaughter, an AP United States History Student.
The presentation allowed students to gain a greater understanding of a war that few students have had a chance to hear about firsthand.
"I think that hearing about it from someone who was actually there really changed the way I thought about World War II, and it was very interesting to hear from a first hand account," sophomore Richard Kralik said.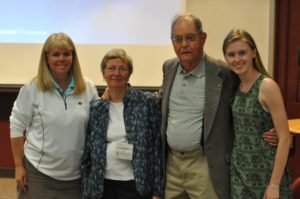 Kyle Kennedy can be reached at [email protected].