Vietnam veterans
On Wednesday April 20th, Conestoga had its annual visit from a group a Vietnam Veterans. The veterans gave presentations in 268 all day for several different history classes, mainly U.S. History classes. The event has become a tradition at Conestoga, having been a yearly event for over a decade. The three veterans talked to students about the war and their lives as soldiers, but emphasized that they were really there to answer questions.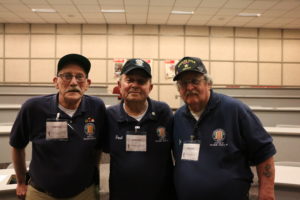 "This presentation is about real accounts," said Veteran Wayne LaMond. "We answer their questions about what we did or what the era and the 60s were like. It's first hand experience and knowledge. We lived through it, we were there. 'Been there, done that', so to speak. That's what this is all about, to give the students a first hand account of what it was like."
Mr. LaMond served in the navy from 1965-1968, at the very beginning of the war. His partners, Mr. Paul Hanson and Mr. Joe Dubolino, served in the army and navy respectively. Dr. Hanson, now a professor at Neumann University in Aston, PA, served from 1971-72. Mr. Dubolino served from 1968-1970.
"At the time, if you would have told us we would be standing here talking to you about what happened 50 years ago, we would've laughed at you. Now we can sit here and tell you that this is what we did and this is what we saw, which is good. And at the end of the presentation, you can see that the students react very positively to what they've heard," said Dr. Hanson.
The veterans offer students what books can't, and that is personal accounts and interactive questioning.
"In every class, there is one or two questions that has not come up before," said Dr. Hanson. "Each class has their own identity, that is very good because we're able to put out something new and different each time so it's not boring for kids that have been here before or the teachers. Putting out the same information every time is not what we want to do."
"It's good that they want to know the truth about what happened, and they can get that through us," said Mr. Dubolino.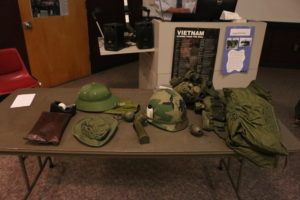 The three have been doing presentations like this for close to 20 years and have visited dozens of schools. The veterans not only enjoy educating youth about the Vietnam War, but they feel that they have benefitted from the presentations as well.
"For me personally, it helps get rid of some of the anxiety just talking about it," said Mr. LaMond. "Talking about all of this has been a very good experience for me mentally, it's very therapeutic."
Even though the war was almost 50 years ago, the veterans see the preservation of its history as very important for the current generation.
"History is history. You can't change what we've been through," said Mr. LaMond. "It's just like your history class, you can only learn about what has happened. It's the same with us, we can only tell what's happened to us, which is history now. And it's been 50 years now, it's our legacy."
By Neil Goldenthal, Staff Reporter
Neil Goldenthal can be reached at [email protected].