Students speak with Pope Francis
By Allan Du, Business Manager
Just in time for Pope Francis' historic visit to Philadelphia this weekend, 25 students from the Northeastern United States attended a UNICEF conference in New York City to discuss the most pressing issues affecting youth today. Five out of these 25 students were selected to video conference with Pope Francis in Rome on Thursday, Sept. 17, along with five other students from Cuba.
Seniors Jason Kim, Linda Ashmead, Melissa Zheng and Gloria Xu attended the conference Tuesday, Sept. 15 at LaGuardia High School in New York City. There, participants deliberated on the most important issues affecting young people today, as well as ways to overcome those issues in today's interdependent world.
The conference was held through a partnership between UNICEF and SCHOLAS, an organization founded by Pope Francis to provide access to education to young people throughout South America.
Jason Kim and Linda Ashmead were among the five students chosen through a vote by all the attendees to speak with the Pope.
"He's very approachable, easy to talk to, he smiled and laughed a lot and did his best to make it more like a conversation," Ashmead said.
Speaking from CNN headquarters in New York City, the students' discussion revolved around identifying the major issues affecting the world today and discussing ways that youth can alleviate the issues themselves, beginning with their own communities.
Among the topics discussed at the conference were racial inequality, social stigma against mental health issues, the cycle of poverty and lack of awareness for global issues.
In her discussion with Pope Francis, Ashmead focused on the right for students worldwide to play and pursue their passions, rather than being forced to work and make a living.
"We had just finished talking about a child's right to play and he pulled out a bullet from his robes and began to tell the story of his meeting with a five-year-old girl in a poor neighborhood of a developing nation who had been playing with the bullet because she didn't have anything else to play with. He took this bullet and planted it in a pot with an olive tree, which is the logo symbolizing the mission of SCHOLAS. That was a really deep moment," Ashmead said.
Jason Kim is the president of the Conestoga UNICEF club and is one of six UNICEF High School National Council members, representing the mid-Atlantic and Southeast regions in discussions with national UNICEF leaders.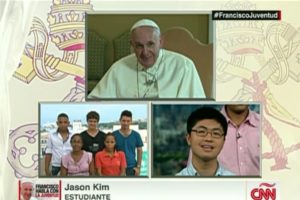 "Speaking up and talking about global issues is something I'm very focused on and enjoy doing," Kim said.
In his conversation with the Pope, Kim discussed the imperative of environmental protection as a necessary step toward a stable future, as well as the need for increased awareness for environmental issues among the younger generation.
"Although we are high schoolers we still have the power to help make changes in our world. I wish for all of the students at Conestoga High School to take the initiative to help make that change a reality," Kim said.
A recording of the video conference can be found here.
Allan Du can be reached at [email protected].