By Michael Li, Managing Editor
Two teams duked it out in the World Series, and as every true Philadelphian surely knows: neither team was the Phillies. Towards the end of the season, while teams like the Royals lounged in success and other teams like the Braves lazed in mediocrity, the Phillies were fighting the good fight for last place. For a large portion of the season, they seemed to have had it locked up, but September got interesting. The Cincinnati Reds made an astonishing comeback, losing 12 in a row, but in the end it wasn't enough to knock the Phillies out of last place.
So the Phillies have not had a good 2015 season. With a record of 63 wins and 99 losses, they at least avoided a three-digit loss season. The Phillies have hit rock bottom since winning the World Series in 2008, but even in such a bad season there were highlights.
[media-credit name="The Phillies have steadily gotten worse with every year since their 2008 championship." align="alignright" width="300″]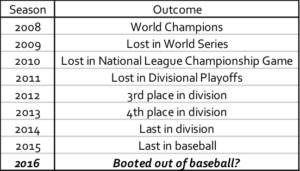 [/media-credit]
Hamels' No-No
In what would turn out to be his last start as a Phillie, Cole Hamels left one more good memory for the fans. On July 25, Hamels dominated the Chicago Cubs, allowing just two walks and zero hits for the 13th no hitter in Phillies history. He struck out 13 players and ended a series of poor starts, handing playoff-bound Chicago and its ace pitcher Jake Arrieta a rare loss.
The final out provided some drama. Cubs third baseman Kris Bryant hit a deep shot to center field that Odubel Herrera seemed to misread, flailing at the warning track. But Herrera dove for the ball and managed to snag it, saving the no hitter. Herrera held up the ball to show the umpires and when they affirmed the out, the celebration began. In spectacular fashion, Cole Hamels bowed out of his Phillies career and gave Philadelphia one more thing to remember him by.
Youthful Success
On the bright side of fielding a noncompetitive team, the Phillies were able to play many more young faces. Maikel Franco had a gigantic year before he got injured, with highlights including three homers and 10 RBIs in a series against the Yankees. Andrew Nola is living up to his name as a highly touted prospect, and seems poised to succeed Hamels as the ace for the Phillies. Odubel Herrera had a standout rookie season, legging out 30 doubles and hitting a hair under .300. Other players have shown flashes of excellence and have the potential to be everyday players: Galvis with his slick fielding, Rupp with his boisterous homeruns, and Jerad Eickoff with his solid pitching performances. And who can forget other players like Ken Giles, our steady closer, or Aaron Altherr, who hit the first inside-the-park grand slam since 1999?
Making Progress
Even though some people took a look at the Phillies this year and guessed they wouldn't be competitive for another five years at least, the Phillies are making progress in their rebuild. They got rid of Ruben Amaro Jr., whom many people blame for the downfall of the Phillies from World Champions in 2008 to dead last in 2015. In addition, many of the trades the Phillies made got better (which is likely linked to team president Andy McPhail taking the reins). The Phillies shipped off aging players like Chase Utley and Jimmy Rollins—both of whom played key roles in years past—for prospects that have potential. In the process, they've also taken a heavy weight of off the Phillies payroll, allowing for some big spending in the years to come. As a reward for coming in dead last, the Phillies also get the first draft pick next year as well.
Featured image taken from wikipedia.org.
Michael Li can be reached at [email protected].