The first Student Executive Council elections in nine years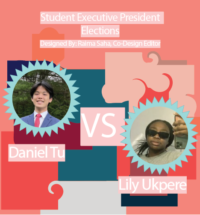 By Soumya Sathyanarayana and Rohan Anne, Co-Webmasters
For the first time in almost a decade, the Student Executive Council held elections for Executive President. The last election was during the 2013-2014 school year. Normal procedure is that the class council decides who would be best suited for the Executive Council's positions. The two candidates for this year, juniors Lily Ukpere, the current class president, and Daniel Tu, the current vice president, pushed for a school-wide election. 
The Executive Council is different from the Student Council. It requires candidates to have at least one year of experience in Student Council before running, and it often involves the entire school rather than one class council .
Tu campaigned across the school with a special focus on underclassmen. He created a website and designed videos and posters to inform others of his campaign. He engaged with students to spread his passion for Student Council and thought about how the students could achieve his vision. . His goals were to prioritize school spirit, unity and student well-being.
"I really want to give back to the 'Stoga community and find a way to serve my peers," Tu said.
Ukpere's campaign was different from Tu's in that it used unconventional methods. She took a comical approach by using creative videos, catchy campaign slogans and forums from the student body.
"Instead of having multiple initiatives, I decided to have only a singular initiative, which was my listening initiative," Ukpere said. "I just want to be in touch with what the people need(and) what they want to see done in our school."
In the end, Tu's campaign proved to be more effective, and he won the Executive Council's presidential election. Next year, Tu will be the Executive President of the Executive Council along with three other officers: Matthew Han as Executive Vice president, Jackson Alexander as Executive Treasurer and Mia Hamilton as Executive Secretary.
---
Soumya Sathyanarayana can be reached at [email protected]
Rohan Anne can be reached at [email protected]