Conestoga achieves most National Merit Semifinalists in state
By Liz Lawton, Staff Reporter
In addition to numerous Central League titles, AP Scholars and art and music awards, Conestoga manages to excel in another area: the Preliminary SAT (PSAT), also known as the National Merit Scholarship Qualification Test (NMSQT). This year, Conestoga produced 33 National Merit Semifinalists, the most in the state. These students represent the top 1 percent of all high school seniors nationwide. They will go on to compete for some 8,000 scholarships from the National Merit Corporation and other sponsoring organizations.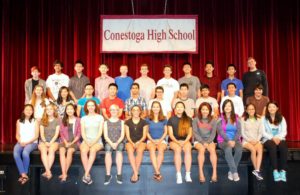 Senior Mia Borger is one of the Semifinalists and recently applied for Finalist standing. An essay, application, SAT scores and recommendation were due on Oct. 1, and applicants will hear back about Finalist standing and potential scholarships in the spring of 2016.
Before the test in October of last year, Mia Borger prepared with the hopes of doing well but not specifically to qualify.
"I had a Wawa sizzler [that morning] and my parents, the night before, took away my phone so I had no distractions."
After a breakfast of champions and a good night's rest, Borger felt ready to take the test, especially since she had already been preparing extensively for the SAT.
"I had been preparing so long beforehand; it felt a lot simpler than the actual SAT," Borger said. "The SATs were meant to trip you up but PSATs were really straightforward."
Guidance counselor Jennifer Kratsa also does not credit excessive studying as the reason behind the success of so many students on the PSAT.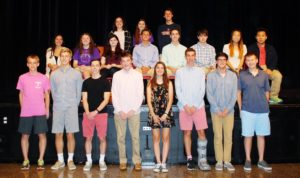 "Most of our students don't study for the PSAT but we certainly don't discourage studying for it if they want to get a sense of what it looks like," Kratsa said. "I would never make my students feel like if it's something that they didn't do, they would be really disadvantaged."
Regardless of the amount of preparation, the results of the test were exceptional for not only the Semifinalists but also the three National Hispanic Scholars and 24 Commended Students, representing the top 4 percent of high school seniors nationwide.
"It's really a testament to the excellent students in our building, and the excellent teachers and programs at Conestoga," Kratsa said.
National Merit Semifinalists, Commended Scholars and Hispanic Scholars
National Hispanic Scholars: Katherine Latoff, Melissa Lopez, Leah Palomo
Commended Students: Nour Elkassabany, Peter Murray, Casey Allen, Katherine Latoff, Julia Bevan, Elizabeth Lawton, Thomas Brennan, Jacob Leibowitz, Jane Donahue, Callie, Maslowsky, John Frantz, Thor Perrin Hee, Stephen Gupton, Emma Purinton, Julia Herman, Ryan Quinn, Daniel Holtzer, Mason Sellig, Hannah Hyams, Joshua Stead, Daniel Kim, Brian Weiss, Michael Kling, Dahye Yoon
National Merit Semifinalists: Jeremy Alwine, Miranda Moody, Linda Ashmead, Delphine Mossman, Arun Balaji, Mikhail Sajed, Ritwik Biswas, Evan Snyder, Mia Borger, Kevin Tu, Emmy Chen, Yang Tu, Christopher Ferris, Lifeng Wang, Rohan Gandhi, Sophia Wang, Michael Hong, Amy Xiang, Rose Kantorczyk, Gloria Xu, Jason Kim, Michelle Xu, Seyoung Kim, Jeffrey Xue, Alexander Lee, Lucas Yonda, Michael Li, Michael Zhang, Michelle Markert, Melissa Zheng, Mary Mei, Jerry Zhu, Paula Miller
Liz Lawton can be reached at [email protected].