Seniors reflect on years at 'Stoga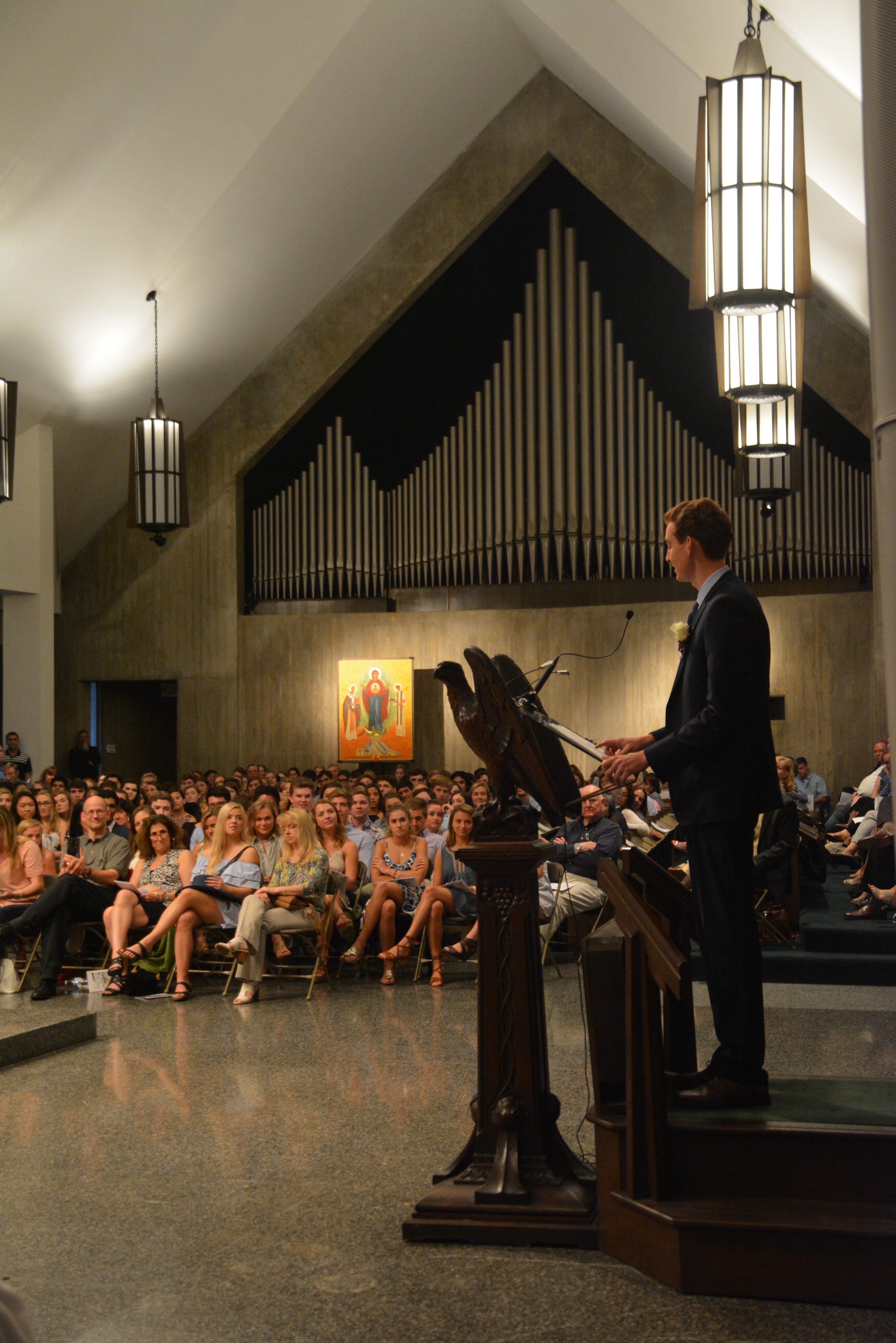 By Claire Guo, Co-Student Life Editor
In the vast Daylesford Abbey, nearly the entire class of 2017 watches the Reflections ceremony, their families sitting across the room and the ceiling looming high above them. Individually or in groups, soon-to-be high school graduates give speeches and performances expressing their feelings — whether wistful celebratory — about leaving Conestoga after so many years.
Senior Michael Fan found that there's still more to learn about his class, even after four years. The speeches as well as the talent showcased by so many of his peers surprised him.
"Michael DuTot's thank-you speech I found very forthcoming. He was very honest, he didn't try to do something cliché," Fan said. "Also, a lot of people in the class are surprisingly good singers. I was surprised by the maturity of their voices and (their range). That was the thing that really struck me the most tonight, the talent."
Senior Michael DuTot thought of his speech as another simple way to thank the class that he has gotten to know so well.
"I love my class. They've always respected me, been good friends to me over the four years, so I wanted to give one last thank you to them," DuTot said. "Our class is unique in the way that we all come together."
And for him, another senior's speech was what he connected with.
"Bridget Whitlow's speech was the definite highlight. A lot of times we get wrapped up in trying to make a mark on such a big school, but it's not always about what you leave behind," DuTot said. "It's definitely (about) what you take with you and how we've grown as people throughout these four years."
Senior Jason Vassiliou performed "Violin Sonata #3, Adagio" by Johannes Brahms on violin along with senior Alison Tatsuoka on piano. Vassiliou found playing in front of his class to be a different experience than other performances.
"It was very gratifying, playing in front of everyone. Honestly, I was a bit nervous. And even though I get nervous for everything, I get most nervous for things I care about, and so that's a very positive thing," Vassiliou said. "I loved everyone in this class, and everyone's striving to do their best, which is always very uplifting and that makes me do better as well. So I'd say playing for everyone is a combination of being nervous, but also just thinking about how amazing everyone here is."
[unitegallery ref2017]
---
Claire can be reached at [email protected].