Club Spotlight: e-NABLE
By Tiffany He, Guest Writer
Sometimes people just need a hand. e-NABLE, an international organization, is taking the phrase "lend a hand" to a whole new level by providing prosthetic hands to those in need. Inspired by their work, freshman Aashna Rana brought this organization to Conestoga last fall by launching an e-NABLE chapter at school.
"I have always wanted to reach out and help children in need. To be able to provide affordable prosthetics to physically challenged kids inspired me to create this club," Rana said.
According to the website, "e-NABLE is an amazing group of individuals from all over the world who are using their 3-D printers to create free 3-D printed hands and arms for those in need of an upper-limb assistive device."
The amazing story of e-NABLE started in 2011 when Ivan and Jennifer Owen, husband and wife, made a "crazy metal functional puppet hand" for a steampunk convention and posted their results on YouTube. From 100,000 miles away, a man in South Africa asked them to create a prosthetic for him after he lost his fingers in a woodworking accident. Consulting many designs and prototypes, the Owen's created a functional and long-lasting hand which quickly caught the attention of others.
Instead of patenting the hand to make a profit, the Owen's openly published the files for anyone to download and print on their own. Now the designs are being used worldwide to "give the world a helping hand." For those who are unable to print their own prosthetic hand, they can request one through the e-NABLE community's website.
The club also provides educational learning opportunities about 3-D printing technology and prosthetics.
"3-D printing is the future of the world," Rana said. "Any student who is interested in engineering or medicine can really get involved with this project."
Twelve students have joined the club and meet every month to create prosthetic hands.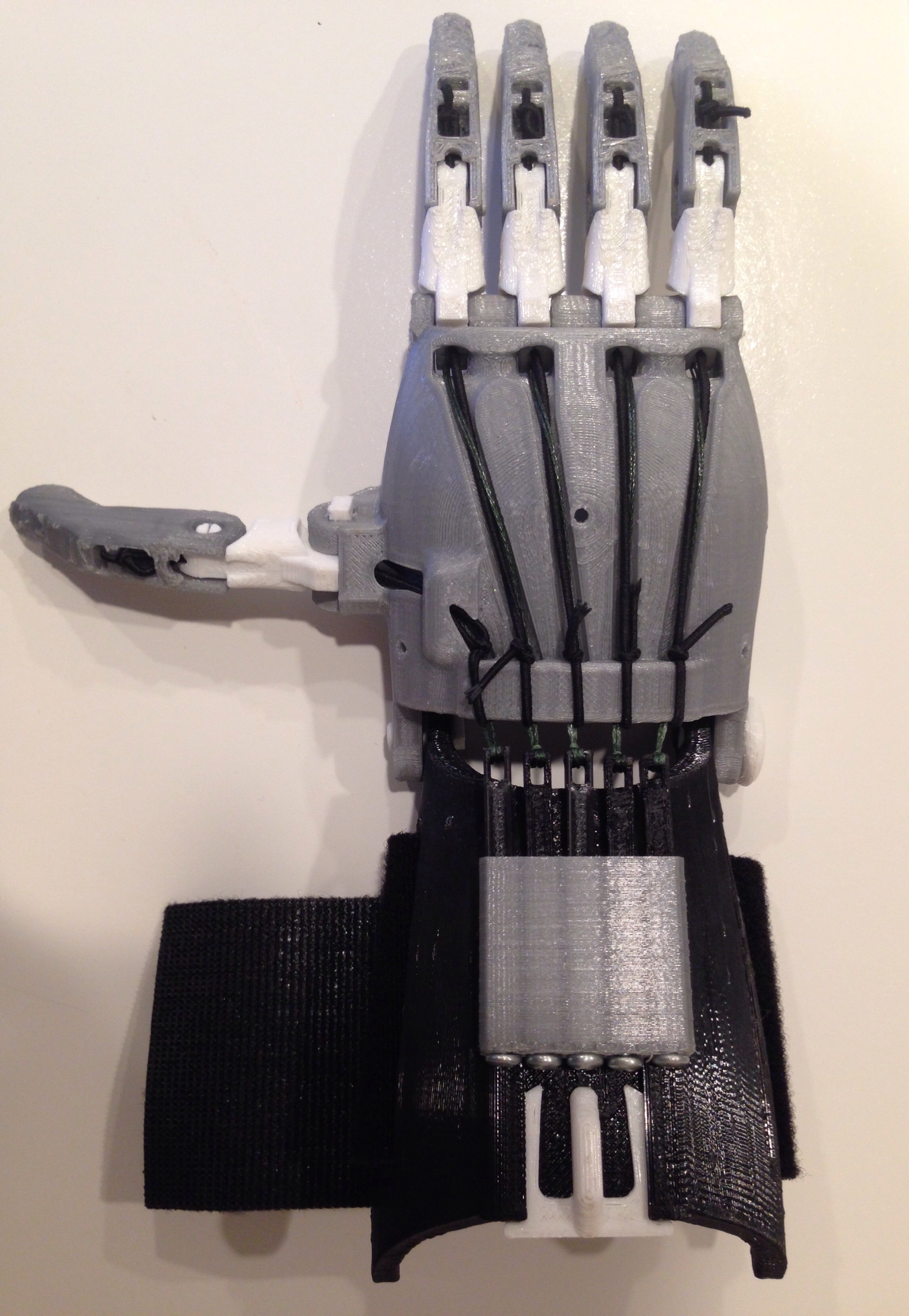 "I had an interest in (3-D printing), but I didn't really know where to go, but (e-NABLE) gave me a place for that and now I can learn 3-D printing," club public relations chair Maha Vijayakrishnan said.
After recently finishing their first hand, their goal is to send out six hands by the end of the school year. The club hopes to connect more 'Stoga students to the e-NABLE community.
Last November, they held a fundraising stand during Cornucopia to fund their project. Besides raising money by selling candy, they also created a challenge to help the student body see into the eyes of the disabled. Simulating the life of an amputee, the club members had people pick up tennis balls, an ordinary task, without using their hands.
"We wanted more people to see what it's like to live without hands. If more people understood the problem, more people would be willing to help. We want to touch the life of a child and change it for the better," Rana said.
Want to lend a hand? Join the e-NABLE club or support them by donating to their project at their GoFundMe page here.
---
Tiffany He can be reached at [email protected]