From student to dancer: Conquering the stage alone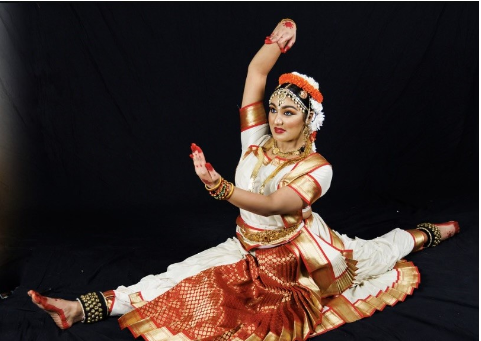 by Julia Harris, Staff Reporter
On June 25, freshman Aratrika (Ara) Das will give a performance that she has prepared for since she was 5 years old. She will be putting on her Arangetram, which means "ascending the stage."
At Nava Nritya Dance Academy, Das practices two different types of dances. She does Bharatanatyam, which is the classical Indian style she will be performing for her Arangetram, and Navanyrita, which is more alternative.
An Arangetram is a solo debut dance recital, performed by those who have had enough practice in Bharatanatyam, to transition one from a student to a dancer. It can last two to three hours or more, complete with a live orchestra, speeches and an intermission.
Das says it is likely that the audience will be full of young students. They usually come to the performances eager to learn from the older dancers and prepare for the day they will be giving their own. Das herself attended her first Arangetram when she was 6 or 7 years old.
"It's usually treated as a really big learning opportunity for younger kids to go and see what the big kids are doing, and then the rest of [the audience] is friends and family," Das said.
According to Das, your teacher determines whether you are ready to give an Arangetram, but you can make the final decision if you feel fully prepared.
"There's always going to be something to improve on with [dancing]," Das said. "I wouldn't make it earlier, but I think I'm ready for it."
After an Arangetram, it is possible to either become solely a dancer or simply put an end to training. Instead, Das plans to continue training while focusing on school and other commitments. Das also looks forward to her status changing in the studio.
"Right now, I'm an assistant teacher, but when I finish my Arangetram, I'll be a more senior assistant teacher. Your overall status kind of changes in how people look at you and the way you interact with the teachers and the rest of the students," Das said.
Das's Arangetram will be held at Conestoga, in the Hobson C. Wagner auditorium. Although she has mixed emotions about the performance, Das is ready to take on the challenge.
"It was always like 'I'm going to do one of those (Arangetrams) one day,' and now it's like 'Woah, okay, that's happening,'" Das said. "I'm finding it hard to believe. I'm excited, but I'm most certainly nervous, because it's a lot of people and I'm all alone on that stage."
---
Julia Harris can be reached at [email protected].