Bundt cakes come to Conestoga community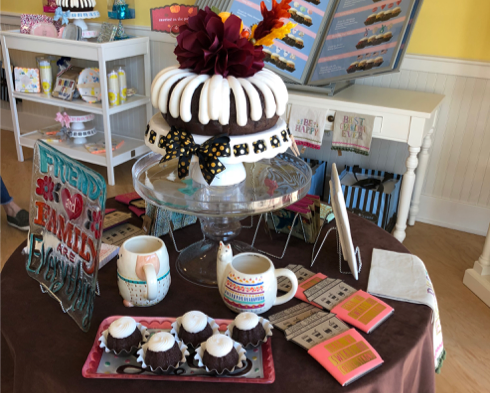 By Reagan Gerrity, Design Editor
Nothing Bundt Cakes sells just one product: cake. Serving Bundt cakes of all shapes and sizes in a multitude of flavor combinations, a new franchise location has opened in Wayne, Pennsylvania.
Conestoga parent Erin Shine opened the 306th store in the Gateway Shopping Center on Oct. 13 and the fourth location with the help of her husband Daniel Shine.
"I'm not really a baker but when he brought them (bundt cakes) home it was so good. We were both kind of at the place where like, my baby of the family is a junior in high school, it might be fun to do something together," Erin said.
Originally a small business based in Las Vegas, Erin said Nothing Bundt Cakes has gained momentum as a franchise, making its way throughout the country.
While only being opened a short while in the Gateway Shopping Center, Erin said the store has already amassed great popularity, with its most popular flavors being Chocolate Chocolate Chip and Red Velvet. But Erin also said, with great success always comes challenges and anxiety. 
"My big worry from the very beginning was the employees because everyone says hourly employees quit, they don't show up and I was having anxiety over like, when I come into work on Sunday, the bakers aren't going to show up and no one's going to be here and I'll have to do it all," Erin said.
Luckily, Erin has found reliable employees, several of them being Conestoga students.
"The people who work here have been absolutely amazing. They really get along and like working here. It's just a fun place to be," Erin said.
Kennedy Niness, a junior at Conestoga, has known the Shine family or most of her life and said she knew working at Nothing Bundt Cakes would be perfect for her.
"Ever since Mrs. Shine told me they were opening up their very own shop, I knew I would want to work there," Niness said. "I originally started helping Maddie and her parents do sampling for Nothing Bundt Cakes over the summer at a couple of events and loved it so I knew it would be a great place to work."
Daughter Madeline Shine, who is also a junior at Conestoga, works alongside her parents. Despite her busy schedule, which is filled with academics and dance, she said she still has the opportunity to contribute to the community through Nothing Bundt Cakes and is proud her family brought the store to the TE community.  
"It provides sweetness for the community and a place to buy bundt cakes, unlike any other place around here," Madeline said.
As the store continues to grow and flourish, Erin said the current goal is to offer exceptional service and pleasure through bundt cakes to all customers who walk through the doors.
"We're really trying to bring joy to everybody and also provide customer service that is unexpected. Like take stuff to the car for people, if it's raining, take them an umbrella, go over the top in terms of taking care of people," Erin said.
---
Reagan Gerrity can be reached at rgerrity[email protected]