The New Face of Freshman Football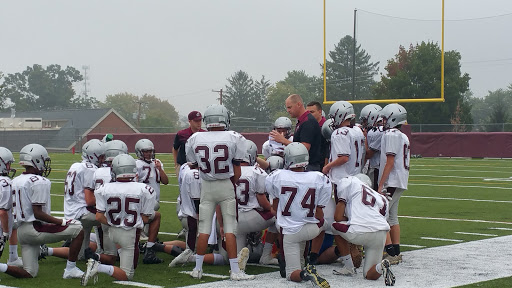 By J.P. Infortuna, Staff Reporter
After a 2016 season of change across all the levels of the Conestoga's football program, the coaching lineup seemed to be set. That was until Pete Ricci, the head coach of the freshman team, fell ill at the end of last school year. Brian Samson, Conestoga guidance counselor, replaced Ricci with excitement.
"I am enjoying this job immensely, and I would be happy to stay on, but I kind of just feel like I'm a steward for this team and this program, so if someone with more experience wants to come back and coach, Coach Ricci, I'd be happy to pass it along, it's not something I have to do, but it's something I really enjoy doing," Samson said
After a full change in Football Staff following the 2015 season, Ricci was hired to take over the Freshman team along with assistant coaches Jim Moran and Aaron Lockard, and it seemed as if everything was set for the future.
However, a few months before the start of the 2017 season, Ricci became ill and another vacancy opened up in the 'Stoga football program, and it was two weeks before school began that Samson was hired.
"It's a shame to not have Ricci with us this year," Lockhard said. "but, Samson brings a level of coaching experience that keeps the players focused, dedicated, and he knows enough to have it fun for them."
While it is his first time coaching football, it's not Samson's first time coaching athletics at Conestoga. He has coached the freshman girl's basketball team for three seasons and lead the boy's lacrosse team from 2001 to 2014. Samson even took a part in collegiate sports, as an assistant coach for the Villanova boy's lacrosse team for the past three years.
But aside from coaching, sports have always been a part of Samson's life, in particular football. He is an avid fan, playing in high school and after college in seven on seven.
The freshman team philosophy is built upon a few key ideals, that all three of the coaches share. First, to teach the fundamentals of the game, blocking and tackling. Second, to give experience to all the players. Third, to create an environment that keeps the players having fun and loving the game. And fourth, to help facilitate the transition to the JV and Varsity teams.
"It's development and growth," Samson said describing the overarching theme of the team.
According to Samson, the freshman team plays an integral role in shaping Conestoga football.
"We serve an important purpose for next [football season] because we have 31 one kids on the team, and the hope is that they all move up and play next year. It's really about the future of the program," Samson said.
While only starting the season with a 0-0 game, they are appear to be improving rapidly winning their second game by a healthy margin of 18-6.
The coaching staff could still be subject to change for the 2018 season, but Samson is focusing on the team now and couldn't be more excited to have this opportunity.
[unitegallery Samson]
---
J.P. Infortuna can be reached at [email protected].