Healthy eating: Recipes for your New Year's resolutions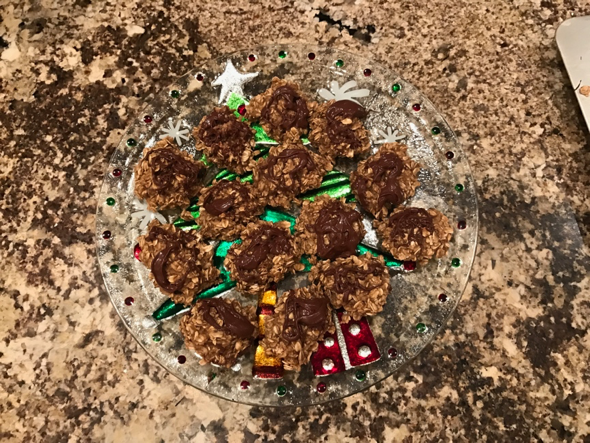 By Brooke Deasy and Maddie LaMonica, Staff Reporters
"Happy New Year!" This familiar phrase welcomes the promise and comfort of a new year. By starting a conversation or scrolling through Instagram posts, it's clear that "eating healthier" is a popular New Year's resolution. However, a fresh batch of gooey chocolate chip cookies fresh from the oven is bound to stray healthy eaters from their strict path of pure nutrition. To those on the brink of surrender or new challengers in healthy eating, here are five alternatives to fulfill your junk food cravings.
Jump to:
Frozen Yogurt
Strawberry-Banana Smoothie
Mixed Kale Chips
Banana Oatmeal Cookies
No-Bake Energy Snack
Frozen Yogurt
[unitegallery frozen_yogurt]
Ingredients:
Bag of frozen mangos
Tablespoon of honey or agave nectar
Plain yogurt (greek, non-fat or full fat)
Tablespoon of fresh lemon juice
Pour the mangos, honey or agave nectar, plain yogurt and a tablespoon of lemon juice into a blender. Mix at the highest speed until no chunks remain and the yogurt has a smooth, light consistency. Freeze in an air-tight container for at least 6 hours. Allow the frozen yogurt to thaw for 5 minutes, then scoop out and enjoy.
This frozen yogurt recipe is perfect for those late night cravings for something sweet. It's great for sharing with friends and family, or just for yourself. A dollop of whipped cream is a nice touch, adding to the exuberant flavor of the yogurt.
Calories: ~100 per serving (yields 4 servings)
Strawberry-Banana Smoothie
[unitegallery smoothie]
Ingredients:
1 cup of frozen strawberries
1 banana
¼ cup of vanilla nonfat yogurt
Dash of pure vanilla extract
Crushed ice
Place strawberries, banana, vanilla yogurt, vanilla extract and crushed ice into a blender. Pulse on either low, medium or high depending on your preferred consistency. Pour finished smoothie into a glass or two and start drinking.
These strawberry smoothies are light and tasty, serving as the perfect snack for healthy eaters. Taking about five minutes to prepare, they are a quick and easy recipe for those who are always on-the-go. Feel free to adjust the smoothie to your liking: substitute strawberries for a different fruit or add in more, such as apple slices, blueberries or oranges. A fruit kabob on top creates a nice presentation and is tasty too.
Calories: ~110 calories
Mixed Kale Chips
[unitegallery kale_chips]
Ingredients
1 bag of kale (pre-washed and cut is preferable)
1 tablespoon of olive oil
1 teaspoon of sea salt
2 cups of mixed nuts
Preheat the oven to 350 degrees. If not bought pre-washed, rinse the kale under cool water. Thoroughly dry the kale, either with paper towels or a salad spinner. Separate the leaves of the kale from the stems. Throw out the stems and break the leaves into bite-size pieces. Place two cups of mixed nuts into a blender and pulse on high until it has a creamy consistency. Line two non-insulated cookie sheets with parchment paper and spread the kale on them. Drizzle the olive oil over the kale evenly and then sprinkle the sea salt on top. Lastly, coat the kale with the nut mixture, covering as much kale as possible. Cook in the oven for 10-15 minutes or until edges turn brown― not burnt. Place in a bowl and enjoy.
Say goodbye to potato chips because these kale chips will take their place in a heartbeat. This quick recipe is perfect for parties or everyday snacking. Calories can be cut substantially by decreasing the salt and using other seasonings, as well as spraying the kale with Pam instead of the olive oil. These kale chips are super flavorful and irresistible. Even if you're not a fan of kale, there is still a good chance that you will like this recipe. No longer will you look at this green the same again.
Calories: ~200 calories per serving (yields 4 servings)
Banana Oatmeal Cookies
[unitegallery banana_oatmeal]
Ingredients
3 ripe bananas
½ cup of skim milk
1 egg
2 tablespoons of Splenda sugar substitute
1 tablespoon of peanut butter (low-fat)
2 cups of oats (not instant)
½ teaspoon of vanilla extract
Preheat the oven to 350 degrees. In a medium bowl mix the oats, peanut butter and Splenda. In a separate bowl mix the low-fat milk, vanilla extract and the egg. Peel and mash the banana with a fork then add it in with the dry ingredients. Combine the dry and wet ingredients and stir until the consistency is to your liking. If it is too runny, add another 1/3 cup of oats. Take a baking sheet and use nonstick spray or butter to ensure the cookies will not stick to it. Use a spoonful of batter for each cookie and arrange them on the baking sheet. Bake for 20 minutes or until they are golden brown. Allow them to cool for 10 minutes then enjoy!
Optional: Take ½ cup of chocolate chips and microwave them for 30 seconds. Add ¼ cup of milk and mix until the chocolate is completely liquefied. Drizzle the chocolate onto the cookies after baking for an added sweetness.
These cookies are a delicious and healthier alternative to chocolate chip cookies. The banana satisfies the sweet craving while also being a great source of vitamins. These are perfect for anyone watching their sugar intake or just trying to eat healthier overall. Furthermore, they're easily customized – simply add some chocolate or raisins and you have a completely new dessert. They'll make a great addition to any party or cookie exchange.
Calories: ~150 (yield 8 servings)
No-Bake Energy Snacks
[unitegallery energy_snacks]
Ingredients:
½ cup Chocolate chips
2/3 cup Toasted coconut
½ cup Peanut butter
1 cup Old fashioned oats
1/3 cup Honey
½ cup of grounded flax seed
1 teaspoon vanilla extract
Mix the chocolate chips, coconut, peanut butter, oats, honey, flax seed and vanilla extract in a large bowl, using either a handheld whisk or electronic mixer. Cover the bowl with tin foil or saran wrap and put it in the freezer for 15 minutes. Once chilled remove the covering and use your hands to roll the mixture into small bite-sized balls and enjoy.
This quick recipe is a great alternative to the sugary granola bars in the supermarket but still give you the energy you need throughout your day. They take only 20 minutes to make and will stay fresh for a few weeks if refrigerated. It is a perfect light breakfast snack to have before rushing out the door to school or work. Alternatively, it makes a great pre-workout food, as it is filled with protein and carbs which give you energy.
---
Brooke Deasy can be reached at [email protected].
Maddie Lamonica can be reached at [email protected].