Matts' Music Monday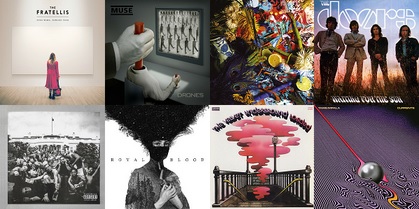 By Matt Paolizzi and Matt Soderberg, Co-Sports Editor and Staff Reporter
Fall has officially begun, but this Music Monday, Matt and Matt have created two playlists to help you hang onto summer just a bit longer.
Note: Some songs included are explicit.
[one-half-first]
Matt Paolizzi:
Having yourself a summertime hangover? Still not willing to accept the fact that school's back in session? DJ Paolizzi's got the simple cure. It's a 24-song playlist chock-full of throwbacks, loud rock bangers, chill beats and good times. Have fun, and may your summer missing hearts find hope in the music.
Top 5:
"Summertime Clothes" – Animal Collective
Animal Collective are indie darlings and "Summertime Clothes" is the quintessential hipster summer song. From the loud and bouncy synth line, the sweeping, intoxicating vocals and the simple chorus (I want to walk around with you!), Animal Collective can make it seem like July in January
"What I Got" – Sublime
Ska sounds the sweetest during the summer and the masters of the genre, Sublime, have themselves a nice laid-back groove made for lounging around. Maybe by the pool, maybe in a hammock, maybe on the beach, or cruising around in the car. Anywhere you can just vibe out and chill.
"Izzo (H.O.V.A.)" – Jay Z
This is the anthem right here. From the feel-good beat and the tight rhymes put down by Hova himself, this is the song that really put Jay Z on the pop chart radar. Jay won himself a Grammy for this track. You won yourself a perfect summertime pick-me-up.
"Dreams" – Beck
When indie rock starlet Beck Hansen won the Grammy for best album last year, many looked at their TVs and said "Huh, who's this guy?" But Mr. Hansen has made sure that everyone knows his name with this perfect summer jam. A little pop, a little alternative, all Beck.
"Lookin' Out My Back Door" – Credence Clearwater Revival
Along with Bob Marley, CCR is the type of band where any song of theirs could be considered summer worthy. But "Lookin' Out My Back Door" trumps them all. It's the perfect porch sitting song. There's nothing like sitting outside, listening to the birds and crickets, all with John Fogarty singing in your ear. [/one-half-first]
[one-half]
Matt Soderberg:
You wake up at 6:30 again. You study for your bio test. You complain about your teachers. Yeah, you miss summer just a bit. Everyone knows the best part of summer is getting to be really lazy and listen to a whole lot of music that just makes you feel good. Here are 18 songs that will bring you back.
Top 5:
"No No No" – Beirut
Once you listen to this song, you won't stop. The title track of the recovery album from everyone's favorite flugel horn player Zachary Condon is catchy, relaxed, and actually thoughtful.
"Sleep In" – Telekinesis
This song will put you to sleep in the best way. In your half-dazed state on the bus to school in the morning, you will most definitely relate. Another one from a surprisingly great record.
"3 Rounds And A Sound" – Blind Pilot
It's a real shame that Blind Pilot does not get the recognition they deserve as one of the best written groups performing acoustic jams around. This is their highlight track, and you won't forget it.
"Trust" – Half Moon Run
The new single from the greatly underappreciated Canadian electronic rock group is just as meaningful and catchy as their last effort. Here's to hoping they add a Philly tour date.
"Barcelona" – George Ezra
The best of Ezra's city-named songs, Barcelona is the perfect coda of hopefully an incredible summer. I guess we can make it through until next year, right?
[/one-half]