5 Sweet Valentine's Day Treats
By Avery Maslowsky, Staff Reporter
You can't find these Valentine's Day treats in a grocery store. Try these sweet and savory desserts to make the day extra special.
Jump to:
Red Velvet Brownies
Cupid's Cookie Bars
Heart Cupcakes
Fantasy Fudge
Pink Perfect Popcorn
Red Velvet Brownies
Is it a cake? Is it a brownie? Is it delicious?
It's all the above. It's the perfect combo of both!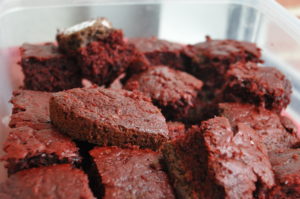 Ingredients:
1 box of brownie mix
oil (amount stated on box)
egg (amount stated on box)
water (amount stated on box)
1 box of red velvet cake mix
Directions:
Preheat oven to temperature stated on red velvet cake mix
Grease a 9×13 inch pan
Prepare brownie mix as stated on box and set aside
Prepare red velvet cake mix as sated on box and set aside
Pour brownie mix evenly into the pan
Then, pour all the red velvet mix on top of the brownie mix and spread evenly OR pour just enough red velvet cake mix to cover the brownie mix and swirl gently with a knife.
If making the "half red" brownies put the brownies in for about 25 mins. If making the "full red" brownies put them in for about 35 mins.
Remove from oven and let sit until completely cool. Sprinkle with powdered sugar for extra detail
Cupid's Cookie Bars
It's not just a plain old cookie; it's got chocolate chips and M&Ms. And it's insanely easy to make!
Ingredients:
2 ¼ cups of all-purpose flour
1 tsp baking soda
1 tsp salt
2 sticks of butter
3/4 cup of granulated sugar
3/4 cups of brown sugar
1 tsp vanilla extract
2 eggs
1 full bag chocolate chips
1 full bag M&Ms
Directions:
Preheat oven to 375 degrees
Grease a 9×9 inch pan and set aside
In a medium size bowl mix flour, baking soda and salt
In a large bowl mix the sugars, vanilla and butter
Mix in the two eggs
Finally, mix in the flour mixture and add chocolate chips and m&ms
Put in oven for 9-11 minutes
Let cool


Heart Cupcakes
A super easy spin on the classic chocolate cupcake with a Valentines twist!
[unitegallery cupcakes]
Ingredients:
1 box of chocolate cupcake mix (I used dark chocolate)
eggs (amount stated on box)
water (amount stated on box)
oil (amount stated on box)
frosting (1 jar)
powdered sugar (for sprinkling on top)
Directions:
Preheat oven to temperature stated on cupcake mix
Prepare chocolate cupcake mix
Bake cupcakes for the time stated on the box
Let cupcakes cool completely
Cut the tops off of the cupcakes leaving a flat surface
Take the tops of the cupcakes and use a heart-shaped mini cookie cutter to cut out a heart in the middle
Frost the flat cupcake base and place the top back on. Fill the heart-shaped hole with frosting or just sprinkle powder sugar on the top
Repeat for all cupcakes

Fantasy Fudge
Although this dessert is bit more difficult to make, your taste buds will thank you if you do.
[unitegallery fudge]
Ingredients:
3 cups of granulated sugar
3/4 cup of butter
1 can of evaporated milk
1 jar of jiff puff
1 ½ bars of bakers semi-sweet chocolate bars
1 tsp vanilla extract
sprinkles
Directions:
Line a 9×9 inch pan with tin foil
Place butter, milk and sugar in a pot on medium heat and melt completely
Get mixture to a full boil and keep on medium heat at full boil for 5 mins or until the temperature (using a candy thermometer) is 234 degrees
Remove from heat and immediately add chocolate and marshmallows
When completely melted, add vanilla
Pour mixture into tin foil covered pan and sprinkle sprinkles on top
Let sit until hard and enjoy
Pink Perfect Popcorn:
It's the healthier solution to a sweet and salty Valentine's Day dessert.
[unitegallery popcorn]
Ingredients:
3/4 cups of popcorn kernels
2 bars of white chocolate bars
1 cup of M&Ms
2 mini boxes of sweethearts
sprinkles
extra candy if you want
Directions:
Pop kernels (I used an air popper)
Line a sheet pan with parchment paper
Spread popcorn on sheet pan
Melt one bar of white chocolate in microwave and drizzle across popcorn
Melt another bar of white chocolate and mix in pink or red food coloring
Again, drizzle on popcorn
Add on Valentine's Day sweets (I used M&Ms and sweethearts)
Let set until chocolate hardens
Avery Maslowsky can be reached at [email protected].