Outdoor Ice Skating: A Lost Art
By Betty Ben Dor, Photography Editor
Fading from society's norm, outdoor ice skating has become a rare and hard to find winter pastime. Although major cities such as Paris, London and New York still have their fair share of outdoor rinks, suburban areas have all but lost these cultural treasures.
Although we now have begun to slip away from this tradition, outdoor ice skating rinks prospered during the 19th and 20th centuries. Several Impressionist artists including Charles Parsons chose to create beautiful works that depicted the social atmosphere of the rinks. His depiction of winter time in Central Park shows a lively rink bustling with people of all ages, coming together to enjoy the winter.
However, nowadays rinks have moved inside and the charm surrounding them has faded. Surrounded by Christmas trees and with a big roaring fire in the middle, outdoor rinks in places such as Lake Placid, New York attract locals as well as tourists. A great place for people to gather in the evenings, lively music blares out across the rink while people warm their hands on steaming mugs of hot chocolate sold by local vendors. Indoor rinks tend to be hot, sweaty and a stark contrast from the winter outside.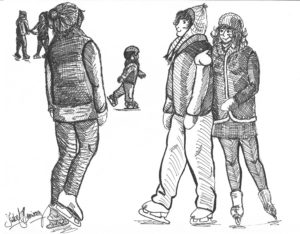 Moving the rinks indoors creates a noisier atmosphere since the music is confined within the walls and everyone has to yell to be heard. Although several sometimes have a Christmas tree in the center, most tend to not, losing the charming atmosphere of the rink. The few treasured rinks that remain are mostly in the hearts of cities. Major world capitals have quite a number of extravagant outdoor skating rinks that are open to the public. However, the suburbs seem to be shying away from this tradition. Although it used to be that every town and village would have a rink in the winter time, now it is becoming harder to find charming outdoor rinks nearby, without having to take the trek into the city.
Currently, Philadelphia has a few indoor rinks, such as the Class of 1923 Arena at the University of Pennsylvania, but the deafening roar of people creates an atmosphere that may not be very open to socializing. Whereas in earlier generations people would come together from all around town to have fun on an open-air rink, this practice has become less prominent with less possibilities to find such rinks nearby.
Although it is a shame that we in Philadelphia have limited options for the classic outdoor rink, here are a couple of options for those willing to travel a little bit further for that old-timey sentiment:
---
The Blue Cross RiverRink:
A festive outdoor rink open since November 27, this ice skating rink is complete with winter warming cottages, firepits and lively decorations.

101 South Christopher Columbus Blvd, Philadelphia, PA 19147

Hours:

Monday – Thursday: 1PM – 10:30 PM

Friday: 1 PM – 12:30 AM

Saturday: 11 AM – 12:30 AM

Sunday: 11 AM – 10:30 PM
Dilworth Park
Located right by the Philadelphia City Hall, Dilworth Park converts a public summer space complete with fountains into an ice rink every winter. Food is available at the site and there are constantly events happening, such as movie nights and festivals.

1 South 15th St, Philadelphia, PA 19102

Hours:

Monday-Thursday: 3-9 PM
Friday: 3-11 PM
Saturday: 11 AM – 11 PM
Sunday: 11 AM – 8 PM
Betty Ben Dor can be reached at [email protected].