Day 11: 11 must-watch Christmas movies
By Ashley Goldberg, Staff Reporter
With Christmas just days away, it's the perfect time to watch a Christmas movie or two… or 11. Here are 11 Christmas movies you should watch this holiday season.
Only one more day to enter our $50 gift card giveaway! To enter today, add us on Snapchat (the_spoke) and put a picture of the December issue of The Spoke on your Snapchat story.
1. "Elf"

Elf unravels the story of Buddy the Elf who goes on a quest to New York City to find his biological father, as Buddy was raised in the North Pole with the one and only, Santa Claus. This lighthearted movie will give viewers a rush of holiday cheer along with a good laugh.
2. "Home Alone"
A classic. When the McAllister family leaves without Kevin, he is thrilled to have the house to himself until he discovers a pair of burglars who are destined to rob his house on Christmas Eve. As Kevin makes a plan to stop the burglars and bring them to justice, the suspense and action of this holiday movie will leave viewers' popcorn bowls empty.
3. "Frosty the Snowman"
When a magic hat lands atop the head of a snowman and he comes to life, the story of the famous "jolly, happy soul" begins. Frosty enchants all of the local children until the rising temperatures and the wicked magician (whom the hat belongs to) become dangerous. This movie tells the story of a child named Karen, who wants to get Frosty back to the North Pole so he will be safe. This holiday classic embodies themes of friendship and adventure which makes it an enjoyable watch for viewers.
4. "Rudolph the Red-Nosed Reindeer"

Rudolph was born with a red nose that glows, unlike any of Santa's reindeer, and is seen as an outcast in the North Pole. As a result, he runs away into the forest and meets Hermey, an elf who wants to be a dentist, along with other friends on his journey. When Rudolph returns home, Santa is faced with a snowstorm that could prevent his annual Christmas Eve flight from happening. The resolution embraces a powerful message which leaves viewers with feelings of love and happiness.
5. "The Polar Express"
Santa Claus does not exist. Or at least that's what the young boy in "The Polar Express" believes. When he boards the Polar Express which takes him to the North Pole, a magical adventure unfolds in which he learns about friendship, bravery, and the spirit of Christmas.
6. "A Christmas Carol"
Bitter Ebenezer Scrooge, who hates Christmas, is visited by three ghosts of his late partner. The Ghost of Christmas Past, The Ghost of Christmas Present and The Ghost of Christmas Yet to Come show Scrooge things that will change him forever. The transformation shows viewers how powerful the spirit of Christmas can be.
7. "Deck the Halls"

When the Hall Family moves in across the street from the Finch Family during the holiday season, tensions arise as Buddy Hall has big dreams to decorate his house so bright that it would be seen from space. As Steve Finch's Yuletide spirit is challenged, this movie is complete with competitiveness, humor, and love as the families strive to find the true meaning of Christmas.
8. "Christmas with the Kranks"
Luther Krank is fed up with the commercialism of Christmas, so he decides to skip it. The story is flipped upside down when his daughter calls and tells him she's coming home for Christmas Eve. The Kranks are encompassed within the holiday rush as they scramble to have the perfect Christmas for their daughter and her fiancé.
9. "Miracle on 34th Street"
Six-year-old Susan has doubts about childhood's most enduring miracle: Santa Claus. Her beliefs are turned around after meeting a special department store Santa who's convinced he's the real thing. This Santa gives Susan the most important gift of all—something to believe in.
10. "Four Christmases"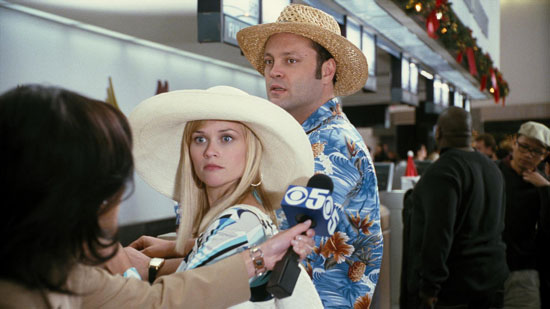 When Brad and Kate are on their way to Fiji for a Christmas vacation to escape their families, their flight is cancelled. "Four Christmases" tells their story as they are forced to visit their four divorced parents, all in the same day. The events in this romantic comedy strengthen the love between this couple through Christmas.
11. "National Lampoon's Christmas Vacation"
Clark Griswold promises his family the best Christmas ever. However, Clark's efforts end up causing a domino effect of disasters that don't exactly fulfill the requirements of the best Christmas, but definitely make it unforgettable. Viewers will love the humor of this holiday comedy.

Ashley Greenberg can be reached at [email protected].