Day 12: 12 must-visit spots for the holidays
By Ashley Greenberg, Staff Reporter
Winter break is finally here! Even if you aren't going on vacation, there are plenty of fun things to do and see in the area. For the final day of the 12 Days of Spoke, here are 12 spots to visit this winter break.
Today is the last chance to enter our $50 gift card giveaway. Leave a comment on any post on the website and you will automatically be entered. We will announce the winner in the coming week.
1. Christmas Village at Love Park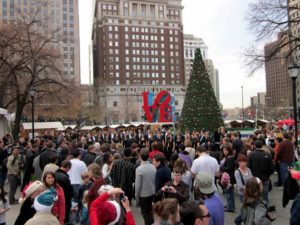 This open air venue in the heart of Philadelphia recreates a traditional German holiday market with vendors selling international and handmade gifts. Visitors can enjoy a multitude of sweet treats such as handmade waffles, mulled cider and gingerbread while listening to live performances by local artists and choirs creating the perfect holiday atmosphere. Admission is free and the market is open through Dec. 27.
2. Macy's Light show and Wanamaker Organ Concert
One of the oldest Philadelphia traditions is the animated light show at Macy's in Center City. Over 100,000 lights create beloved holiday images and characters in the historic Wanamaker building. Admission is free and shows run every two hours from 10 a.m. until 8 p.m.
3. A Longwood Christmas
A short drive to Kennett Square is well worthwhile to explore the area's most beautiful indoor and outdoor holiday venue. Conservatory displays feature thousands of poinsettias in every color along with other holiday floral blooms and colors. Walking the outdoor paths offers hundreds of lighted displays and trees ultimately leading to the open air fountains dancing to holiday music. Tickets are required and advance purchase is recommended during peak holiday times. For more information visit www.longwoodgardens.org.


4. Hersheypark Christmas Candylane
This popular amusement park gets into the spirit with its holiday makeover including four million twinkling lights. Special holiday events include ice skating at Rudolph's Pond, the Cocoa Cruiser roller coaster, Reindeer Stables, and Noel, a light show featuring 200,000 lights synchronized to favorite holidays classics. Tickets are required and can be purchased at www.hersheypark.com.
5. Comcast Holiday Spectacular
The famous Comcast building on Market St. offers a free 15 minute show on one of the world's highest resolution LED displays. Dancers from the Pennsylvania Ballet and actors from The Walnut Street Theatre are featured in this holiday show accompanied by orchestra holiday classics. Shows run daily at the top of the hour from 10 a.m. to 8 p.m.
6. Blue Cross RiverRink Winterfest
Lace up those skates and enjoy Penn's Landing riverfront at this outdoor Olympic-sized skating venue. The park offers expanded seating, warming huts and food options from classic hot chocolate to foodie specialties from the Garces Group. Open daily, park admission is free, skating tickets cost $3, and skate rentals are available for $10.
7. The Miracle on South 13th Street Holiday Light Display
Named Pennsylvania's #1 Holiday Lights by Travel & Leisure Magazine, south Philadelphia residents offer this annual festive holiday experience. Starting at the 1600 block of 13th St., visitors can stroll or drive through the neighborhood where nearly every house is bursting with holiday cheer.
8. A Brandywine Christmas
The Brandywine River Museum of Art offers one of the largest Christmas Train displays in the area. Over 2,000 feet of track wind through towering trees in the three-story atrium of this quintessential Chester County landmark. The display also includes the museum's collection of antique dolls and thousands of whimsical ornaments and decorations handmade by the museum volunteers. Tickets are required but discounts are available for children and senior citizens.
9. Radio City Music Hall's Christmas Spectacular

The world famous Rockettes are the highlight of this iconic holiday musical and dance spectacular. Costumes from Nutcrackers to elves and dolls adorn the dancers as they continue to create an atmosphere of holiday magic year after year for thousands of NYC visitors. Shows run throughout the day. Tickets are required and are available throughout the holiday season.
10. Rockefeller Center
One of the most celebrated holiday attractions in NYC is the Rink at Rockefeller Center. Ice skate under the famous Rockefeller Christmas tree from morning until night but reservations are definitely recommended. Special packages are available to further enhance the skating experience at www.therinkatrockcenter.com.
11. NYC Window Displays
No place decorates store windows like the luxury shops on and around Fifth Avenue in NYC. Macy's, Saks Fifth Avenue, Barney's, and Bloomingdale's are just some of the stores whose animated and dazzling window displays amaze tourists year after year. There is no charge to stroll through and enjoy, but bundle up for the often frigid temperatures and swirling winds of an NYC winter.
12. Mummer's Parade
The Philadelphia holiday season is not complete until the annual Mummer's Parade on New Year's Day. Over 10,000 participants from the area compete in various divisions such as Fancies, Comics and String Bands entertaining crowds starting at 10 a.m. Tickets are not required to line the streets except in the judging area near City Hall. For additional schedule information see www.phillymummers.com.

Ashley Greenberg can be reached at [email protected].