By Nour Elkassabany, Staff Reporter
The music we listen to can easily help us recall times in our lives. As 2015 draws to a close, here are some new faces to introduce yourself to and some old faces to fall back on. Maybe in one year's time, you'll have your own memories with these artists.
To enter our $50 gift card giveaway today, like us on Facebook and comment your favorite artist on today's post.
---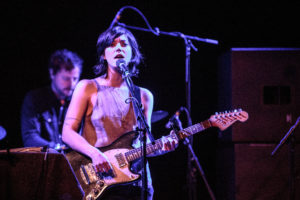 Sharon Van Etten
Brooklyn-based singer-songwriter Sharon Van Etten has been putting out music since 2009. Through her entire career, her songs have been very personal and very real, most of them dealing tackling the ups and downs of being in love. Her more recent offerings, however, highlight her development since her debut. Van Etten's 2014 album, "Are We There," showcases her skills with harmonies and her ability to put together multidimensional, rich tracks. Although it's full of heartache, the music is enough to keep you warm.
Standout tracks: Your Love Is Killing Me, Every Time the Sun Comes Up, Afraid of Nothing, Taking Chances

---
Kindness
British musician Adam Bainbridge's project, Kindness, is no doubt pop music. However, it stands out because of its thoughtfulness and influences from a variety of different styles. Citing his preference for
not
singing on his tracks, he has become a master collaborator, working with artists like Dev Hynes of Blood Orange, Kelela and Robyn. Whether you are listening to Bainbridge's debut, the disco influenced "World, You Need a Change of Mind," or his more R&B-leaning sophomore album, "Otherness," they're sure to provide a strong nighttime vibe.

Standout tracks:
This Is Not About Us
, With You, For the Young, Swingin' Party,
That's Alright
---
Rodrigo Amarante
Rodrigo Amarante has been in several bands, including Los Hermanos and Little Joy, but has only recently released solo material. In 2014, the Brazilian artist released his solo debut, "Cavalo." On the record, he sings in Portuguese, French and English, and effortlessly mixes slower, haunting melodies with more upbeat tracks. If anything, a listener's take away from Amarante's music should be his incredible ability to create beauty from simplicity.

Standout tracks: Fall Asleep,
Tardei
,
I'm Ready
---
Sufjan Stevens
Over the years, American musician Sufjan Stevens has built up a huge catalog of music. His albums range in styles, from the soft, acoustic, guitar-centric "Seven Swans" to the more electronic stamp on 2010's "Age of Adz." Yet something that remains constant is his storytelling ability and handle of emotion. His most recent offering, "Carrie and Lowell," released in March, goes back to his more stripped back roots and delves into personal stories and unresolved feelings surrounding the passing of his mother. Any festive fans will also be delighted to hear that Stevens has released more than one album of Christmas music, which is especially fitting for the holiday season.
Standout tracks: Fourth of July, Auld Lang Syne, Casimir Pulaski Day, Bad Communication, Too Much
---
The Last Shadow Puppets
One half Alex Turner of the Arctic Monkeys and one half Miles Kane, The Last Shadow Puppets put out the kind of music that you would expect in a Bond movie. They bring together guitars, drums and tight string arrangements to craft music that is dramatic, suspenseful and luxurious (with lyrics to match). Although the British duo has only released one album, "The Age of the Understatement" in 2008, they've announced their
return
for spring 2016.

Standout tracks:
Standing Next to Me
,
My Mistakes Were Made For You
, Meeting Place
---
Wolf Alice
After several EPs, British band Wolf Alice released their debut album, "My Love Is Cool," back in June. Lauded for supposedly reviving grunge, the album encompasses a wide variety of styles, yet manages to keep a clear, undoubtedly Wolf Alice stamp on each track. This music perfectly captures some of the sentiments in a young person's life: the floating bliss of being with best friends, the vulnerability that comes with love and sadness, the boredom and antsiness that come with living in one place for years. They have had a successful year, but they're young and they're just getting started. Over time, I'm sure they'll sharpen their skills and only continue to improve.
Standout tracks:
Bros
,
You're a Germ
, Swallowtail
---
Tobias Jesso Jr.
At first sight, listeners are probably confused by Tobias Jesso Jr. and his odd Randy Newman, Bob Dylan aura. Standing at 6 feet 7 inches, few would expect such a large musician to play such simple, honest music. His first demo was released in 2013, after a painful breakup and news of his mother's cancer diagnosis. Working with people like Patrick Carney of The Black Keys, Jesso Jr. put out his debut album, "Goon," earlier this year, which received widespread praise. More recently, Jesso Jr. has been establishing himself as a songwriter, working with Adele on her latest single, "When We Were Young."

Standout tracks:
How Could You Babe
,
Hollywood
, Leaving LA
Nour Elkassabany can be reached at

[email protected]

.