Banded together: Marching Pioneers prepare Les Misérables show
By Meagan O'Rourke, Co-Convergence Editor
As the trumpet section dons white trash bags, the color guard adjusts their animal ears and tails. Flute players in Hawaiian shirts and safari hats pose for a picture while the mostly male drumline confidently wears jorts. Conversations and miscellaneous scales stop as the drum majors, dressed in the colors of the French flag, signal the beginning of "One Day More."
But band camp is not a costume party—it is a rigorous two weeks in which The Marching Pioneers learn and rehearse their Les Misérables themed halftime show. Depending on their section, band and color guard members arrive between 10 a.m. and 2 p.m. and practice until 8 p.m. Instrumental band members learn music in the morning and gradually apply it to drill—the steps and movements on the field. Color guard learns drill and flag work in the morning, then combines with the band most evenings. Despite the long hours and tedious practice, there is an air of positivity.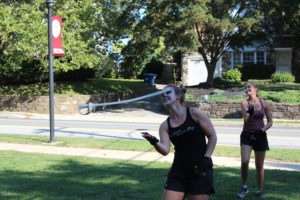 "We are in the sun, it is really hot but we are still willing to go forward and do things we need to do because we like doing it, and we feel good with the people that are around us," said color guard co-captain, senior Stefanny Urbina Rivera.
The camaraderie goes beyond friendship, and the color guard describes themselves as family, with Urbina dubbed as "Mama." When freshman Kion Sprague picked up the flag for the first time, she was immediately welcomed into the group.
"They literally call me their little sister. I don't have to hide anything from them, with them it is like family," Sprague said.
New assistant director and music teacher, Cassandra Hesse, was also warmly assimilated into the Marching Band community. With the help of the administration, she completed her contract in time to direct at band camp.
"I could not be more excited to work with this program," Hesse said. "The staff is incredible and well grounded. You could not ask for better students who are more committed, more excited, more passionate."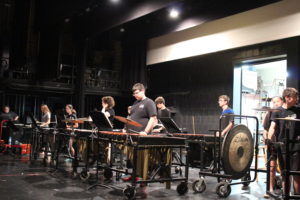 Hesse believes spirit days—which are every day—contribute to the positive morale. Hesse's favorite spirit day is "super intense day," when the band goes all out, complete with cowbells, outrageous outfits and a super intense attitude.
"It was something that could have interfered with what we were doing but it really just made everything a lot more effective and focused and fun," Hesse said.
The band funnels their intensity into the powerful and well-known Les Miserables score, and Hesse predicts an impressive season.
"The marching is so well put together that it really accentuates the music. The level of performance is going to be like none of the shows they've had here before," Hesse said.
Drum major, junior Jill Sharples notices the heightened focus and is most excited to showcase the musicality of players new and old.
"The attitude is really good this year. We have a lot of enthusiasm and people are willing to learn, so I think we are going to have very good players by the end," Sharples said.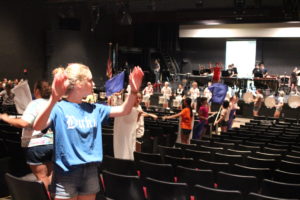 Although embellishments are added throughout the regular marching band season, band camp sets the foundation for the halftime show and establishes the necessary bond between members.
"With band and color guard there are no substitutes, so everyone needs to work as one and be present and work together," said color guard section leader Alina Macedo.
Macedo admits she cries on the field, and this year will not be an exception. As a senior and an only child, she has one more year left with the band members she calls her siblings. But for now, she is focused on the show coming together.
"The time I cry the most and get the most emotional about band is the first time we do the run through of the show and everything just falls into place" Macedo said, "You just realize that everybody is important and everyone has a place."