The Hanukkah Turn Up Playlist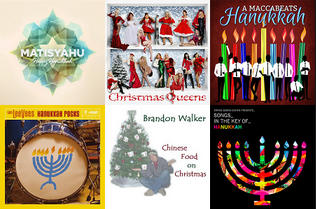 By Rose Kantorczyk, Staff Reporter
This time of year, Christmas songs are all we hear on the radio, from the classics involving overdoses of sleigh bells to more modern tunes that make you want to get up and dance. There are infinite numbers of Christmas melodies out there, and while I happen to think Christmas music is great, it's time that Hanukkah songs got a little love as well. Though they're a bit harder to find, these songs can provide an 8-night party for anyone, Jewish or not, looking to celebrate this holiday season.

"Happy Hanukkah" – Matisyahu
The king of Jewish reggae does everything right with this ultimate Hanukkah jam. Bob Marley-esque beats are infused with some more modern techno sounds to create a song that makes it impossible not to groove a little bit.
"This Is How We Jew It" – Detox
Reminiscent of the Chainsmokers' "#Selfie" this song (found on the drag queen holiday album "Christmas Queens") details the experience of a totally clueless goyim celebrating Hanukkah for the first time. It features decent beat drops and a heaping dose of humor.
"How Do You Spell Channukkah?" – the LeeVees
If classic rock is more your style than reggae or EDM, this is your kind of Hanukkah song. Besides featuring some impressive guitar solos, this song addresses a very important question. Seriously, how do you spell it?!?
"Chinese Food on Christmas" – Brandon Walker
This piano-heavy song starts as a quiet lament to a Jewish kid's lack of Santa and presents under the Christmas tree. However, it builds to become more upbeat, and celebrates the favorite pastimes of Jews everywhere when December 25 rolls around.
"Light Up the Nights" – The Maccabeats
This track offers a Jewish alternative to Pentatonix's popular (and nearly perfect) Christmas album. There's something very lighthearted about holiday a cappella in general, and the Maccabeats offer a quirky and fun song that everyone can appreciate.
"Hanukkah oh Hanukkah" – Erran Baron Cohen
Attention: the classic Hanukkah song has been remixed for a new generation, and oy vey, is it fantastic. It starts out on the more traditional side with some klezmer clarinet and a backbeat, but stick around for a little longer and you'll find some rap verses that you could totally picture being played on the radio.
"I Light It" – Six13
If you're not sick of a cappella yet, I would recommend giving this parody mash-up a listen. Who ever thought that songs by Justin Bieber, Kanye and Enrique Iglesias could be rewritten about the Festival of Lights?
"The Chanukah Song" – Adam Sandler
You can't have a Hanukkah playlist without this classic thrown in. Hailed enough that I think it qualifies as an anthem, this song will have even the biggest Christmas enthusiasts singing along.
Rose Kantorczyk can be reached at [email protected].