Matts' Music Monday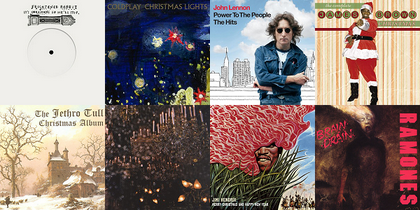 By Matt Paolizzi and Matt Soderberg, Co-Sports Editor and Staff Reporter
The end of November means that the holiday season has officially begun. Matt and Matt bring you two playlists to keep your spirits up until winter break.
[one-half-first]
Matt Paolizzi:
Christmas music tends to get a bad rap. Old and boring staples like "Frosty the Snowman" and "Rudolph the Red Nosed Reindeer" pollute the airwaves every holiday season. Here are some alternatives for you to listen to.

Top 5:
"It's Christmas So We'll Stop" – Frightened Rabbit
This is the perfect song to start off the playlist with because it defines Christmas perfectly. The song wishes us to stop fighting, to put aside our petty difference for at least one day a year. Christmas isn't so much a Christian holiday as it is a holiday for everyone. This song rises ever so steadily before becoming a howling roar into the night, the various layers of sound meshing together perfectly. Frightened Rabbit reveals the worst thing about Christmas. It ends. Same thing could be said about this song.
"Christmastime is Here" – Mark Kozelek
Mark Kozelek is your cranky grouchy scrooge of an uncle who somehow took a beloved Peanuts song and made it into an absolutely beautiful observation on life. Well, maybe we don't all have an uncle who can do that. But Kozelek, who is known for being incredibly rude (that's the understatement of the century), shows an incredible amount of self-awareness on this track. Christmas is a time for this kind of self-reflection as well as a time for brotherhood and redemption.
"Christmas in Hollis" – Run DMC
Oh my lord this is the greatest thing ever. This was actually my first ever Run DMC song. I heard it on the radio while on the way to the King of Prussia Mall with my father. He was about to turn it off, but I stopped him. I'm glad I did. This bar is the best right here: "Rhymes so loud and proud to hear it/It's Christmas time and we got the spirit/Jack Frost chillin', the hawk is out,/And that's what Christmas is all about/The time is now, the place is here/And the whole wide world is filled with cheer."
"Wonderful Christmas Time" – Paul McCartney
We've all heard this one. That "Simply having/a wonderful Christmas time" chorus is stuck in the minds of everyone deep down. The synth line is a classic as well. Macca gives us the gift of happiness with this track. It's impossible to feel anything but that while listening.
"White Christmas" – Bing Crosby
C'mon. It's Christmas. I was raised on Bing Crosby. This was going to be on here whether you liked it or not. [/one-half-first]
[one-half]
Matt Soderberg:
Since Thanksgiving has passed, holiday music is moving in. But don't fill your ears with the generic radio tunes–branch out this year. Holiday music can be wild, weird, and anything but what it's "supposed" to be.

Top 5:
"Frosty The Snow Man" – Fiona Apple
Everyone needs some Fiona Apple in their life. Everyone. She's an unsung folk icon and her rendition of the theme of the classic cartoon is just as charming as the rest of her work. It's fun, it's weird, and it's lovely.
"I Wish It Was Christmas Today" – Julian Casablancas
The Strokes frontman delivers as always with this quirky little Christmas song, and it certainly is like no other holiday tune you will hear.
"Winter Song" – The Head and The Heart
Maybe the holidays to you are less about cheer and gifts and more about appreciating your family and remembering those you can't be with. This song is beautiful.
"We Wish You A Merry Christmas" – Weezer
Holiday traditions include: good food, decorating the tree, being with family, and of course: Weezer. It's odd, it's loud, and it's exactly what you want.
"Tracks In The Snow" – The Civil Wars
Every time you have the opportunity to listen to the Civil Wars you want to take it, but this song is particularly relevant. It's a spin on the genre that feels reminiscent of old holiday music but also with an underlying sense of rebellion.
[/one-half]