Crew team prepares for national competitions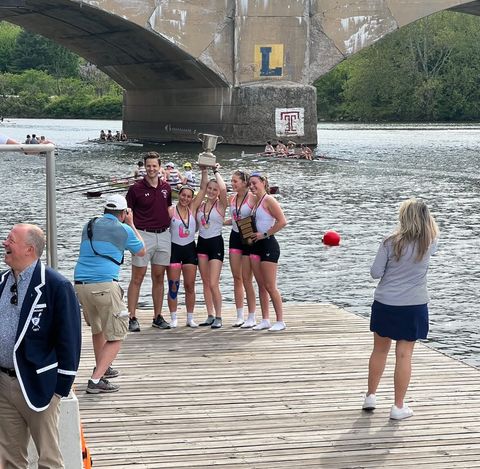 By Alexa Willrich, Staff Reporter
Cheers erupted as Conestoga's girls' varsity quad crew team crosses the finish line in first place at the Scholastic Nationals in 2022. 
This year, Conestoga's crew team is competing in the 2023 USRowing Youth National Championship in Sarasota, Florida from June 8-11 and competed in the Scholastic Nationals in Tennessee from May 28-29. The Scholastic Nationals races consist of only school teams and are 1300 meters long, while the US Rowing National Championship races include club teams and are 2000 meters.
"I think as a team, you just get so close with the people that you're with and we have grown a lot closer together over the years," said Bryn Lantz-Goldstein, a junior member of the girls varsity quad.
This year, on varsity and JV, the team has 14 girls and 16 boys, and 10 rowers on the novice team. All  rowers attend mandatory practices at Boathouse Row, Monday through Friday at 5p.m., and 6:30 a.m. on Saturdays and Sundays on the Schuylkill River.
"I guess my goal was to win championships, and we did. I just want to get faster as a member of the novice team," said tenth grader Zack Bisbing.
Last year, at the US Rowing Nationals, the boys varsity quad placed fifth in Final A group with two other doubles, and the girls placed in Final B group along with two girls doubles. At the Scholastic Rowing Nationals last year, the girls freshmen, junior varsity, lightweight varsity and varsity quads all placed within the top four and the boys varsity,lightweight varsity quad and varsity double placed in the top four. 
"I think the goal this year is to really bump (up) that performance with every boat, not just a couple, making sure every boat that we take has the due diligence to really succeed and make it to a higher level than they had before" said the team's head coach Goldia Kiteck.
In preparation for both Nationals competitions, the team does heat training to simulate the type of environment or weather condition they may encounter. The team does general training year round to brace for nationals. However, for US Rowing Nationals, the team has hard practices the week before leaving for Florida, then tapers off the week of the competition. The team also practices the different lengths of the race and makes sure they are prepared for the distances. The coaches further ensure that lineups are set so that the team can have the best races and place the highest possible.
"Nationals is always so much fun. You get so much closer with your teammates there because you're all living together," Lantz-Goldstein said.
As the crew intensifies practices to gear up for nationals, the coaches and rowers are eager to see their hard work pay off.
---
Alexa Willrich can be reached at [email protected]