Girls' lacrosse team hopes to advance in the state tournament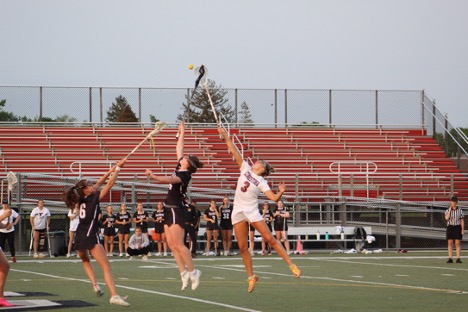 By Bailey Kreszwick, Staff Reporter
After the 2022-23 regular season, the Conestoga girls' lacrosse team is headed to states as the fourth seed, with 15 wins and three losses. Senior midfielder Kate Galica also scored her 200th career goal this season during a home game against Ridley High School. The girls hope to do well in the state tournament through their collaboration.
"As an attacking unit the seven of us definitely try to work together and form bonds between us because you can't win the state championships if you can't connect and pass together," Galica said.
Winning a state title does not come without significant dedication and sacrifice for these girls. The team runs drills to improve stick work throughout the season and, in the off-season, participates in the Youth Sports Center winter league games.
"We have really intense practices, but we also know how to have fun at the same time, which really helps," said junior attack player Chloe Brown. "And I think we're also a really competitive team. So just working together in practice and making each other that much better, really helps us become successful."
Besides winning games, the girls have their personal goals. Galica, Brown, and juniors Kiki Liebeziet and Ellie Wisch made it on the first All Central League team, and juniors Keating Hopkins and Emma Nikolic made it on the second All Central League team. Galica was named All Central League Most Valuable Player, and Piper Kienzle was awarded an honorable mention.
"It's awesome because those are goals I've been working for forever, and even seeing my sophomore year — Rachel Clark getting her 200th goal — I've always been tracking and seeing if I could get there, and I wasn't sure if I could," Galica said.
Several juniors have committed to colleges to play lacrosse. Chloe Brown has verbally committed to the United States Naval Academy, Eva Stagnaro to Boston University, Cassidy Brown to Temple University, Nikolic to Drexel University, Wisch to the Pennsylvania State University, Hopkins to University of Richmond and Liebezeit to University of Notre Dame.
"I am going to miss the people and our team chemistry," Kienzle said. We all really work well together, on and off the field."
---
Bailey Kreszwick can be reached at [email protected].