A wheelie difficult situation: Biking to school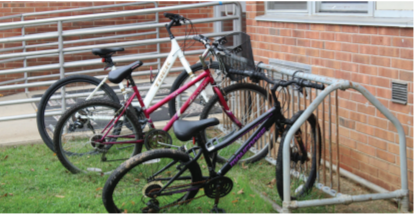 By Lexi Lin and Riddima Pandey, Staff Reporters
Studies show that biking is one of the least popular options of transportation among others such as driving, taking the bus and walking. Despite this, Alexis and Kayla Allen, sophomore and junior sisters at Conestoga, have no choice but to ride their bikes every morning.
"I can't do anything about it because my parents are both busy in the morning," Alexis Allen said.
The Allens feel that biking is the best form of transportation available to them. Since they are unable to take the bus due to their close proximity to the school, riding a bike was more preferable than walking.
"It's easier to bike to school than to have to walk a longer distance, because we don't live really close to school, but it's just close enough that we can't take the bus," Alexis Allen said, having biked since eighth grade.
Willard Johnson, a junior biker at Conestoga, agrees. Although he is signed up for the bus, he chooses to bike anyway.
"I like biking to school because of the freedom it gives me and the fact that I don't have to sit surrounded by people," Johnson said.
Johnson finds that the weather can inconvenience his rides to school. In the wintertime or when it is dark outside, he chooses to ride the bus instead.
"About a month or so, it's going to be dark out when I bike to school too," Johnson said. "But in a month or so it's going to be too cold to bike anyway. And I'll probably just take the bus."
Kayla Allen mentions another downside to biking regarding sports. She claims that the soreness after sports made biking even more of a challenge.
"Sometimes I do sports. So, sometimes the day after track, I'll be sore and that makes it a lot harder," Kayla Allen said.
Alexis Allen wants to stick with biking as her main form of transportation.
"Occasionally, I think there'll be a few places that I'll want to go to that are difficult for me to get to on a bike but for the most part, the places I go to are easy enough to go to with a bike," Alexis Allen said. "So, I'll probably stay with a bike primarily."
---
Lexi Lin can be reached at [email protected]
Riddima Pandey can be reached at [email protected]