Sports opinion: Goodbye and good riddance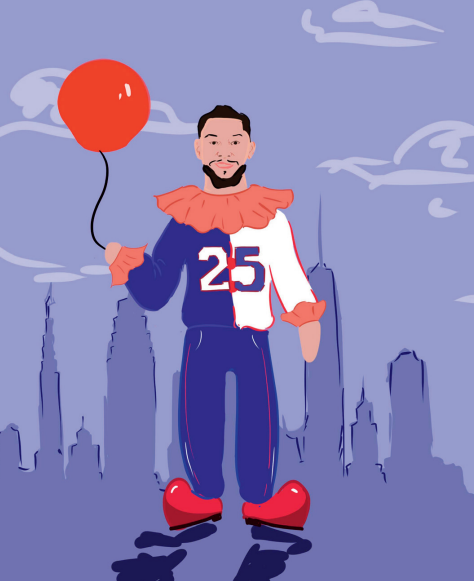 By Andrew Franceski, Staff Reporter
A collective sigh of relief: after eight months of gimmicks, trade talks and becoming the most vilified athlete to ever represent the city of Philadelphia, BEN SIMMONS IS GONE.
The Philadelphia 76ers completed a trade with the Brooklyn Nets just two hours before the trade deadline. In the deal, the 76ers sent Ben Simmons, Seth Curry, and Andre Drummond, a 2022 unprotected first round draft pick and a 2027 protected first round draft pick. In return, the Nets sent former MVP James Harden and Paul Millsap to the 76ers.
The Sixers won the trade although I only grade it a B+. The Sixers were forced to give up two first-round picks, but in basketball picks are not too important with the strength of the free-agent pool. They also got rid of the locker room cancer known as Ben Simmons, who would rather chase a Kardashian than a title. Addition by subtraction has been the motto and I certainly agree with this trade.
My main concern is the knees of arguably the best player in the league: Joel Embiid. Embiid has been on a tear, to the tune of 29.5 points per game, 11.2 rebound, 4.5 assists, and 1.5 blocks. But Embiid has previously had both knee and foot problems. He has never played more than 64 games in a season, a number he is on pace to break. With this injury history, the Sixers still traded his backup center, Andre Drummond.
This trade casts doubt on whether the Sixers can win a game in which Embiid is not playing. A basketball team can't win with only 5 players, they need subs. The Sixers also did get rid of their best 3-point shooter, Seth Curry, but his role will hopefully be filled by James Harden.
Another concern is James Harden. Harden is 32 and has been battling hamstring and knee injuries for a majority of the last two seasons. He is a former MVP, but is on the wrong side of the hill. His game is on the decline and at a price tag of $48 million dollars next season, the title window for the Sixers is only this season and the next. James Harden has also been, for lack of a better word, kicked out of the last three cities he has played in. Philadelphia demands effort, something he has not always shown. No Philadelphia fan tolerates low effort from someone making that much money. Did the 76ers just replace one cancer with another?
Championships are not won by teams that sit on their hands, and I hope to be the first person to be wrong and admit that this was an A+ trade, on my way to the championship parade. It will be a crazy next few months as the Sixers make their championship push, and I expect Ben Simmons to continue to play terribly and hope to be laughing in the face of Nets fans soon.
---
Andrew Franceski can be reached at [email protected]