Fly Guys: Amateurs in aviation
Written by Howard Kim and Chanelle Ongagna, Staff Reporters
Designed by Hiba Samdani, Co-T/e Life Editor
Bradley Younce
The pale white sunlight filtered through the clouds, glancing off the maroon Cessna's polished windows, as the colossal hangar doors rumbled open for a tractor to tow an aircraft out to the tarmac. This is freshman Bradley Younce's happy place, Brandywine Aviation.
Younce is a student-aviator interning at Brandywine Aviation, a company that offers flight lessons, plane rentals and maintenance at West Chester's Brandywine Airport. He earns $15/hour for his work, which typically entails greeting customers, transporting aircraft in and out of a hangar, and ensuring that they are fueled properly. He saves his earnings to pay for flight lessons.
"He helps us a lot because he's available on weekends and it's like having someone as an extra set of eyes that can just generally make sure everything is running the way it should be," said Liz McGrath, co-owner of Brandywine Aviation.
The thought of learning to fly first crossed Younce's mind two years ago when his friend mentioned in passing that he had taken a flight lesson. Younce found the idea intriguing, so he began taking lessons at Pocono Mountains Airport where he fell in love with flying. After a few months, he decided to switch to a flight school closer to his home.
His penchant for planes led him to Brandywine Airport, where he began his hobby of plane spotting, which is tracking the movement of planes with photography. While frequenting the airport, he grew acquainted with the owners of Brandywine Aviation who eventually paid him to take photos for their company's Instagram account. A few months later, that gig led to a paid internship, which allowed Younce to continue following his passion and realize that he wanted to pursue aviation as his career.
"I don't want to sit at a desk my whole life. I'd rather be doing something fun that I love," Younce said. "Flying is (always exciting), and the views are amazing. Plus, that feeling right before liftoff with all those G-forces pressing down on you never gets old."
Younce currently has 18 hours logged out of the 40 required for his private pilot's license, which would authorize him to pilot small aircraft on his own and take friends and family for rides. He aims to earn this license and a few other certifications by senior year to become an instructor at Brandywine Aviation and share his love of aviation with others.
"They (my friends and family) were surprised when I first told them about my flight lessons because they thought, 'You're 14. How are you already flying planes?' They didn't realize you could start learning so young," Younce said. "They all think it's pretty awesome."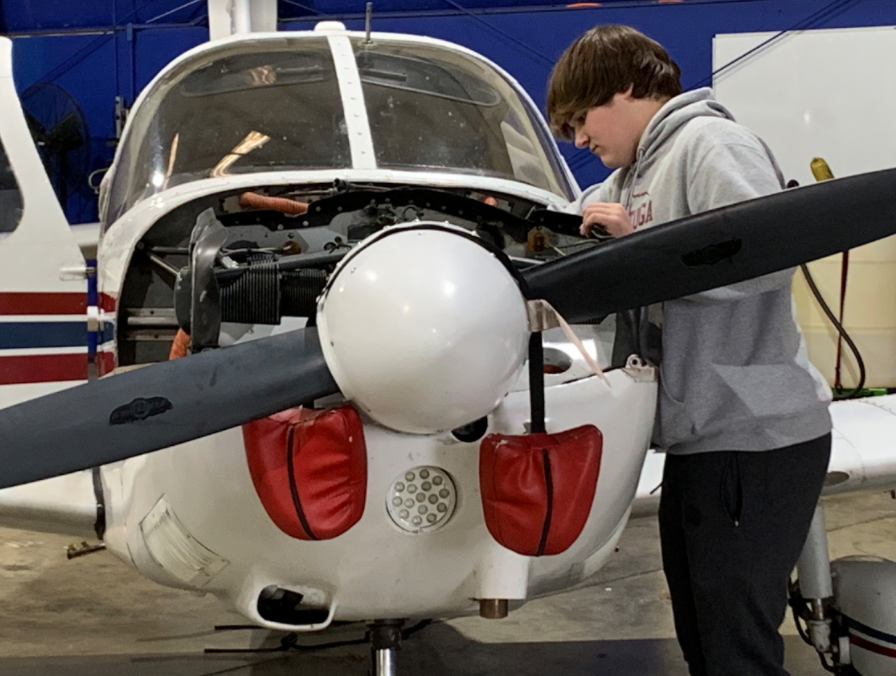 Jaye Datan
Attending his first air show as a seven-year-old, sophomore Jaye Datan discovered a passion for aviation. Eight years later, Datan, a member of Civil Air Patrol's (CAP) youth cadet program, is learning the leadership skills and practical experience he will need to accomplish his dream of becoming an AirForce pilot.
"I went home, searched up a few things and went to the school library at my elementary school," Datan said. "There were these little red books about Air Force aircraft, and I remember I just borrowed those every single time when (I) had the chance."
While visiting the National United States Air Force Museum, Datan met volunteers who suggested he join CAP. Datan, whose only prior aviation experience was with flight simulators, leapt at the idea. He joined that same summer. In CAP, Datan's trainers instruct him in three programs: Emergency Services, Aerospace Education and cadet programs, which develop leadership skills and character. Datan especially enjoys orientation flights, where cadets practice flying in powered and unpowered military aircrafts. His preference for military planes and desire for a more stimulating aviation experience contributed to his decision to fly for the Air Force rather than work as a commercial pilot.
"Honestly, commercial pilots' aircrafts are heavy and slow," Datan said. "The aircrafts are not exactly the most responsive to the controls. But (military planes) are much sleeker, much faster. That just feels more exciting."
CAP is organized so that two or three small groups of cadets make up flights, of which there are one or two in a squadron. Datan serves as Cadet Senior Airman in Squadron 1007, and from the beginning, immediately impressed his instructor, junior Akanksa Jain, with his dedication and extensive knowledge of planes. Jain, who acts as Squadron 1007's Official Cadet Commander, remembers an activity in which Datan confidently answered questions while others struggled.
"It was a really good first impression, for sure," Jain said. "He knew what he was talking about, and he had a very clear goal about what he wants to achieve from the program. And that's why it's also easier for us to help him as a cadet because we know where he wants to go."
Datan plans to use the skills he learns in CAP to join either Reserve Officers' Training Course (ROTC) or the Air Force Academy, advancing his dream of flying the sleek and fast aircraft he loves. "I don't know, just the thought of flight is exhilarating," Datan said. "I suppose it's being freed from the ground, being freed from gravity."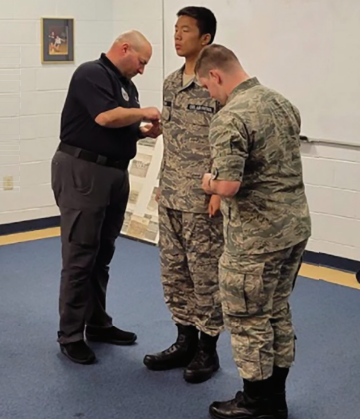 ---
Howard Kim can be reached at [email protected]
Chanelle Ongagna can be reached at [email protected]
Hiba Samdani can be reached at [email protected]