Day 8: December Sports Rundown
By George Zhang, Abby Bagby, Caius Michlitsch, Hannah Simon and Ben Reed, Co-Sports Editors and Staff Reporters
Basketball Duo
As senior Ryan Mackey dribbled the basketball up the court in second grade, he did not consider the possibility of playing alongside his brother during his senior year of high school. As the 2021 basketball season begins, many new faces are joining the boys' varsity basketball team. Among them is Mackey's brother, sophomore Sean Mackey.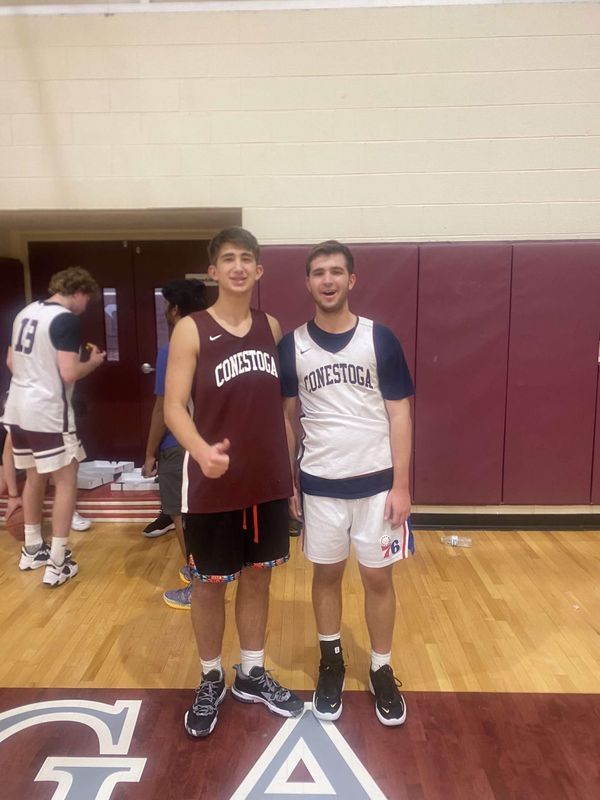 The brothers practice together for three hours every day. Despite having no time for homework, they both love basketball so they find the time they put in to be worth it.
Sean and Ryan Mackey push each other with their competitiveness. Despite attempting to treat his brother like any other player, Ryan Mackey acknowledges that he is harder on his brother, adding to their aggressive spirit. He enjoys playing with his brother for the first time in his basketball career.
Basketball is naturally competitive as all sports are, leading to occasional quarrels between the duo. Ryan Mackey reflects on how the brothers grew together during quarantine.
"Over quarantine the competitiveness was crazy. We would always get into fights while we were playing, but we always try to say that what happens on the court happens on the court; we don't take it out with us back home," Ryan Mackey said.
Sean Mackey shares similar feelings, reflecting on his brother's role as a leader on the team.
"Ryan pushes me, makes me a better player and makes everyone a better player," Sean Mackey said.
Home life has gotten easier for the Mackey family as both brothers can be dropped off and picked up at the same time. Their parents also have an easier time accommodating their busy basketball schedules.
The team's dynamic is not heavily affected by having a set of brothers on the team. Both brothers try to keep things normal on the court, regarding each other as any other player, rather than brothers.
"We're both just two players; we just happen to be brothers. It's cool that we're together though," Sean Mackey said.
Ryan Mackey is trying to introduce his brother as any other sophomore new to the varsity team.
"(The dynamic) doesn't really change at all, we try to keep it normal, just like you know it's his first year on the team so it's just like it should be seen as just a sophomore, just as any other sophomore," Ryan Mackey said.
Breaking the ice: Sophomore goaltender helps ice hockey team to successful start of the season
As the heir to his Canadian goaltender father, sophomore Luc Beauparlant was practically born with an ice hockey stick in his hands.
On Nov. 1, 2021, the boys' varsity ice hockey team tied Ridley 2-2 in their season opener, with Beauparlant saving 37 out 39 of the opposition's shots. The stellar performance was nothing unusual for Beauparlant. Last year, as only a freshman, Beauparlant supported the team to a Central League Championship and contestable district and state playoff run, winning the Rookie of the Year award for his contributions. Learning to skate at only three years old, ice hockey has become a lifestyle for Beauperlant, which he bolsters with a regimented training schedule. Now, he plays for the travel team Philadelphia Revolution based in Warminster.
"Besides baseball, (hockey is) my life. I mean, I watch it as soon as (and) as much as I can," Beauparlant said.
The transition from a season dictated by COVID-19 to seems to bode well for the team. The changes were especially significant for Beauperlant, who, as a goalie, was the only team member permitted inside the locker room to get dressed amidst the COVID-19 pandemic. As a result, masks are worn at personal discretion and the beloved traditions and rituals of the team have returned.
"Everything's really back to normal with the team dinners. Going out to someone's houses for dinners or anything like that. I mean, locker rooms (are) normal again," Beauperlant said.
Beauperlant credits his parents and goalie coach as the keys to his success, providing him with reassurance in times of need. When competing, he cherishes the mental toughness and composure they have instilled in him. Beauperlant also talked about them as the motivators in his tactical awareness and understanding of the game.
"My parents have helped me you know, they're the ones who are driving everywhere, the ones keep pushing me, keep encouraging me to do my best and trying to make me you know, the best player I can be," Beauperlant said.
Having the past experience of the 2020-2021 season added to his arsenal of skills, this season, Beauperlant hopes that the team can vanquish a championship title, avenging their first-round exit in districts last year.
As Beauparlant heads toward the remainder of the season, he not only looks forward to building lifetime friendships, but progressing on the team's 4-1-1 record. Since there is an immense talent pool, Beauperlant believes the team has an opportunity to impact the playoff brackets.
"I think sticking to our game plan and playing hard and listening to our coach and sticking to our four main mindsets for the game which are playing smart hockey, disciplined hockey, physical hockey and aggressive hockey," Beauparlant said. " Trust the system and process, and I think we'll be fine for this year.
Sebastian Tis Soccer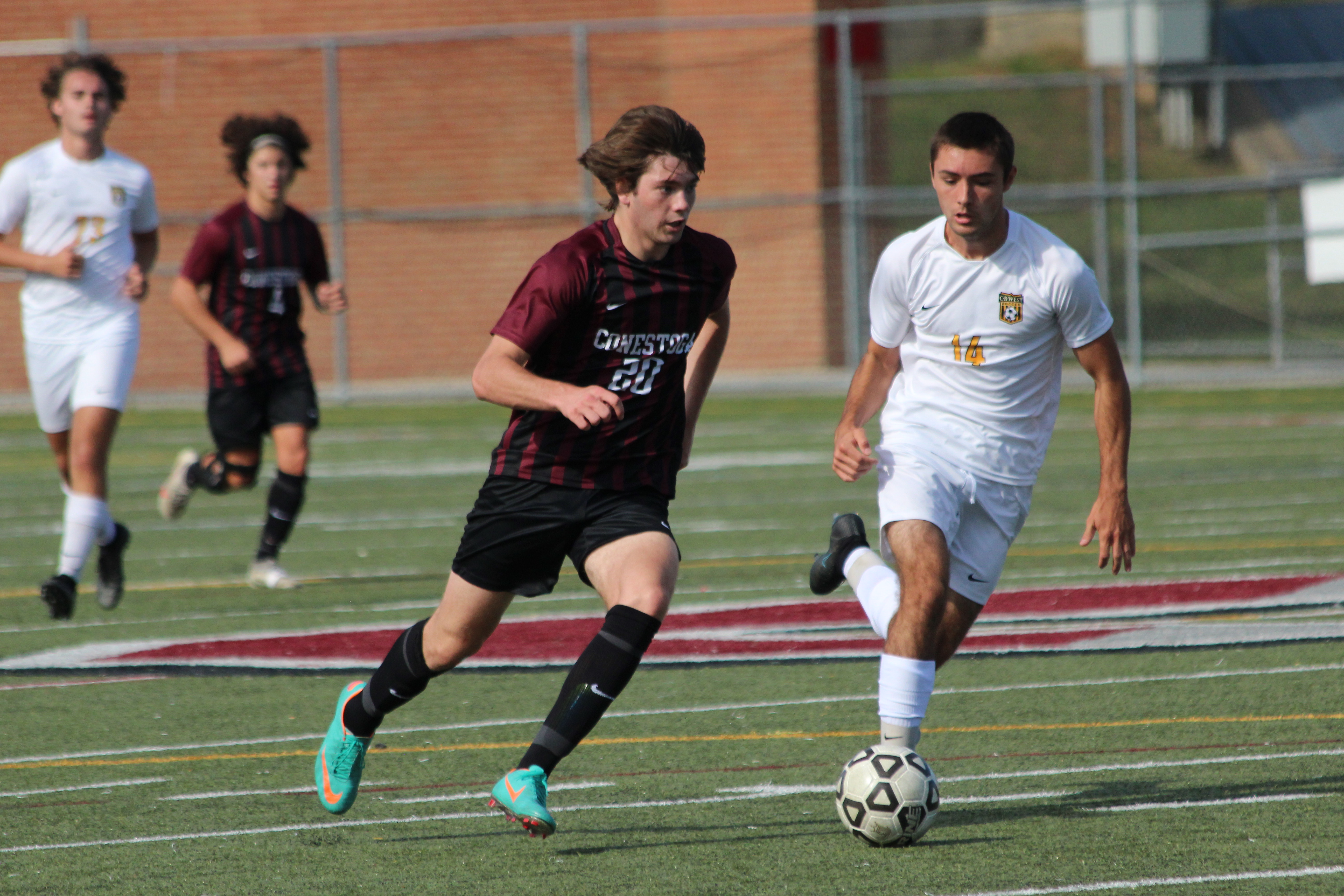 Dribbling down the field, senior Sebastian Tis flies past the players of the opposing team. For Tis, soccer has been something he has grown up playing.
The defensive midfielder has been playing soccer for around 12 years, starting when he was just 5 years old. Tis has several favorite parts about the sport that make him want to keep playing.
"Probably scoring goals or connecting really good passes with my teammates in the middle of the field," Tis said.
Not only did the Conestoga Boys' soccer team with the state championship, but Tis also won multiple individual awards. He was named on the United Soccer Coaches All Region 2 Team, the 2021 Region 2 All-American team, and the 2021 State Player of the Year. These awards meant a lot to him and served as recognition for his commitment to the sport.
"It felt like all of my hard work, or like my whole life is finally paying off," Tis said. "Junior and sophomore year I did well, but nowhere close to as good as I did this year. And I just think that finally paid off."
For Tis, the season was very successful. The team was able to focus and accomplish its objectives.
"Basically, (the season) went perfectly," Tis said. "The whole team had one goal in mind, which was just to win states. And with that in mind, a laser sharp focus to do it."
After a season full of winning and different awards, there were surely many exciting moments. Tis had one specific moment that came to mind as a favorite.
"When Jayce scored in the state final and ran over to the sideline to the pit and our bench." Tis said.
---
George Zhang can be reached at [email protected]
Abby Bagby can be reached at [email protected]
Caius Michlitsch can be reached at [email protected]
Hannah Simon can be reached at [email protected]
Ben Reed can be reached at [email protected]