By Melissa Fan, Staff Reporter
Kim Thomsen – Substitute Coordinator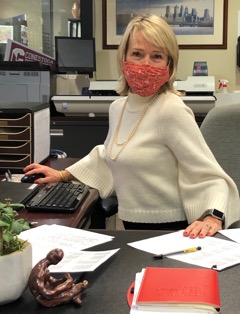 "I will miss walking into this incredible environment of education. I will miss seeing the students engaged and on their way, designing their future," retiring substitute coordinator Kim Thomsen said.
Thomsen enjoys working with her colleagues, noting that the chance to learn something new was the highlight of each day in her 26 years at Conestoga. She often likes to spend a few moments catching up with her co-workers and learning about a variety of topics, from dark matter to the Constitution.
"Catching a few minutes with a teacher willing to share their knowledge is a gift," Thomsen said.
Not only is she a member of the Conestoga staff, but Thomsen is also the parent of several students attending the high school. She credited the committed teachers, coaches and staff of Conestoga for helping her children eventually become successful professionals.
"The most rewarding part of my job was working with so many inspiring professionals. Individuals with varying talents and knowledge all willing to share and work together. I can say I literally have hundreds of friends at Conestoga," Thomsen said. "Conestoga is a very special place."
Marcia Mariani – Health and Physical Education Teacher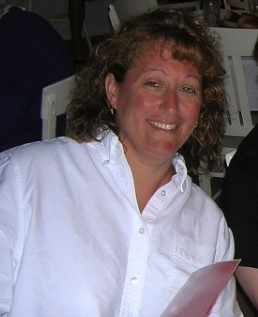 After teaching for 31 years at Conestoga High School, Marcia Mariani says that she will miss laughing with her students during class after retiring. She loves spending time with her students, watching them improve in the gymnasium.
Mariani's most memorable moments was the uplifting feeling she felt when students successfully reached an athletic-oriented goal. She recalls this elation when students first made contact with a badminton birdie after initially having difficulty and when they were able to run two miles after struggling to finish one.
"Watching kids accomplish things is really amazing — (those moments) are like the highlight moments. In health classes, the sharing and the caring that goes into participation in that class is truly amazing," Mariani said.
Not only has Mariani enjoyed teaching her students, but she also appreciates learning from them in return.
"I had a professor when I was in college say to our class, 'If you're going to be a teacher, you have to remember that you're not the only person in the room who's teaching,' and I thought that was probably one of the most profound things that was ever said to me in college," Mariani said. "I've tried to carry that with me my entire life."
Mariani also took a large part in the Peer Mediation program at Conestoga as one of the advisers, naming it one of the aspects she would miss most from the school after retirement.
"I'll miss peer mediation terribly, it's been such a huge part of my life since 1990," Mariani said. The advisers who have been involved in most recent years are amazing, and I just feel so lucky that I was able to finish my career in peer mediation with them by my side."
Susan O'Keeffe – Secretary
"I'm certainly not going to miss getting up at five o'clock in the morning every morning. Not missing that alarm at all," said Susan O'Keeffe who is retiring from the school after working in the district for 24 years.
After originally teaching in a nursery school, O'Keeffe transitioned to the T/E School District by first working at T/E Middle School before switching to Conestoga two years later. For the past 10 years, she has worked as assistant to Principal Amy Meisinger. During this time, she has also helped with graduation and open house.
"I started teaching in the nursery school, and I wanted something more," O'Keeffe said. "A job came up here, and I just went for it. I thought, "What do I have to lose?' I did it, I got (the job). I was happy that I did, and the rest is history. Twenty-two years later, here I am."
While O'Keeffe doesn't have a specific highlight in her years at Conestoga, her favorite part about working here is the great relationships between the students and faculty. She also plans to visit the school once she retires because she lives nearby.
"I'm going to miss the socialization with all the people that I've met," O'Keeffe said. "The friendships, the camaraderie, the stories that we share every day."
Jean Mihelcic – Chemistry Teacher
As this year marks the 21st year that she has taught at Conestoga High School, Jean Mihelcic has decided to start a different path. As the adviser for the Chemistry Club at Conestoga, Mihelcic has always had a passion for chemistry, leading her to teach the subject as well as take part in a club relating to the field.
"I love the transformative part of chemistry. (It) allows us to create new materials, and those materials allow us to make our lives. I really enjoy the part of chemistry where you can take ordinary materials (and) substances and combine them in new ways and processes," Mihelcic said.
Because of her own passion in chemistry, Mihelcic enjoys helping students open their eyes toward that field by doing lab experiments in the classroom with students and talking about how chemistry impacts daily life. One way she does this is by celebrating Mole Day with her students each year on October 23 by creating stuffed animal moles. Recently, Mihelcic was also awarded the American Chemical Society Division of Chemical Education Middle Atlantic Region Award for Excellence in High School Teaching.
Overall, Mihelcic loves to work with students, and she will miss interacting with them the most after retiring.
"I'm going to miss all of (the students)," Mihelcic said. "I really love working with students because you all are funny, you're spontaneous, you're full of hope and optimism, and you really want to change things for the better and improve the world."
---
Melissa Fan can be reached at [email protected]