Gossip, gowns, and lords: A review of "Bridgerton"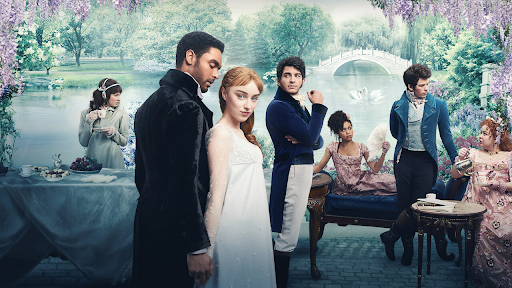 By Brooke Vallin, Staff Reporter
*Warning: spoilers ahead!*
A little over a month since its initial release date, Chris Van Dusen's "Bridgerton" has already made it onto the top five list of most watched Netflix original shows ever, joining titles like "Stranger Things" and "Tiger King." 
The hit show is based on Julia Quinn's best-selling romance series. The story primarily follows the Bridgertons, a wealthy family living through the Regency-era in England. Viewers watch the eldest daughter, Daphne, make her debut into society, in hopes to wed. With a new newspaper containing the latest gossip, beautiful dresses and castles and budding romances (or lack thereof), "Bridgerton" surely makes for an entertaining watch.
Bridgerton surprisingly was able to turn itself around. The pilot episode was a drag. Many characters were introduced all at once with little distinguishing factors, causing lots of confusion. Overall, the episode did not set itself up for a promising season.
The main plot appeared to be a fake relationship trope between Daphne Bridgerton and the Duke of Hastings. I was disappointed, as Netflix is quite notorious for using this trope, and it has become very boring and unoriginal.
However, I was quickly proved wrong. Daphne and the Duke's relationship grew even more complicated. As we learn more about the Duke's past, it is easy to understand the complications of the relationship.Viewers are left continuously rooting for them, even throughout their many disagreements.
There is a level of intensity brought by the ambitions of Eloise Bridgerton. She rejects societal expectations and hopes to pursue higher education to become an independent woman who does not need to rely on a man. Her attitude is a refreshing break from her conforming friends and family.
With episodes lasting around an hour each, the pacing is surprisingly quick. However, this leads to many plots being resolved instantaneously, without a satisfying resolution. The poor pacing causes a lack of suspense and tension.
Another aspect the show misses out on is characterization. Most of the characters lack substance, making it hard to connect with them. The characters are easily described as one-dimensional and consistently predictable. Daphne wishes for a family and will do anything to achieve it, and Anthony, Daphne's brother struggles with being the head of the house and finding balance between expectation of him and his true self.
Despite all of the substantial issues with the show, it serves as an entertaining and easy watch. Seeing all the beautiful gowns and watching high society interact serves as a great amusement without being too heavy.
Overall, I would say I enjoyed "Bridgerton". Whether or not it lives up to people's expectations is determined on how deep you choose to see into it.
Note: Photo courtesy of Yahoo Finance
---
Brooke Vallin can be reached at [email protected]