Calling all teens: Keep your masks on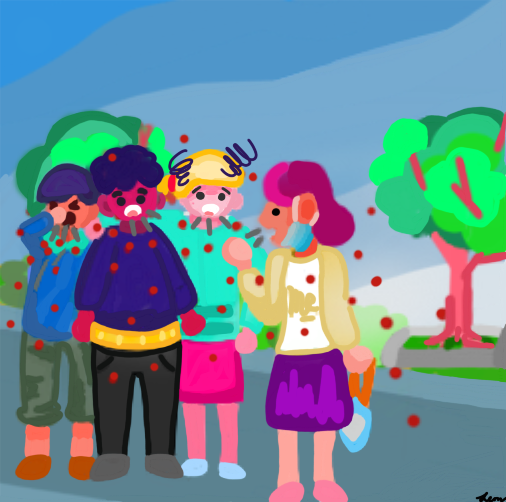 By Devon Rocke, Opinion Editor
It all began around homecoming — or, at least, when Conestoga would have hosted homecoming. I opened up Instagram one day to find four friends posing, faces practically touching, hugging each other without masks. After seven months full of daily reminders to social distance, wear masks, spray Lysol and use obscene amounts of hand sanitizer, it filled me with the same feeling of discomfort as seeing someone lick a dirty bathroom floor.

At first, I thought it was a fluke: surely, it was only a couple of friends getting together after quarantine who had taken their masks off for a split second? In the days and weeks that followed, however, I started to notice a trend as pictures of students at parties flooded my Instagram feed: while more teens were getting together, fewer were to be found wearing masks. Initially, I dismissed the photos, passing them off as a sort of modern day teen rebellion as they grew tired of staying cooped up inside their houses. But while the "COVID-19 fatigue" has begun to set in, COVID-19 has not grown any weaker.

According to data released by the Johns Hopkins Coronavirus Resource Center as of Nov. 17, the United States set another record for COVID-19 cases, with a staggering 166,000 cases being reported. The number of hospitalizations have also broken records with over 76,000 people hospitalized, and the total number of infections nationwide has now surpassed 11 million.

From the beginning of the pandemic until Oct. 29, there have been more than 853,000 children who tested positive for COVID-19. During the last week of October alone, there were 61,000 new cases in children reported by the American Academy of Pediatrics, a number larger than any previous week throughout the pandemic. This spike just goes to show that COVID-19 is still very much a threat for teens.

Although I admit I am guilty of attending social gatherings, I am confident in saying that I did so safely, wearing a mask and refraining from hugging. I know we are all frustrated right now and wish that we could go back to a time to when we didn't need to worry about contracting a deadly virus every time we leave the house, but unfortunately, that's simply not our reality. Just because this is our "new normal" doesn't mean we can wish away COVID-19.

Simply wearing a mask, however, can greatly improve your chances of staying safe. Approved by the U.S. Food and Drug Administration, even the average disposable mask can help protect against droplets and protect others from the wearer's own respiration.

So, to all of my fellow teens, I beg of you: put down your cameras and pull up your masks. It's the least we can do to help ourselves and the community.