By Ben Shapiro and Ben Reed, Staff Reporters
Putting on her special mask with a slit that allows her to play her instrument, junior and clarinet leader Ella Canas steps out of her car and walks to her designated spot in the parking lot to warm up. As a member of Conestoga's Marching Pioneer Band, this routine is not unusual for her. In fact, she has been following this practice routine for two months. Tuning her clarinet as she prepares for the 2.5-hour practice, nothing seems out of the ordinary — except for the fact that the band is in the middle of a global pandemic.
While following the different guidelines in place, Conestoga's marching band — one of the largest student organizations at 'Stoga — is managing to keep its members safe as it continues to hold practices and run as normal as possible.
"It's honestly the most normal thing that I've done all school year," Canas said. "I'm really thankful that we've been able to do this because so many things have had to be canceled. The teachers have put in so much work and have gone to so many meetings to be able to figure this out, and they've done a really good job."
While practices have remained unchanged in some respects, other parts of the marching band have altered in light of recent events. Band camp, an intensive two-week training period in August for all members of the marching band, started off virtually this year for the first few days before going in person starting Aug. 20. Christopher Nation, the director of the Marching Pioneer Band, held the few virtual meetings in order to cover safety guidelines before holding in-person practices.
"We had an hour long meeting going over guidelines because if we were going to do this (in person practices), we have to follow the rules perfectly. Everyone had to socially distance; no exceptions." said senior and color guard member Kate Buck.
Practices have also been altered in order to ensure the safety of its members. According to Buck, while the marching band naturally socially distances, it has taken the extra step to separate different band groups. The woodwinds practice in the parking lot, brass in the field by the baseball diamond and color guard in Teamer Field. Even while focusing on social distancing to stay safe, the marching band is also making sure that everyone is enjoying themselves and having a good time.
"We do a (warmup) where we open up our arms and just scream because we can. We're just trying to remind people that we know this is stressful; just relax and have fun," Buck said.
With all of the hindering factors that have been put in place this year due to COVID-19, senior and drum major Jaden Douglas explained that the participation of current members, as well as the boldness that new members have put forth, is incredible. He commended the new freshmen who joined the marching band this year and appreciates all of the effort they have put forth.
"I'm impressed with the number of freshmen that came. It's difficult for them. They're getting used to a new school in the middle of a pandemic and joining a huge organization where they don't know anyone. Props to them for putting themselves out there," Douglas said.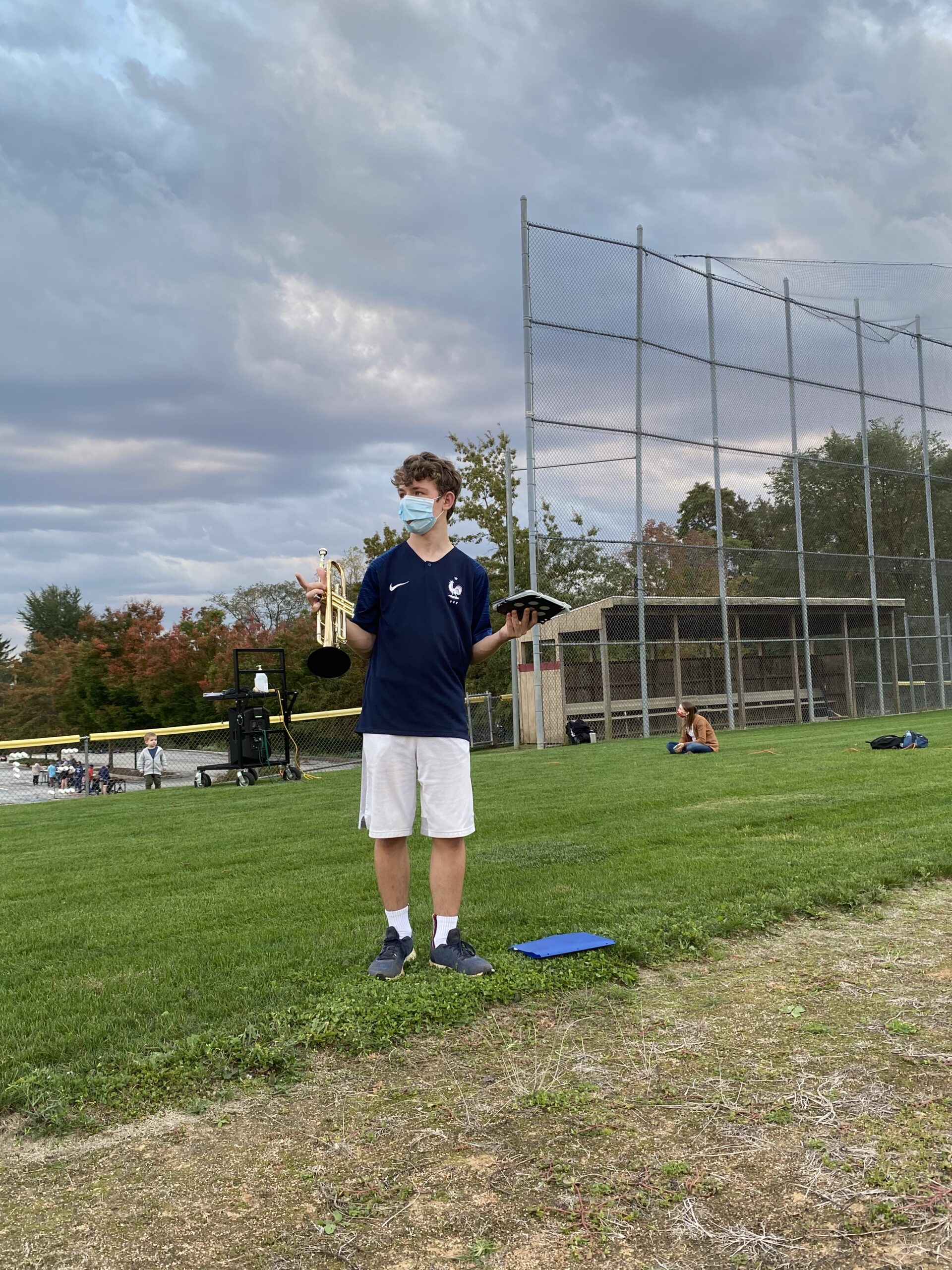 Freshman and alto saxophone player Copper Ballard explained that he is glad that he put himself out there and became a member of the marching band.
"On the first day (of band camp), I was definitely really nervous, but once I got there, it was much more chill and relaxed than what I thought," Ballard said. "The marching band is very well organized with the coronavirus, and I'm having a lot of fun. I'm doing it (the marching band) with my friend, and it's really fun just to play with him because it's been so long without any interactions."
Canas explained that because of the members' hard work and active participation, the marching band has been able to flourish this year. While the ability to compete is still up in the air, the marching band is continuing to practice while adhering to Centers for Disease Control and Prevention guidelines.
"I honestly think that we're doing pretty well; it seems like we're all taking it seriously. We're all wearing our masks and we fill out our symptoms review sheet before we come to rehearsal. There haven't been any major incidents, so that's pretty impressive," Canas said.
Appreciative of the marching band's advisers and their drive to keep the marching band alive, Canas expressed that without any issues, the marching band has been able to stay active for more than two months at this point.
"I'm very thankful for the marching band staff. (Marching band) is a nice break from seeing everyone virtually, so I really appreciate (the marching band staff) for taking the time to make sure it's safe, yet we're able to have fun," Canas said.