By Brooke Vallin, Staff Reporter
Algebra I and Math Analysis teacher Rebecca Aichele knew she wanted to teach math from a young age. Growing up with her father, a math teacher, she was always learning something new about the subject. Aichele was always intrigued by the different math problems he would show her. She and her brothers would follow along at the dinner table as their dad presented them with a new problem to solve. She was amazed that they could all get the same answer despite using different numbers.

As a former Conestoga student, Aichele was also heavily influenced by her teachers, such as Seth Shore, who she had for math analysis.

"I remember every single day I would walk in and he (Shore) was so happy to be there," Aichele said. "He always had a smile on his face, he was always excited about the material, he would always do anything to help any of us answer any questions, meet after school, and I really felt like, wow, here's someone who loves his job, and I know I would love doing that too."

By her junior year of high school, when she needed to start thinking about her future, she realized she wanted to become a teacher. After graduating from Conestoga, Aichele went on to college at Pennsylvania State University.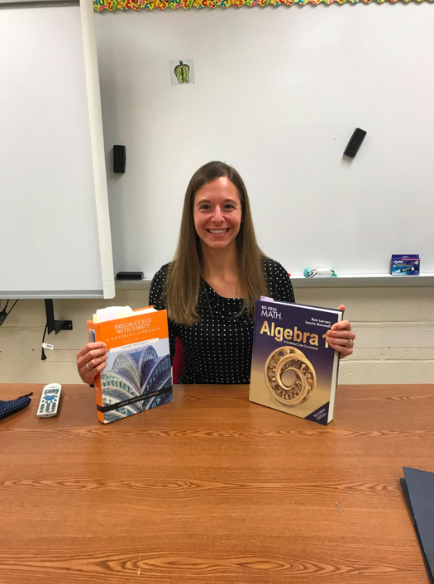 Aichele taught at Garnet Valley High School for two years before returning to Conestoga to teach in 2011. She finds a new experience every year even though she's teaching the same material.

"There's such an excitement in every single class and every single year. That just makes teaching the best job," Aichele said.

Aichele loves teaching because of the students. She feels like she can connect with them because she was once in their exact shoes. This unique perspective separates her from other teachers, because she can easily relate and understand her students.

Distance learning provides Aichele with a new, but exciting challenge. Experimenting with different technologies and resources online, she is able to find new ways to help her students learn.

Outside of school, Aichele enjoys spending time outdoors.

"If I'm not in the classroom, I don't like being inside. I love to just get outside," Aichele said.

Every week, Aichele runs 30-35 miles. Along with her three sons, she loves family baseball, basketball and going on nature walks.

She is also a huge country music fan.

"You could often find me during the summer under a big cowboy hat at maybe a country music concert or two," Aichele said.