Letter to my pre-coronavirus self
By Chanelle Ongagna, Staff Reporter
Dear Chanelle,
When I started this letter, I had just one rule: Don't make this a letter of warning. But now I wonder if it's possible to write about COVID-19 to you, my pre-COVID-19 self, without becoming ominous. After all, the age of the coronavirus is anything but normal, and when I think about my memories from before, everything seems more surreal.
What did you do the day you read this letter? Did you eat in the cafeteria, do your homework in the library? You probably stood at the bottom of the glass staircase, silently cursing all the self-entitled seniors busy chatting on the stairs. They're oblivious to the fact that everyone behind them is going to be late to class; you're oblivious to the fact that a future looms before you in which none of this is guaranteed.
Essentially, that "coronavirus thing in China" isn't going to stay in China. But for right now, wherever you are, you're still doing the same things you've always done, aren't you? Sitting in class with other students, shivering from the AC, taking notes as the teacher speaks at the front of the room. Simple stuff, stuff you never think twice about. This is the way it's always been. What indication is there that this isn't the way it'll always be?
Now I know better. Locked down at home, I longed for space, a change of scenery, but for the first time ever, there was nowhere to go. Gone was New Year's reckless cheer. Instead, depressing stories dominated the news – the spread of the virus, life inside quarantine facilities, skyrocketing unemployment rates, long car lines outside of food banks. Lysol, bleach and basic food items became impossible to find as people panic-rushed stores. New York City, the city that never sleeps, became a post-apocalyptic ghost town as COVID-19 barreled through it. Businesses temporarily closed their doors, but as shutdowns dragged on, it became clear that many weren't coming back.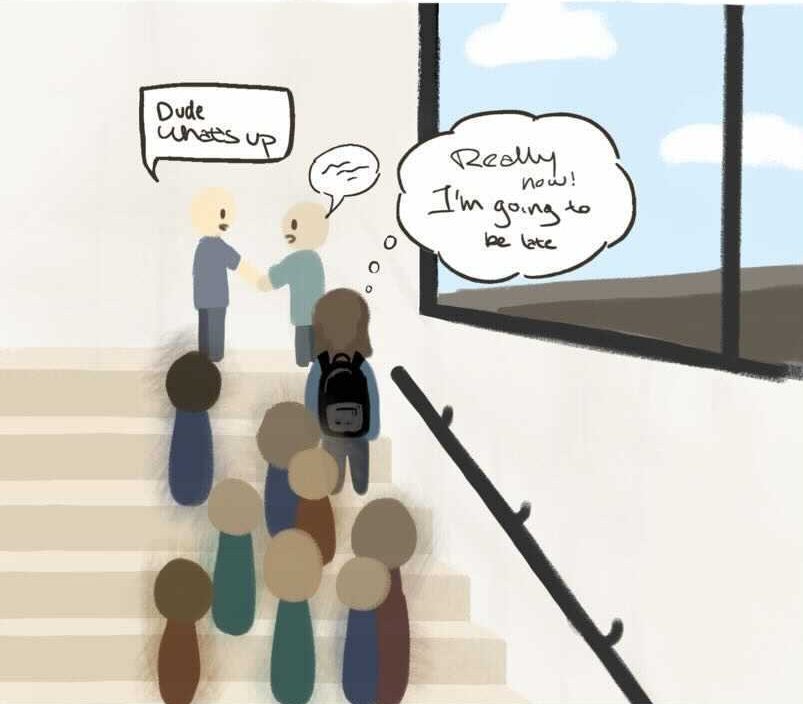 Then things cautiously reopened. Stores made masks mandatory and had arrows on the floors showing how to enter and exit aisles. Costco dismantled its food courts, while Wegmans just closed theirs off. The King of Prussia Mall was also closed; imagine tumbleweeds blowing around in the once-bustling shopping center.
Then things changed some more. Wegmans brought back dining, first outside and then inside. Shoppers happily crowd stores again. As of right now, many states begin to entirely roll back restrictions. Only the masks have endured, and even those face fierce resistance.
Having trouble keeping up with all this? Try living with it. If there's one thing this virus has taught me, it's that nothing can be counted on — not even the realities of this virus. But the lessons I've learned are those for a lifetime. For better or worse, nothing in life is guaranteed, neither good things nor bad things. Instead, life is a cycle of good and not-so-good. It's impossible to know how long each stage will last, or how good or not-so-good what comes next will be. At the beginning of the pandemic, I thought all the chaos would only last a few weeks. At its peak, it seemed like it would last forever. Now, I'm even sure Black Friday — in all its hectic, claustrophobic glory — is still in the cards.
So, in times of difficulty, I've found that sometimes the best thing to do is accept your reality and that you have what it takes to handle it. It becomes easier to face your challenges later when they don't seem as daunting. In the end, it will be okay.
2020 hammers this message home. Each week brings something new, and what's true today might not be tomorrow. When the country shut down back in spring, the coronavirus was the big thing. Fast forward to late September when fires rage in California, turning the sky orange above Portland, Ore. Debate rages over the details of a potential vaccine and mail-in voting. There are nation-wide protests; Trump rallies are back on. President Trump has just nominated a SCOTUS justice. This is all just a snapshot of an ever-changing world. Imagine the letter future Chanelle could write us!
You must be confused, disbelieving. The shake-up I've written about is so unimaginable that, to you, it probably sounds like a nightmare, or another dramatic young adult dystopia. I don't blame you. Even now, having lived like this for months, I still half-believe I'll wake up on Monday to find out this was all just a weirdly elaborate dream. How could you feel any different?
But even more important than acceptance in crazy times like these is appreciation. Everyone, no matter where or in what situation, can take a moment to look around and appreciate what they have in their lives. Sometimes the simple things are the most important ones because they bring the most happiness — a happiness you can only appreciate once it's missing from your life. Take the glass staircase, for example. Taking that to class after lunch used to be one of the lowlights of my day. Things are very different now….
I'm going to get back to my life and leave you to yours. As we speak, the news has just reported that an asteroid is heading for Earth — and it's coming Nov. 2, election night eve. Order a pizza for me.
Sincerely,
Chanelle

---
Chanelle Ongagna can be reached at [email protected]