Girls rugby team plays at State Championship Final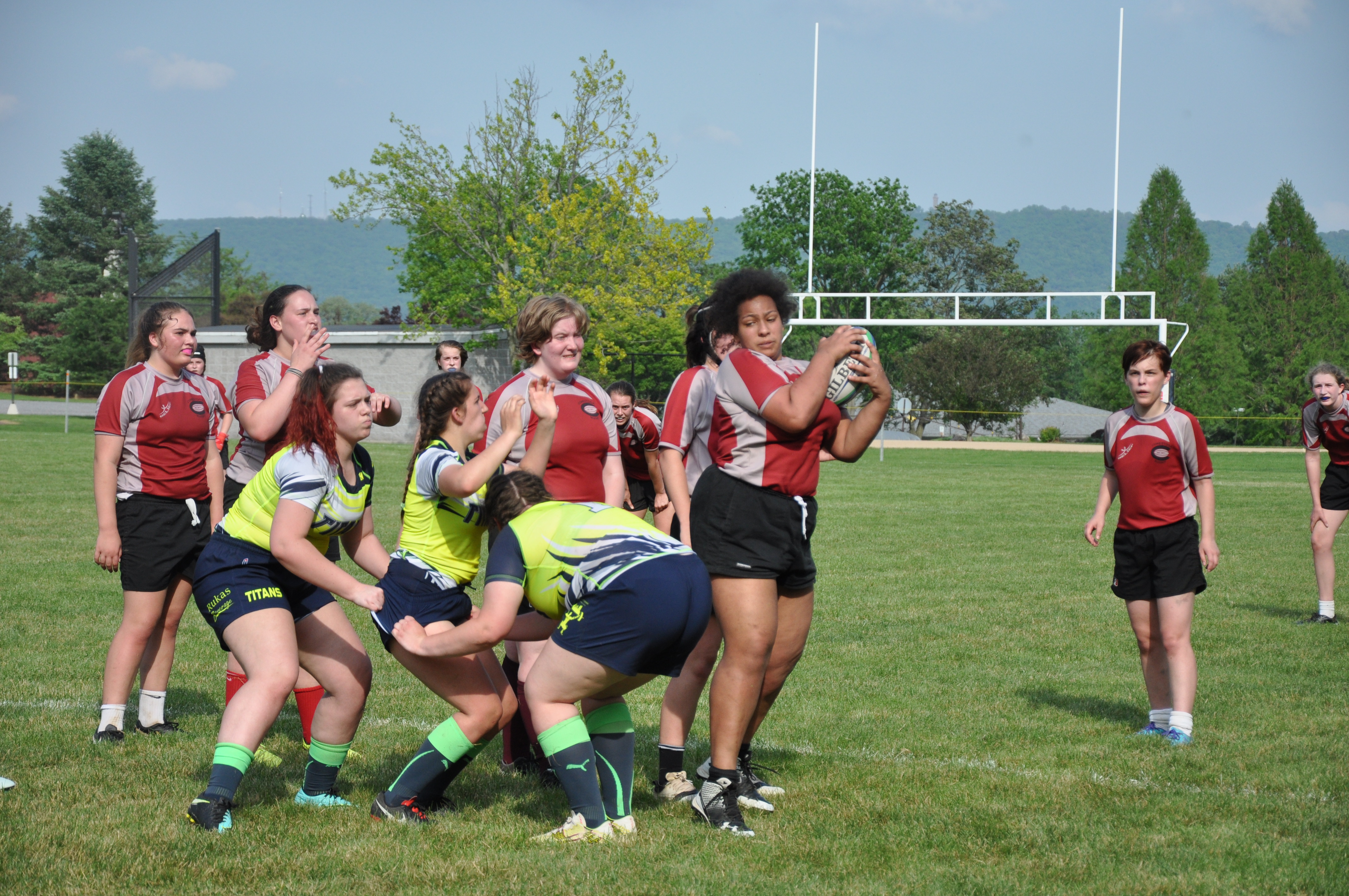 By Ananya Kulkarni, Sports Editor
A whistle is blown. Athletes take to the field, sprinting for every last point, the girls fighting to the very end in an intense game against Kiski Valley on May 20. Although they were unable to bring home the State Championship title, the team went out strong with a final score of 17-15.
"As a first year coach, I couldn't have asked for a better group of girls to coach. Although our season just ended, I'm excited to get back out there and work ten times harder next season and bring that state champion title home," said Jenna Ponto, head coach of the girls rugby team.
According to senior co-captain Jordan Roe, the team has experienced drastic expansion since last year through a substantial growth in membership, increased awareness by word of mouth and by introducing freshmen interested in playing a spring sport to the option of rugby.
"In the past, the girls barely had the numbers to field a team, and this year they ended up in the state finals," Ponto said.
This season also marks the first time the girls rugby team has made it to playoffs in several years. Roe was proud of this achievement.
"It's proof of how hard we worked this season. As far as I know, it's been many years since 'Stoga girls rugby even made it to playoffs, so the fact that we made it to the finals shows how skilled and motivated every single person was on the team," Roe said. "We could not have had the success we did if even one person didn't give 100 percent. But every game, everyone did their part to lead to our success. We worked as a unit, not 15 individuals on the field, and our record shows that."
Part of the challenge was that many players entered the team having little to no experience with rugby. This meant that players had to learn as they went by playing games.
"One of my favorite parts about rugby is getting to teach new players about the game and (watch them) grow and make it their own," Roe said.
Sophomore and first-year member of the team Jessica Reintjes is proud of the team's season, especially the performance of her fellow teammates.
"There were a lot of new girls, including me, who didn't know much about rugby but worked really hard to learn about rugby and help create an amazing team," Reintjes said. "The girls on the team make all of the difference. They all support each other and make an effort to help their teammates learn new things about rugby. My favorite part about working with the other girls on the team was just becoming a team and working together to make it a great season."
Roe hopes the team makes playoffs again next year and continues to improve their knowledge of the sport with every practice.
"As a senior, I will not be a part of the team next year, but I am incredibly proud of every single person on this team. Even girls who got injured came to practice and gave everything they had in support even though they couldn't physically play," Roe said. "Rugby is a special sport in that way, and playing for Stoga Rugby has been some of the best times of high school, and I wouldn't be where I am today without Stoga Rugby. I am so grateful for every coach, parent and player that is involved with the club. I'm surely going to miss it next year."