Cross-country coach crosses the finish line at Boston Marathon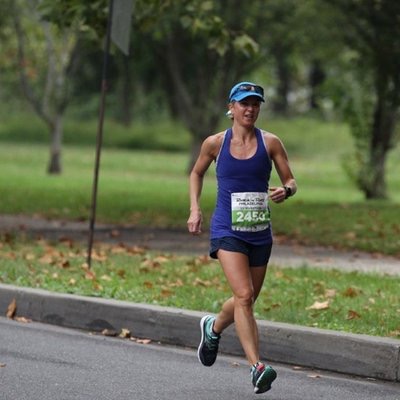 By Emma Clarke, Business Manager
Megan Robinson, an assistant cross-country coach and registered dietician at CHOP, promised herself that she would run her first marathon by age 40. At 39 years old, she accomplished this goal. Now, Robinson, 48, has run one New York marathon, two Philadelphia marathons, one Steamtown marathon and completed her sixth Boston Marathon on April 15.

She began running competitively in sixth grade, but was also active in other sports such as swimming until her freshman year of high school.

"I probably didn't see my potential in running until about freshman year when I started competing with the top athletes at my high school. I was in the varsity team and then I had met up with a coach who kind of got
me to that next level in training," Robinson said.
Robinson wanted to begin coaching cross-country at the high school level in order to have young athletes share her experience and love for running.
Junior Shana Chung, a cross-country runner, says that Robinson's love for the sport has helped her stay motivated in her own races.
"Coach Robinson is our team's best motivator. You can't help but push yourself a little harder when you see her cheering on the sidelines for you," Chung said.

Robinson's experience as a runner also allows her to weave her personal training and nutrition advice into her coaching.
"It's very similar, just shorter distances. They do tempo runs, they do sprint workouts, they do a long run, it's just for racing a 5K so it's for much shorter distances and faster. Also, all of the cross training that's involved with core
training and glute and hip training," Robinson said.

Robinson's personal training for her marathons takes about four months and is an intensified version of her cross-country practices, complete with tempo runs, track sprints and weekly long runs that could be anywhere from 16 to 20 miles long.
Her training is supplemented by chiropractors, physical therapy, yoga and spinning in order to cross-train prevent injury.
Robinson revels in the challenge. She particularly enjoys the atmosphere of the Boston marathon and believes it helped her run a 3:31 marathon on April 15.
"I'd definitely say the spectators at Boston are amazing. They cheer you on every mile until the finish. The history of that race, and then the athletic caliber. I mean, you have to qualify, so everyone there to me are top athletes, so that's very encouraging and motivating to
go back to that race every year," Robinson said.