Stressing relief: Finding solutions to alleviate student stress
By Tiffany He, Justin Huang and Richard Li, Co-T/E-Life Editor, Co-Editor-in-Chief and Staff Reporter
The Spoke surveyed 10 homerooms regarding student stress, separated by grade level and chosen randomly. In total, The Spoke collected 168 responses.

Late at night, while most students are either studying or sleeping, you might find sophomore Paige Cutler wide awake in the kitchen. After a day of diving practice, eight hours of school and more time working at Big Smile Toys, Cutler often enjoys winding down by baking cakes and cookies, a bowl full of buttercream in one hand and a piping bag in the other.
Baking is "a different method of stress relief, but it's something I'm passionate about and what I want to go into when I'm older," Cutler said. "I think it's important to find something that you really like and something that can relieve your stress."
Although baking is a less common stress reliever, Cutler believes that a person's passions, no matter what they may be, will help them relax and worry less about the future.
"Seeing the final product come out, especially when it turns out really well and I can share it with my friends, gives me the satisfaction that sometimes I don't get out of school," Cutler said.
Instead of satisfaction, students like Cutler sometimes find a worrying amount of stress. In a study conducted by The Spoke on student stress, we qualified stress levels from 1 to 3 as "low stress," 4 to 6 as "medium stress" and 7 to 10 as "high stress." Students across all grade levels reported an average stress level of 6.4 out of 10, with the most common response being 8 out of 10. However, just as Cutler bakes to help relax, students have found their own ways of adapting to and alleviating stress.

Roots of stress
Local psychologist Dr. Marc Tannenbaum sees stress as a product of various factors that all trace back to the same sources: academic and social pressures.
"There's a lot of competition and worry about whether you're good enough in all areas now. It's hard to juggle being good enough academically, being good enough socially, being good enough athletically, or musically, or in some hobby, and being good enough to get into a certain college maybe or to get in a certain relationship," Tannenbaum said.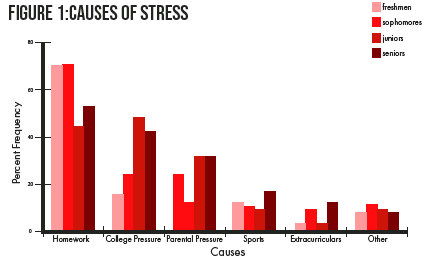 The weight of so many worries on students' shoulders, Tannenbaum said, creates an unhealthy level of stress.
"No human being could be getting a so-called 'A-plus' in all of these areas in life. The assumption is that that's what you strive to be, and I think it puts a lot of pressure on teens," Tannenbaum said.
Most of the worry in Conestoga is directed towards high academic achievement, evident from the results of the survey displayed in Figure 1. One possible cause, according to the survey results, could be the pressure to take advanced classes, which 71% of respondents confirmed existed.
"The pressure to take AP classes is enormously high compared to what it's expected to be because this area has that kind of mentality," freshman Jared Bundens said. "Without those, it would be a lot less stressful, but since they open up opportunities, a lot of (students) are likely to take (them)."
Psychology teacher David Zimmerman agrees that AP courses generate more stress, and the increased popularity of AP courses over the years — 2.7 million AP test takers last year alone — has historically created larger workloads for students.
"A typical college student takes four college classes a semester. You're taking six college courses — 50 percent more than college kids take," Zimmerman said.
Scarsdale High School in New York and Sidwell Friends in Washington D.C. have removed AP classes altogether. While the decisions were partially made due to concern regarding AP's standardized learning system, the schools sought to address the increasing presence of student stress.
In a statement on their website, Sidwell Friends concedes that "replacing AP courses will not achieve this goal alone. But it is a meaningful step that, we hope, will continue parent, student, and school dialogue about how we can reduce student stress to healthy levels."
However, stress goes beyond just pen and paper. After teaching at 'Stoga for over 20 years, Zimmerman suspects that the emergence of technology and social media generate more student stress.
"All the social media creates another layer of stress it didn't exist before. Believe it or not, research tends to suggest that if people wanted to be less stressed out or more happy they would actually distance themselves or limit their social life online," Zimmerman said.
Changing times include more than technology and social media, though. Tannenbaum argues that students deal with more complex problems that adults may not immediately consider.
"A lot of scary stuff happens out in the world and (teenagers) are very aware of school shootings, politics and all the other stressors out there. I think adults forget how difficult that is for teens who were just tuning into all that," Tannenbaum said.
Relieving stress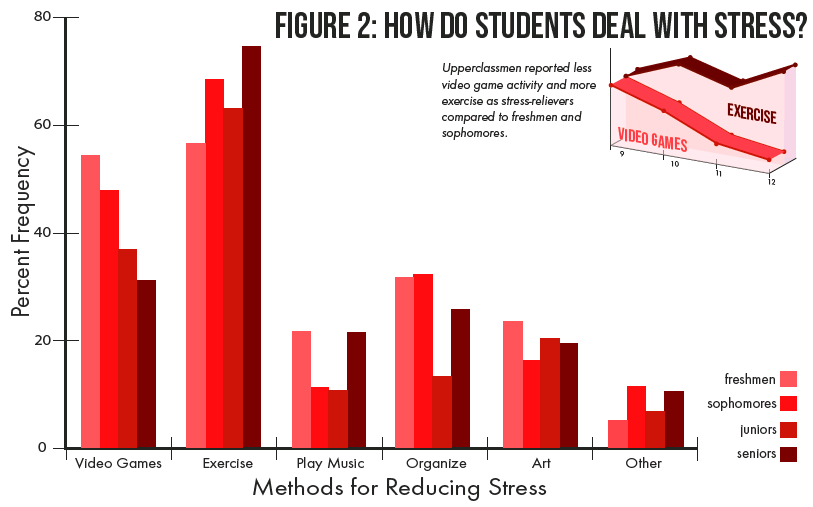 However, students have developed their own strategies to combat stress, either individually— like Cutler's baking sessions— or as a group.
Survey respondents used exercise as the most common stress reliever, as seen in Figure 2. According to senior Kenny Wang, the simplicity of exercise allows him to concentrate on what's in front of him.
"When I'm in the gym, it's just me versus the weight I'm trying to lift. There's no one else that I'm comparing myself to, there's no expectations that I feel like I need to live up to —it's just the simple, almost primitive act of picking up weights, just because it's fun," Wang said.
As exercise's polar opposite, video games was the second most common stress reliever. Junior Pranav Garimidi sees games as a beneficial method of relaxing as his workload fades out of focus.
"When I'm feeling tired, I go home, load up the computer, play some League of Legends, play some Starcraft, play some Counter Strike, you know, get the anger out. It makes my mind focus on something else," Garimidi said.
Besides relaxing individually, students have begun to organize efforts to help each other alleviate some of this stress. This month, junior Bryce Lee founded the Conestoga Anti-Stress Association with the goal of teaching stress management to the student body. Club secretary and junior Noah Lanouette signed on for the opportunity to work and learn from others.
Working as a group "helps people deal with stress problems more if they're in a group of people with similar experiences," Lanouette said. "In general, people like to be in groups of like-minded individuals, and that applies here."
The school does provide institutional resources, but survey results found a wide gap between the total number of students that find them effective versus just the users, as seen in Figure 3. Senior Ally Latoff believes that these resources may simply not reach enough of Conestoga's student body.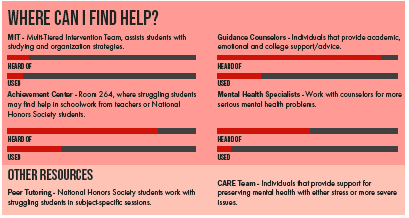 "I think Conestoga is doing their best (to help students)," Latoff said. "I think they are all great resources to have, but maybe not everybody knows about them or takes advantage of them because they might feel like it's a waste of their time or that it's just not worth it."
Even when equipped with tools and resources to help alleviate stress, Tannenbaum suggests that students spend more time enjoying the present rather than worrying about the future.
"Many of us now, at any age, are using our phones and on social media and online, looking at things that are coming up and disconnecting from what we're doing right at the moment," Tannenbaum said. "For a teen in high school, it would be the next test, class, project or college application. It's overwhelming, and my suggestion is that people just take a little more time to enjoy and be present in the moment and not forget how important that is."