By Ananya Kulkarni and Sophia Pan, Web Editor and Staff Reporter
Every 2 seconds, someone in the United States needs blood.
Currently, the nation faces a severe blood shortage due to a variety of reasons, including a donation shortage as a result of catastrophic weather across the country.
"What we've been seeing over the past few months is that the number of people donating is not as high as it usually is and we've also had people hosting less blood drives," Red Cross representative Alana Mauger said.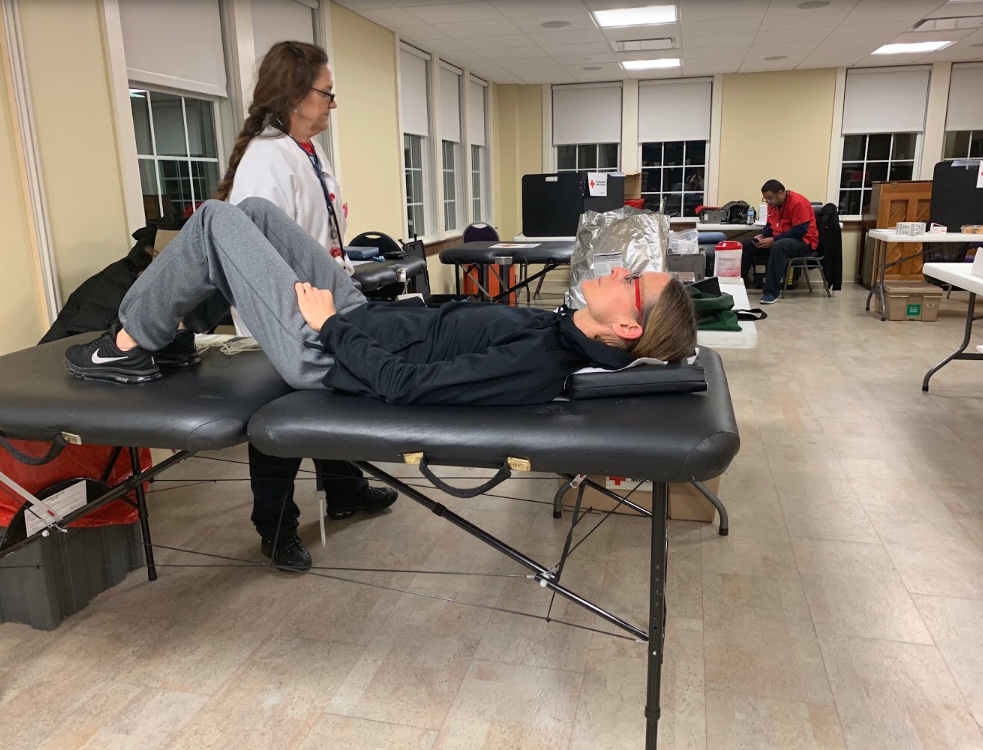 In response to the crisis, the Red Cross continues to raise awareness as well as facilitate an increasing number of blood drives, many of which are held in Philadelphia. To meet patient needs, the Red Cross collects 13,000 pints of blood a day to meet the need across the nation. However, the Red Cross currently has less than a 3-day supply for most blood types, as they distribute supplies faster than blood drives occur.
"In this region, if it snows, people cancel blood drives. Because we have a lot of blood drives in schools and places of businesses, it can be (an event) as small as (snow) or as big as national emergency," Mauger said.
The Red Cross recently held a blood drive at Conestoga in order to present students with the opportunity to help curb the crisis. Junior Evan Nadel was among those that donated blood at the drive.
Donating blood "is a good way to give back to the community," Nadel said. "Some people need blood, and they don't have family (members) who have the same blood type as they do."
For many patients, a care facility having a sufficient amount of blood on hand can be the difference between life and death, but emergency care is not the only sector of medicine that requires blood.
"When you think about who needs blood, most people think about the people that need it after a trauma," Mauger said. "In reality, patients need blood for all kinds of reasons, including a regular treatment for things like sickle cell anemia and a lot of different cancers."
In addition to traumas and chronic illnesses, even non-emergent or elective surgeries which are scheduled in advance require blood as a safety measure. However, due to the lack of supplies, the Red Cross has advised hospitals in Philadelphia, Atlanta and Los Angeles to cancel elective surgeries.
As part of the effort to combat the shortage, the Red Cross hosted a local blood drive at Surrey Services.
A vital component to any blood drive is the volunteers working to retrieve blood. These volunteers known as phlebotomists are essential in ensuring blood drives can continue to occur. Phlebotomist Kevina Russell has worked for the Red Cross since April, however she always knew it was something she wanted to do.
"My aunt had a sick heart and she needed a blood transfusion and I was able to donate my blood to her, and it made me more interested in becoming a phlebotomist," Russell said.
Though volunteers and donors alike choose to aid the Red Cross for a variety reasons, Russell was not the only one at the drive who had been inspired to support blood donation after a personal experience with a family member needing a blood.
"A couple years ago my daughter needed a blood transfusion and that sort of drove home that I need to do more. Because she needed it and I needed to step up," donor Patricia McElderry said.
While the Red Cross aims to meet its target through large blood drives, which are to be held in Tredyffrin as well as the Philadelphia region, a single donation can save up to three lives and can potentially guarantee someone a future that they did not have before.
"You're saving lives, there's nothing really there," McElderry said. "People need blood or they're not going to survive and that's it."