By Andrew Bucko and Renato DiStefano, T/E Life Editor and Staff Reporter
Through buzzing, hovering and gliding, Drone Club's numerous aircrafts offer members a unique flight experience each time they take the controls and maneuver joysticks.
"We currently have a nice mix of drones, planes, quadcopters and flight simulators," said club president Ben Yang. "It's important for our members, expert or beginner, to have the right equipment for what they're looking to achieve and make the club fun."
While piloting drones provides an enjoyable activity for members, the flying presents some safety and logistical issues.
"We've had a lot of paperwork to do recently in order to make sure everyone has an FAA code and an AMA license," said club vice president Peter Ballas.
According to Ballas, both documents help to protect and represent pilots and property alike. The AMA license acts as insurance if an individual's property is damaged in a drone crash, while the FAA ensures that the pilot's name is included on the aircraft in the event of a crash.
Club adviser Noah Austin believes that drones offer more than just fun for members and enthusiasts.
"It's important to be on the cutting edge of technology, and drones are a big piece of the puzzle," Austin said. "The futures of so many fields and industries lie in drone and aircraft technology, so it's great exposure for kids to have."
Before getting behind the controls, many members prefer to sharpen their flight skills with flight simulators.
"The simulators we use offer a wide range of settings," said Austin. "You can fly unmanned planes and drones from several perspectives, which is a great way to develop confidence behind the controller."
Beyond learning how to go airborne, Drone Club members have an opportunity to learn the technical aspects of how their aircrafts work.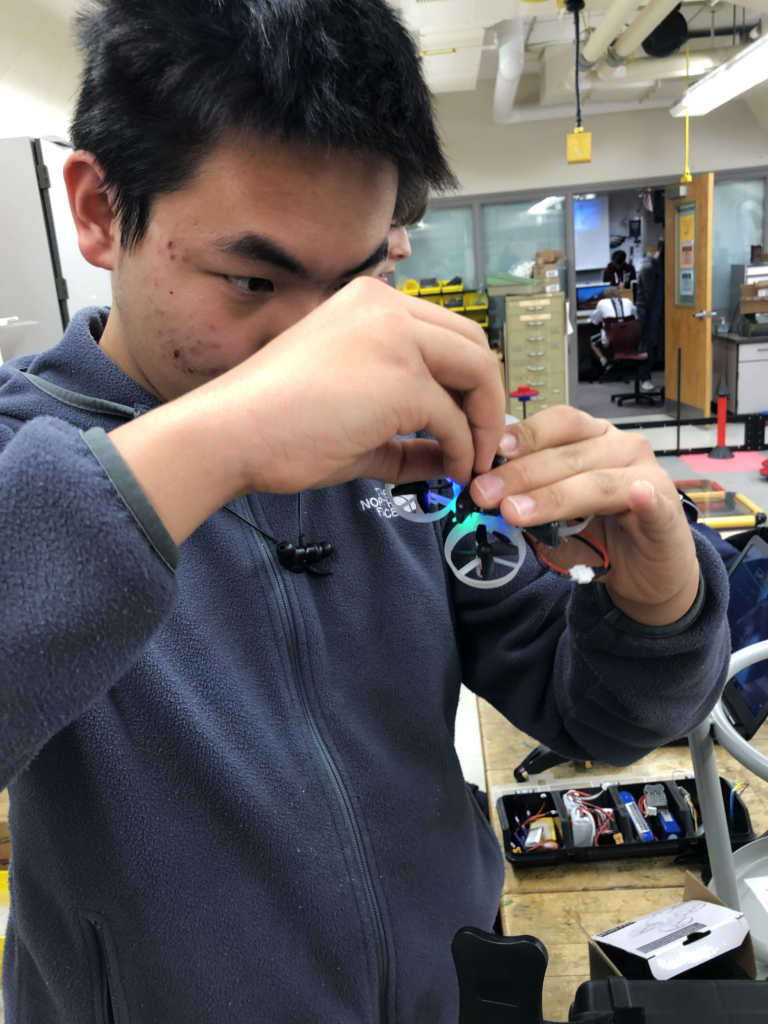 "There's a lot of things we learn about the drones, such as aero-dynamics, radio systems, and general knowledge," Yang said. "Learning how to fly is awesome, but learning how these devices actually work deepens your understanding and appreciation."
Currently, Drone Club said it uses the personal aircrafts of its members to teach and fly.
"Ben Yang and Peter Ballas have been kind in sharing their collection of aircrafts with other club members," Austin said. "If we're able to do some funding, a few of our own drones may be on the radar."
Taking advantage of resources in the engineering room, the club has saved thousands of dollars by making their own aircrafts from scratch, avoiding the expensive price tag of new aircrafts.
"With a laser-cutter, we were able to make an aircraft out of foam," Austin said. "Our unmanned plane works well and gave kids the chance to see everything that goes into the design of a complex vehicle like this."