Taking a stand: Jewish community responds to antisemitic vandalism in T/E
June 5, 2023
By Tanisha Agrawal, Lily Chen and Howard Kim, Co-Sports Editor, Design Editor, and Co-News Editor
There is rising concern among members of the Tredyffrin/Easttown community due to reports of multiple incidents of antisemitic vandalism in T/E over the last two months.
On March 25, the Tredyffrin Township police received reports of antisemitic symbols spray-painted in the Gateway Shopping Center and on township property on Valley Forge Road. The following day, a passerby discovered swastikas on signs near Valley Forge Middle School's athletic fields and contacted the police, who discovered more graffiti in restrooms outside the school.
On the same day, TESD Superintendent Dr. Richard Gusick and Valley Forge Middle School Principal Matthew Gibson addressed the symbols in an email sent to all T/E parents.
"We strongly condemn this and any hate speech," Gibson and Gusick wrote. "These symbols, slurs and personal attacks do not represent the community we strive to be."
In addition to denouncing the vandalism, they stated that the district administration was working with the police to investigate the incident and hold any person involved accountable.
"I'm very happy that (school staff and administrators) are willing to take (antisemitism) seriously because if we just ignore the problem, it's only going to get bigger," said Jewish sophomore Dean Rindner, a member of the Shalom 'Stoga Club.
Four days later, the police arrested a 15-year-old male on suspicion of spray-painting the graffiti on the signs and restrooms. The Chester County Juvenile Probation office charged him with ethnic intimidation and criminal mischief.
Starting on April 20, T/E residents discovered seven more acts of antisemitic graffiti throughout the district. Over the span of three days, community members reported seeing graffiti in multiple locations, including outside Jenkins Arboretum and Gardens and inside the Forge Mountain neighborhood in Chesterbrook. The police investigated the situations but, as of May 31, have not charged anyone for these acts.
Tredyffrin Township District 2 Supervisor and former president of the Chesterbrook Civic Association David Miller was shocked when he learned of the spray-painted swastikas in Chesterbrook.
"When I saw the photographs of the swastikas painted on some of the signs in Chesterbrook, I was horrified and shocked and immediately knew that we needed, as supervisors, to put out a very, very strong statement condemning the actions of whoever did this and expressing support for victims of hate crimes in general," Miller said.
Chesterbrook resident Howard Griffel discovered one of the first swastikas spray-painted on a neighborhood sign on Chesterbrook Boulevard. The next day, his grandson spotted another swastika near Glenhardie Golf Course. For Griffel, a Holocaust survivor who spent his early years in a displaced persons camp after World War II, these symbols evoked "shock, then sadness."
Jewish community responds to wave of antisemitism
As the police received more reports of antisemitic graffiti, Howard Griffel decided to take action. He posted images of the spray-painted swastikas on Nextdoor, a social media platform designed to connect neighbors, to inform the community of the vandalism.
"I didn't (post) for 24 hours because candidly, as a Jew, a Holocaust survivor and an immigrant, I knew enough to know that I needed to be concerned and even nervous about putting myself out there because God only knows what kind of backlash I might receive," Griffel said. "I decided that I had to take a chance because I could not do nothing."
His posts showing photos of the vandalism and conveying his shock and sadness at the acts amassed more than 1,600 reactions and comments on Nextdoor. Rabbi Kami Knapp Schechter from the Congregation Or Shalom, a synagogue within the district, agreed with Griffel's sentiments toward the graffiti and believes that putting a quick end to these events is crucial.
"If we're not prepared, (and) if we're not vigilant in stopping the hate the minute we see it, we know that (this antisemitism can) escalate. Just writing something off as 'Oh, it was graffiti. It was no big deal. You know, let's just move past it,' (is) when things tend to escalate," Schechter said.
After Griffel gained traction through his posts, he heard about a local group called T/E Jewish Connections through his daughter-in-law, who is a member, and quickly began collaborating with the organization to fight antisemitism in the area.
On April 2, after learning about the vandalism on the property around the athletic fields of Valley Forge Middle School, Lisa Schreiber, a Jewish district resident and mother of a Conestoga student, grew concerned. She founded T/E Jewish Connections, a group dedicated to taking action against antisemitism, which now includes around 32 Jewish families.
"T/E Jewish Connections is an informal group of Jewish residents in the township who have come together in the wake of an uptick in Jewish hate in the community to support one another, share resources, and collaborate to raise awareness of and enhance responses to antisemitism in T/E," Schreiber said.
Members of T/E Jewish Connections began discussing their concerns about the antisemitic vandalism with various authorities, including township supervisors, school district officials and political representatives.
"We can no longer say this isn't in our backyard," Schreiber said. "It is here, and we have to deal with it."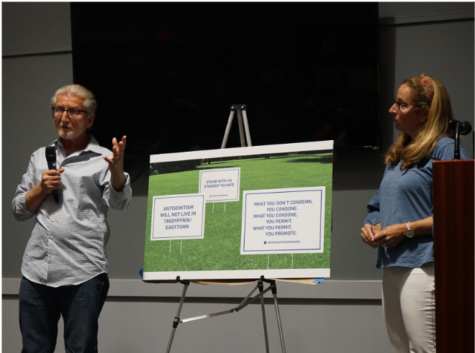 T/E Jewish Connections takes legislative, community action
On May 15, T/E Jewish Connections met with Pennsylvania House Rep. Melissa Shusterman, a Jewish Legislative Caucus member in the Pa. House of Representatives. At this meeting, the group discussed the proposed Tredyffrin Township Resolution No. 2023-16 that defines antisemitism, condemns all forms of discrimination and endorses four Pa. House bills designed to strengthen Pennsylvania's anti-hate crime legislation.
"I was really thrilled to hear (T/E Jewish Connections) was emerging because I think it is critical to share experiences and to make sure that (the Jewish community and its concerns are) both seen and heard throughout the community," Shusterman said.
T/E Jewish Connections members, including Schreiber and Griffel, spoke at a Tredyffrin Township Board of Supervisors meeting on May 22, during which the board voted unanimously to pass the resolution. Additionally, on May 24, the Pa. House Judiciary Committee approved the four proposed anti-hate crime bills, clearing them for further consideration.
In addition to seeking legislative action, T/E Jewish Connections also began leading more grassroots initiatives, including starting a GoFundMe page to raise money for a public awareness campaign. This would allow the organization to fund the creation of yard signs for residents to show support for the Jewish community. As of May 31, the organization raised more than $7,000 for its cause.
On June 4, T/E Jewish Conections held a rally against antisemitism at the Forge Mountain development, the same place where Griffel found a swastika over a month earlier. The event was open to the public, and event organizers passed out free "anti-hate" yard signs to attendees, displaying messages of support for the Jewish community.
The organization also hopes for more extensive education in TESD about the Jewish community and antisemitism in order to prevent further discrimination.
"We do want to give a course of action and call for more integration of antisemitic (awareness) in our education system," Schreiber said. "Students should have a literacy for what antisemitism is and what a swastika is and what it means. If that message can get through, that would be wonderful."
Since the week of April 17, there have been no more reported cases of antisemitic vandalism in T/E. Rindner hopes the community has seen the last of the graffiti and heals from them through kindness and empathy.
"I think that people just really need to realize the significance of (antisemitic) events, how important they are and what they actually mean because I feel like people don't really understand," Rinder said. "I think that's when people actually understand how this makes a whole group of people feel."
---
Tanisha Agrawal can be reached at [email protected].
Lily Chen can be reached at [email protected].
Howard Kim can be reached at [email protected].