Day 7: Day of Service
By Aditi Dahagam, Madeline Pulliam and Chanelle Ongagna, Co-T/E Life Editor and Staff Reporters
Public Health club: The holiday helpers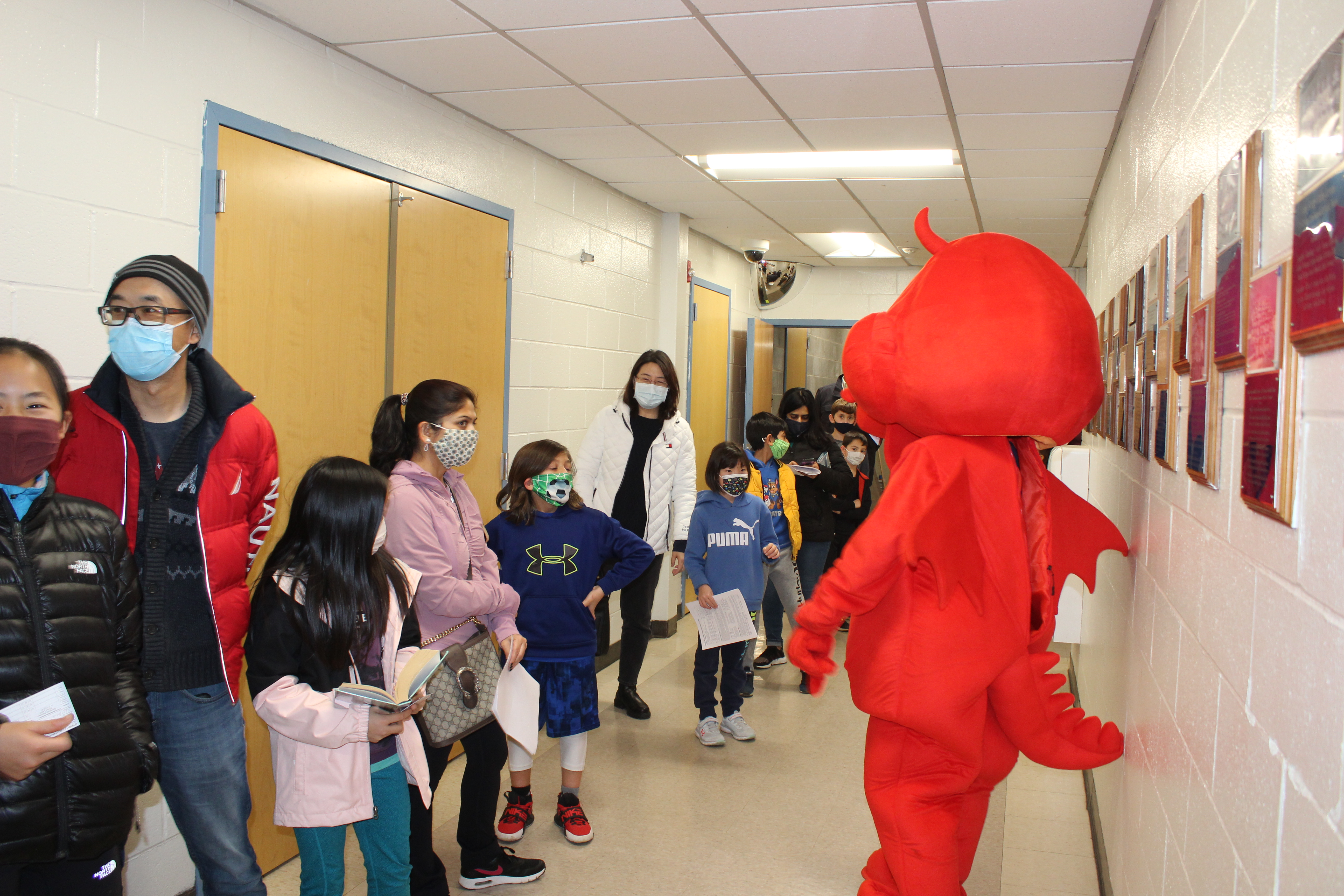 Needles and vaccines are intimidating for little children, especially if it is their first vaccine, but the Public Health club curbs crying and tantrums with balloons and lollipops.
The Public Health club aims to give students a chance to learn about the public health of the community and better the health of its members. The club has been helping with the district vaccine clinics by comforting and interacting with the children after they receive their vaccine.
Public Health club is both a service and an academic club. The members are taught about the importance of public health during club meetings through presentations and seminars held by guest speakers. They are also going to participate in different service projects such as SquashSmarts to help create a more educated and healthy community.
"Public health affects all of us. It's just something that I know will help other people and I enjoy doing that. It's something that is useful for a lot of different people," said junior Matt Han, outreach chair of Public Health club.
One of the service projects includes the district vaccine clinics. The club has already taken part in these at Valley Forge Middle School, but the holiday season is also bringing new aspects to the clinics. For example, at the vaccine clinic on Tuesday, Dec. 14, Christmas music was played, and the club members handed out candy canes to children that received their vaccine. The holiday season brought new inspiration for the Public Health club.
"I think that it's important to try to find things that we can help with and contribute to helping other people especially during the holiday season," said junior and Public Health club co-president and founder, Daniel Tu.
The club members' role was to keep the children happy and cooperative for the people administering the vaccine. The members directed people to their station and greeted them at the door to try and create a welcoming atmosphere. They distracted the children and gave them balloons and lollipops after they received their vaccine. They also had the encouraging Beaumont bear mascot walk around and reassure the screaming children.
"It's a big, unfamiliar area for most children, so we try to make it as accommodating as possible for them," said Tu.
Tu also wants to spread holiday cheer through the vaccine clinics.
"I think it's important to give back during the holiday season and show our thanks for what we have," Tu said. "Giving back to the community is a way to show our thanks towards our community and encourage other people to live a safer and healthier life."
For Key Club volunteers, Hillside Elementary book fair brings back memories of Book Fairs Past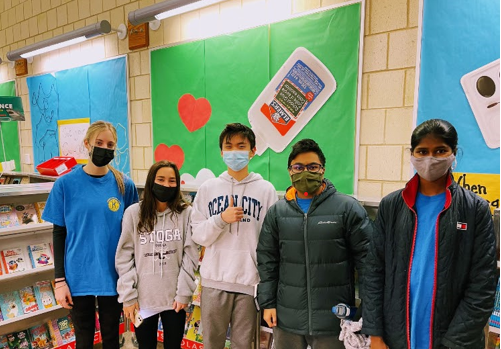 Beyond a basic commitment to helping others, it was fond memories of book fairs from their own childhoods which inspired freshman Lexi Patterson and Deepthi Sathyanarayana, a senior and co-chair of Conestoga's Key Club committee, to volunteer for the Hillside Elementary book fair. The book fair—which ran from Dec. 6 to Dec. 10 after school—offered them a chance to relive the excitement by helping kids and families select books while also raising money for Hillside's Parent Teacher Organization.
Key Club, an international high school-level service organization, offers students volunteering opportunities through their schools. When Hillside Elementary School needed helpers for the week-long book fair, it reached out to Sathyanarayana and her fellow Key Club co-chair, Sarah Liang, who circulated a sign-up list amongst Key Club members. Members chose time slots between 4:30 and 7:30 p.m. after school to help manage crowds, handle transactions, organize book displays, clean up and set up and pick out books.
For Sathyanarayana, unique opportunities like the book fair, which allowed her to help children make memories while also volunteering in the wider community, are a big part of what she loves about volunteering through Key Club.
"You're not confined to Conestoga," Sathyanarayana said. "You can work with teachers outside districts, you can work with children and just help out where it's needed."
Like Sathyanarayana, Patterson signed up for the book fair for the chance to work with children.
"I knew that working at the elementary school, I'd get to talk to the kids and help them with whatever they needed," Patterson said. "(The goal of the book fair) was to sell as many books as possible, but it also encouraged kids to read more books. And I think that was awesome."
Growing up, both Sathyanarayana and Patterson, who have always loved reading, looked forward to book fairs as exciting events. Helping out at Hillside allowed them to not only relive those times but help kids create memories of their own.
"I love reading and the book fair was something that was very memorable to me as an elementary and middle school kid," Sathyanarayana said. "So going back and helping the teachers that made this opportunity available to me when I was young, and giving back, is something that was very memorable to me."
Pandemic restrictions were still in place at the book fair—families had to sign up to attend at certain times and only three families could enter at a time—but Patterson believes that people were still enthusiastic about the event.
"The lines were pretty long," Patterson said. "When I was greeting the kids coming in, they were really excited to get the books, and when they were leaving, they were so happy. It was so cool because I remember when I was a little kid, I would be so excited to go and buy books at the book fair."
To Sathyanarayana, the book fair also gave parents a chance to share memories with their kids and socialize with each other after a year of the pandemic.
"I think coming back after having to stay virtual and just being a part of an educational experience was something that both parents and kids could enjoy," Sathyanarayana said. "Not only as a way to just relax and detox but also as a way to socialize."
Socks and snowmen: Club gives back to community through crafts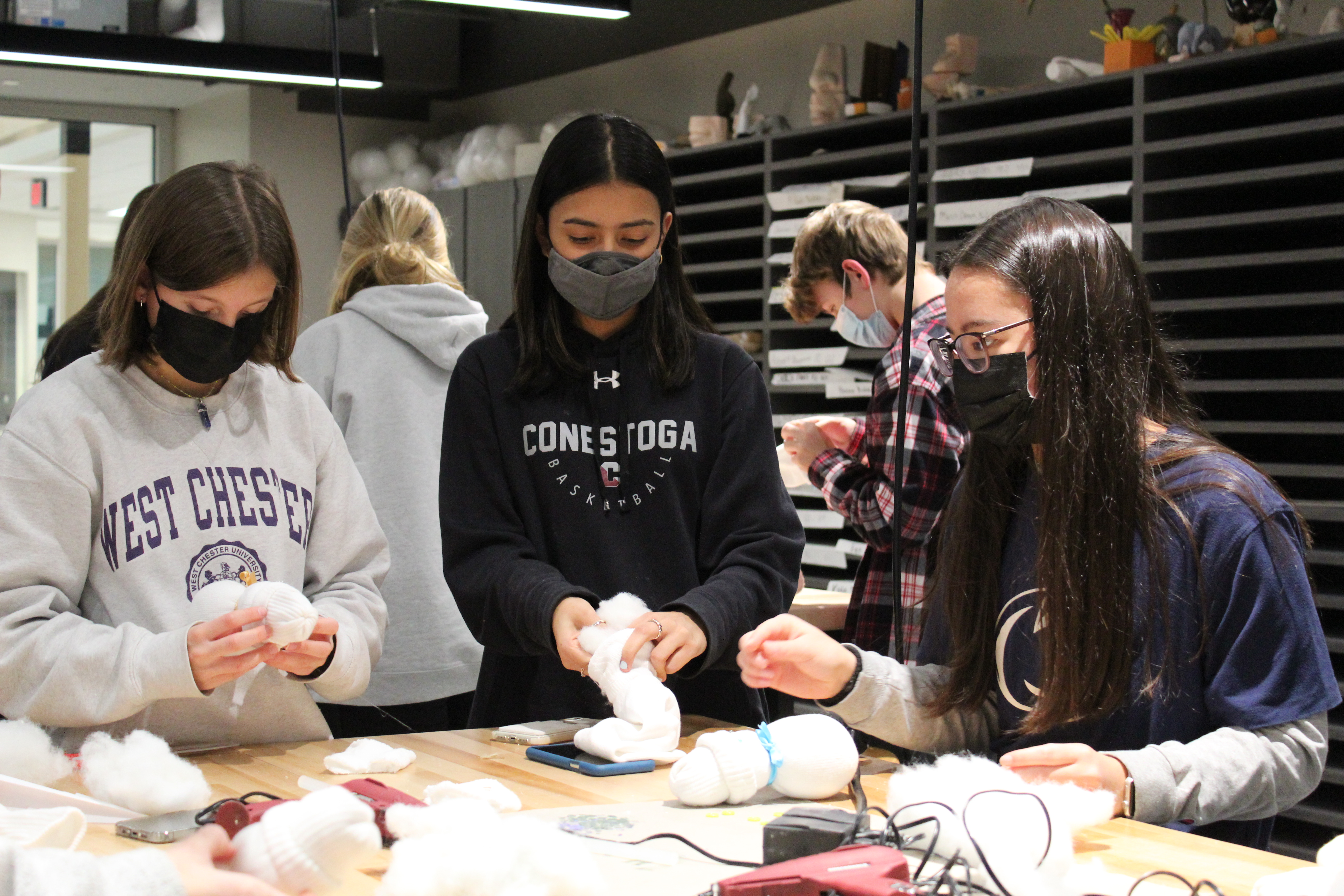 52 sock snowmen.
This is what members of Arts for Hearts made during their craft workshop for residents at Wayne Senior center and frontline workers at Paoli Hospital on Wednesday, Dec. 8. The non-accredited non-profit organization, which became affiliated with the school this year, aims to give back to the community through artwork.
The group decided to make sock snowmen for their December workshop because they're familiar with the supplies and time commitment needed since they made them last year. Junior and co-president Taanvi Mathur noticed that the activity was a success, so she brought it back this year.
"Last year when we made (the snowmen), it was a huge hit. We had a lot of people tell us that they really liked the sock snowman craft. It's just a fun craft, and since we know what we need already, we thought we'd do it again," Mathur said.
During the workshop, club members filled socks with stuffing, embellished them with buttons and ribbons and finished the sock snowmen with personalized notes. Mathur believes that the environment of the workshops and goal of the club is inviting and enjoyable for students.
"We try to make it a fun atmosphere — you collaborate, you help each other, you're listening to music, you're having a fun time," Mathur said. "And it's not like a duty or responsibility. It's more like you're volunteering to have fun."
Junior and club member Rory Hunter believes Arts for Hearts is a nice way to talk to people and volunteer her time. She thinks the sock snowmen activity was fitting for the December workshop.
"December is always such a fun month — it has all the holidays like Hanukkah and Christmas. I think going with (the sock snowmen craft) makes you think of winter and those happy feelings, so it's nice," Hunter said.
Mathur believes that the in-person workshops provide a collaborative experience for club members.
"This year it's especially more fun because (club members) can tell their friends to join and they can hang out. "It's a way to bring Conestoga together, especially after the disconnect we had last year," Mathur said.
Mathur wants to use Arts for Hearts to show the club's thankfulness towards those who serve the community, such as frontline workers.
"There are people that are not able to get what they want. They're not even able to get their necessities, so they forget about the wants," Mathur said. "If Arts for Hearts is able to show them gratitude, show them that we appreciate them, that there are people who are there and thanking them along the way, that is our goal to spread."
---
Aditi Dahagam can be reached at [email protected].
Madeline Pulliam can be reached at [email protected].
Chanelle Ongagna can be reached at [email protected].