Girls' golf team swings into action on the green with an undefeated record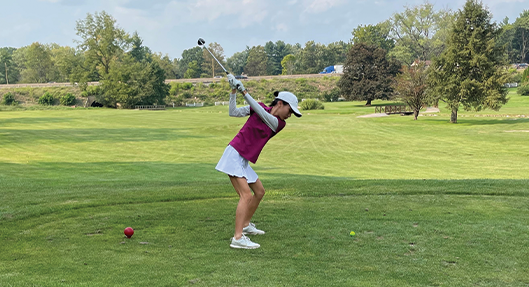 By Grace Kuryan, Staff Reporter
Several groups of girls have tried to start an all-girls' golf team in the past, however none of the attempts had come to fruition. In early 2021, seniors Suzie Ahn and Sophia Brubaker decided to change that. As of now, the team has an undefeated record of 3-0.
"I'm really happy about the way we have performed. The results show how hard we have all worked to improve our game," Brubaker said.
A big part of their success is their coach, Jim Moran. A health, physical education and highway safety teacher at Conestoga, Moran used to coach the developmental team, a team for players who don't make JV or varsity.
"Our coach has been amazing. He has been really helpful and positive, and I think that has really helped a lot with our games," Brubaker said.
The girls want to represent Conestoga well. Some of the players were able to qualify for districts.
"(I'm excited) that we were able to form a girls' team and beat these teams that have been playing for so many years. I'm really proud of the team," Brubaker said.
The girls are doing a great job of working together, and believe that they have accomplished their goal of having a community within the golf team.
"I think it really helps to have a team supporting you," Brubaker said. "Our team has a really positive atmosphere, and that has definitely helped in our success."
Freshman Mimi Kambayashi has independently played golf for three years, and decided to join the girls' team when she came to 'Stoga.
"I really enjoy being on the girls' golf team," Kambayashi said. "I'm so happy that I get to be surrounded by these nice girls. They're girls that I can look up to; they're there to help me at any time."
Right now, the girls don't have a specific home course and practice at different courses in the area. The most common courses they play are Downingtown Country Club, White Manor Country Club and Saint Davids Country Club.
Since there are few other schools in the area that have a girls' golf team, the team plays girls outside of the Central League. They are going to play schools such as Merion Mercy Academy, Villa Maria, Unionville and Downingtown East.
"These girls have a vision to have a permanent varsity girls' golf program. They're the ones who are bringing the energy, they're the ones who are so focused on getting better," Moran said. They took on a challenge that a lot of people would turn down and should be proud."
---
Grace Kuryan can be reached at [email protected]