'Stoga DIY Projects
By Abby Carella, Staff Reporter
The Do It Yourself project, more commonly known as the "DIY," has been around for ages. The DIY, typically known to be a fun weekend project, is beginning to morph into an everyday thing for the socially distant 'Stoga student during quarantine. Gaining inspiration from social media such as TikTok and Instagram, the girls of the school have been creating loads of projects. Below, a few students share what they have made.

Sophia Brubaker: "I painted a Rolling Stones logo with a cheetah print background. I happened to have most of the materials and canvases at home because of Studio Art at school, so I didn't really have to go out and get anything new, which is perfect for quarantine. One of my neighbors actually saw me outside painting, and she said she would buy one from me for her own house, so that is really cool too."

Maya Yarmark: "I bleached a sweatshirt and sweatpants, which I ordered from Amazon since we couldn't go out. You tie them with rubber bands and then you just spray the bleach on. Sometimes you have to pour it on because the spray bottle doesn't have enough pressure. Then, you take off the rubber bands and put (the sweat sets) into the wash. I recommend using navy or black sweats, they will definitely turn out better. You can also do white with normal colored dye."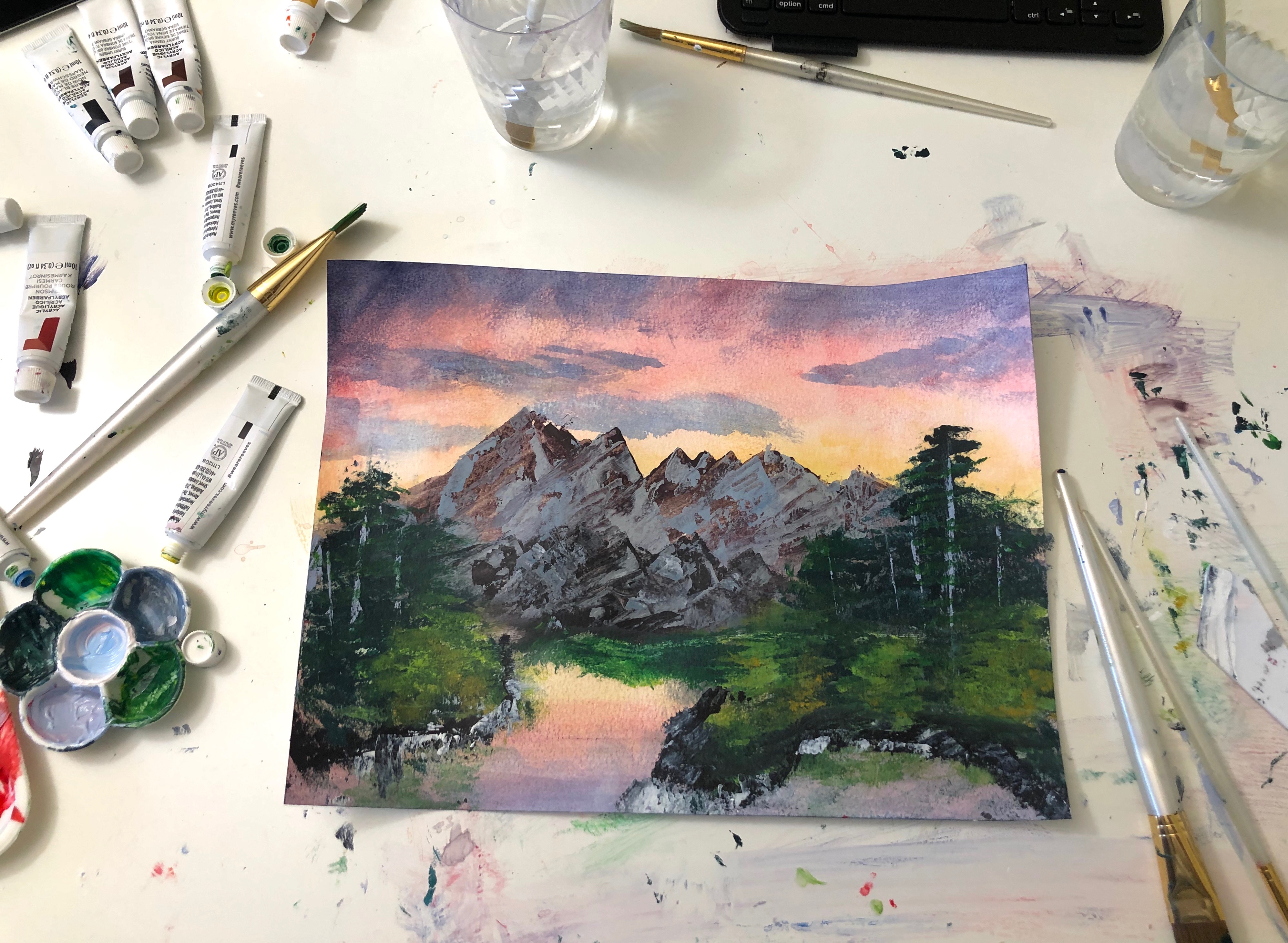 Natalia Braga: "I have been doing a lot of Bob Ross (paintings), and then I watch some videos on TikTok and try to copy (paintings) I like. I recently did a painting from Tangled and then watercolors that I saw. My favorite painting might be a landscape that I did from a Bob Ross YouTube video. I love the mountains in it. I normally don't have a lot of time to paint, but I started doing it a lot more since quarantine started. I did run out of canvases but have been able to use paper and my sketchbook as a replacement."

Phoebe Hutton: "During quarantine all my social media has been full of DIY things, especially tie-dye, so I decided to try and make some of the stuff that I saw, especially since tie-dye is making a comeback. I tested out a couple of different methods and stuff I saw, and I figured out what worked best. I took some of my old clothes and dyed them with bleach and color, and they turned out a lot better than expected."

Cookie Jones: "Recently, I have dyed my hair, sweatpants and a sweatshirt. I really like the color pink, so I dyed everything that color, including my hair. We also just got white men's dress shirts from Target, and we are going to sew them and try to copy a top we love from the brand Mirror Palais that usually retails for like $385."
To view a cool graphic designed by Aishi Debroy, click here!

---
Abby Carella can be reached at [email protected]
Aishi Debroy can be reached at [email protected]