By Allison Reagan and Emma Purinton, Staff Reporters
Everybody loves cake. But nobody loves the hassle of actually baking one. Luckily for the lazy with a sweet tooth, the latest mug cake craze allows anyone with a microwave and a coffee mug to become a baker in under ten minutes. Staff reporters Allison Reagan and Emma Purinton take to the microwave to whip up six mug cake favorites.
---
Nutella Mug Cake
4 tablespoons self rising flour

4 tablespoons white granulated sugar

1 egg

3 tablespoons cocoa powder

3 tablespoons Nutella

3 tablespoons milk

3 %tablespoons olive or vegetable oil
Combine all ingredients in a large coffee mug. Whisk well with a fork until smooth. Microwave on high for 1 1/2 – 3 minutes. Top with whipped cream and a little chocolate sauce if desired.
Anything with Nutella in the name has to be good. This mug cake is super simple and incredibly rich, perfect for when you need that quick chocolate fix. If you have five minutes to spare and a reasonably stocked cabinet, you should have no problems whipping up this warm treat. But, do not be afraid to be generous with the Nutella. If you prefer just a chocolate cake, stick with three tablespoons of Nutella. But if you want the hazelnut flavor to really come through, change the recipe and try five or six tablespoons.
---
S'mores Mug Cake
4 tbsp all purpose flour

2 tbsp finely crushed graham crackers

1/4 tsp baking powder

1 tbsp vegetable oil

3 tbsp fat free milk

2 tbsp granulated sugar

2-3 small squares of milk chocolate

6-7 mini marshmallows
Combine flour, graham cracker crumbs, baking powder, oil, milk and sugar in a large microwave safe mug. Mix with a small whisk until no flour chunks remain. Make a hole in the middle of the batter and stick in the chocolate squares. Cook in microwave for about 1 minute. Top of cake should look done and surface of cake should be dry rather than gooey.
Either add mini marshmallows or one large marshmallow and place on top of cake and heat for about 20 seconds until marshmallows are puffy. Or you can also take large marshmallow and toast in toaster oven for a few seconds until surface is light brown. I think the best result would be to use mini marshmallows and melt on cake in microwave and then add a toasted large marshmallow for garnish.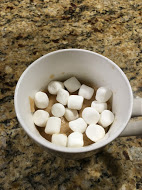 No campfire needed for this s'mores treat. With crumbled graham crackers, Hershey's chocolate, and gooey marshmallows, it's like a summer night in a mug. The batter amazingly tastes just like graham crackers without being overpoweringly sweet. Although the recipe says to place the chocolate squares in the middle, we recommend breaking the bar up or using chocolate chips and sprinkling them throughout the batter. The mug cake cooks more evenly and there is a guarantee of chocolate in every bite!
---
Carrot Cake Mug Cake
1/4 cup flour

1 tbsp sugar

1/2 tsp cinnamon

1/4 tsp nutmeg

1/2 tsp baking powder

Dash of salt

1 tbsp coconut oil (melted)

1 tbsp milk

1/2 tsp vanilla

1 carrot grated

4½ tbsp cream cheese

½ inch slice of butter

2 tbsp powdered sugar

1 tsp lemon zest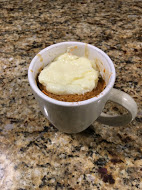 In a microwave cup, combine all of the dry ingredients. Stir in the coconut oil, milk, and vanilla. Finally, stir in the grated carrot. Microwave on high about 90 seconds (check after 1 minute). Combine the cream cheese, butter, powdered sugar, and lemon zest in a separate bowl. Spread evenly on top of the mug cake.
For the more refined baking palette, we definitely recommend this carrot cake mug cake. Though the cream cheese icing requires a little more effort than the other mug cakes we tried, it is worth it. Because what would carrot cake be without frosting? Just a lonely vegetable reject and nobody wants that. The sweet frosting pairs very well with the subtle taste of the cake, but is not too overpowering to prevent the carrot flavor from coming through. For added crunch, throw some chopped walnuts into the batter or sprinkle on top of the finished cake. You'll look like a pro and your taste buds will thank you.
---
Lemon Mug Cake
½ inch slice of butter

2 tbsp sugar

2 tsp lemon zest

1 egg

A few drops of vanilla

4 tsps half and half

6 tbsp flour

½ tsp baking powder
Melt the butter in a bowl in the microwave.In the mug, beat in one by one the sugar, lemon zest, egg, vanilla, half and half, flour, baking powder, and melted butter.
This one turned out not nearly as good as the real thing, but still good enough to make if you're alone and craving lemon cake. When making the batter, don't be afraid of the amount of lemon zest the recipe calls for—it seemed like a lot for one mug cake to me, but we ended up wishing we had added extra lemon to it. If we were to make this cake again, we would definitely cook it less initially, as cooking it for the full minute and forty seconds made it a little dry. A few critiques, but nothing some lemon frosting couldn't fix.
---
Banana Mug Cake
½ inch slice of butter

1 egg

4 tbsp sugar

A few drops of vanilla

1 tsp half and half

4 tbsp of ripe banana

8 tbsp flour

½ tsp baking powder

1 tbsp chocolate chips
Melt the butter in a bowl in the microwave. In the mug, beat in one by one the egg, sugar, vanilla, half and half, banana, flour, baking powder, chocolate chips, and melted butter. Microwave for 1 minute 40 seconds.

This recipe is the perfect excuse to eat cake for breakfast. The title may read, "Banana Mug Cake," but it actually tasted exactly like banana bread. With the banana mixed into the batter, it's hard to mess up and dry it out, and the cake seemed good enough to stand alone without chocolate chips. But as someone who thinks anything is better with chocolate chips, the only adjustment we made was sprinkling in a few more chips. Definitely something worth waking up a little earlier for.
---
Marbled Mug Cake

½ inch slice of butter

3 squares of dark chocolate

1 egg

3 tbsp sugar

A few drops of vanilla

1 tbsp half and half

5 tbsp flour

½ tsp baking powder
Melt the butter in a bowl in the microwave. In a separate bowl, melt the chocolate. In a third bowl, beat in one by one the egg, sugar, vanilla, half and half, flour, baking powder, and melted butter. Mix a third of the batter with the melted chocolate. Spoon in turns the chocolate and vanilla batters. With a knife, draw a wave in the batter to create the marbled effect. Microwave for 1 minute 40 seconds.
The marbled mug cake is the one to make if you want to look impressive with minimal effort. It was amazingly easy to make considering how complex it looked when it came out of the microwave. For the three squares of chocolate instructed by the recipe, we just used three Hershey's dark chocolate nuggets. The recipe warns that mug cakes containing chocolate are the easiest to dry out when cooking, but we didn't find the cake dry at all.
Allison and Emma can be reached at areagan@spoke.news and epurinton@spoke.news.